Today we're bringing you a pharmaceutical stock to buy that is highly undervalued by the market and analysts.
This stock actually operates in three different industries, making it hard for analysts to properly value the company. According to Money Morning Director of Technology & Venture Capital Research Michael Robinson, that's why this pharmaceutical stock is undervalued.
The three industries the company operates in are:
Pharmaceuticals
Consumer products
Medical devices
But analysts typically only look at the pharmaceutical component of the company when evaluating its worth.
In fact, two different analysts revised their recommendations for the stock this year, but both evaluations only discuss the pharmaceutical side of the business to justify the revised ratings. Wells Fargo & Co. downgraded the stock on Jan. 26, and JPMorgan Chase & Co. upgraded the stock's rating on May 15.
Must See: This Great Depression-Era "Secret" Helped Transform Two Teachers into Millionaires. Read More…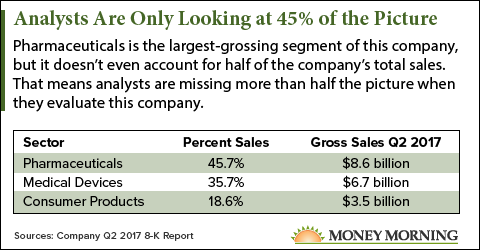 Yet the company has the ninth most powerful consumer brand in the world, according to Brand Finance.
While analysts typically only evaluate the company's pharmaceutical sector, all three divisions of the company significantly contribute to the company's total sales.
On Tuesday (July 18), the company released its Q2 earnings report. The report showed that pharmaceuticals accounted for the biggest portion of the company's sales, at $8.6 billion. Medical devices brought in $6.7 billion in sales for the quarter, and consumer products had $3.5 billion in sales.
If you are only looking at the pharmaceutical component of the company, you are only seeing 45% of the sales. Even then, "the stock is trading at a deep discount right now and is just too tempting to pass up," Robinson said…
This Undervalued Pharmaceutical Stock to Buy Is Too Good to Pass Up