During its last Series E funding round in January 2015, SpaceX raised $1 billion from six investors, primarily Alphabet Inc. (Nasdaq: GOOGL) and Fidelity Investments. That round of funding boosted the SpaceX valuation to $12 billion. And today we'll show you how to profit off the hype SpaceX is creating in the IPO market...
Since 2006, the aerospace firm has generated a total of $1.15 billion in funding over seven rounds. According to TechCrunch's research arm CrunchBase, these include five Series A through Series E rounds, as well as a $100,000 initial seed round from CEO Elon Musk and a $15 million round from an undisclosed venture capitalist.
That makes SpaceX the 10th highest-valued private company in the world, according to data compiled by The Wall Street Journal...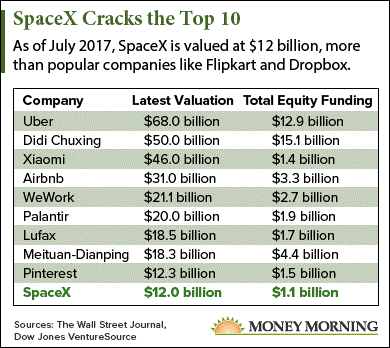 Despite its top 10 valuation and interest from private investors, Musk told a 2015 Tesla Inc. (Nasdaq: TSLA) shareholder meeting that SpaceX will remain private until 2020 at the earliest. But investors can start profiting from IPOs right now, including the SpaceX IPO when it eventually happens.
Before we show you this investment opportunity, here's the biggest reason why SpaceX has accrued $1.15 billion in investment over the last 11 years, raising its valuation to become the 10th biggest in the world...
Why the SpaceX Valuation Has Reached $12 Billion
Although the company has launched other big projects - including its new foray into the broadband satellite market - one of the primary reasons behind SpaceX's 11-year-long rise in funding since 2006 has been the unique ambition of Musk's long-term vision. He wants to eventually colonize Mars and create a multi-planet civilization for humans.
You see, Musk ultimately wants to use SpaceX's Falcon 9 rockets to send people to Mars for a realistically affordable price. The Falcon 9 is the company's signature model, which is currently used to send payloads and supplies to the International Space Station (ISS) orbiting the Earth.
One of Musk's initiatives is to make Mars travel more affordable. At the International Astronautical Congress in September 2016, Musk estimated a single ticket to Mars would cost around $10 billion - as much as purchasing two blocks of property in Midtown Manhattan.
Trending: Here's How Revenue Projections Could Affect the SpaceX Valuation
However, he also said he hopes to lower that ticket price to below $200,000. At the conference last September, he said achieving that lower cost would require "full [rocket] reusability," which is an initiative he's been having more success with this year...
And SpaceX is already making progress on Musk's reusable rocket goal.
On March 30, SpaceX successfully launched and landed its first reusable Falcon 9 booster - the rocket's primary engine responsible for lifting it into orbit. This made SpaceX the first aerospace company in history to launch and land a reused rocket.
Since then, Musk has been working to consistently recover and refurbish these boosters for cost-saving purposes. The company had two back-to-back launches of reusable boosters on June 23 and June 25. Although SpaceX doesn't publicly disclose the total Falcon 9 production cost, the company has said a Falcon 9 booster alone makes up roughly 70% of the total cost.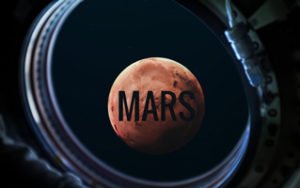 If the company can start reusing boosters after each launch, it would cut the production cost by up to 70%. In turn, that would let Musk charge less for each ticket and get him closer to his goal of making Mars travel cost only $200,000 per person.
Whether or not SpaceX is able to achieve this goal before the IPO, investors are still eager to buy SpaceX stock when it starts trading. After all, investor interest is why the SpaceX valuation is $12 billion and why the firm has seen $1.15 billion in funding so far.
But you don't have to wait for the SpaceX IPO - which Musk says probably won't be until 2020 at the earliest - to profit from the excitement around new IPOs...
According to Money Morning Director of Technology & Venture Capital Research Michael A. Robinson - a 34-year veteran of Silicon Valley who's worked as a consultant for venture capital firms - there's a great way to profit from the IPO market in 2017.
In fact, this investment has handed investors a 13.1% return so far this year, beating the Dow Jones' 9.5% return. That means you can start profiting from IPOs right now, plus you'll gain exposure to SpaceX when it goes public.
One of the most important reasons we're recommending this investment is because it offers exposure to the IPO market without the risk of buying into an individual IPO. When companies go public, their stocks often experience volatility during their first few months on the market.
For example, Facebook Inc. (Nasdaq: FB) stock plunged 44% during its first three months of trading from May 2012 to August 2012. But since then, FB stock has skyrocketed 816% from $18 a share to $165 today.
Here's how you can make money from newly public companies, including SpaceX's eventual IPO, without the risk of buying in on day one...
The Best Way to Make Money from IPOs in 2017
[mmpazkzone name="in-story" network="9794" site="307044" id="137008" type="4"]
One of the safest ways to maximize gains and minimize risk from IPO investing is through the First Trust U.S. Equity Opportunities ETF (NYSE Arca: FPX), which will eventually hold SpaceX after it goes public.
Because it's an exchange-traded fund (ETF), retail investors can buy and sell FPX just like a regular stock.
And because FPX holds a mix of recent IPOs and well-established companies, it's diversified. That makes it less risky than owning just one stock.
It currently holds some of the most high-profile IPOs in recent years. These include Snap Inc. (NYSE: SNAP), Match Group Inc. (Nasdaq: MTCH), and Fiat Chrysler Automobiles NV (NYSE: FCAU).
But it levels out the risk of new stocks by holding well-known companies like Tyson Foods Inc. (NYSE: TSN), Kraft Heinz Co. (Nasdaq: KHC), and AbbVie Inc. (NYSE: ABBV).
"Its holdings are small enough to offer solid upside, but large enough to avoid the high volatility of more thinly traded stocks," Michael said.
For example, if FPX just owned shares of a recent IPO like Snapchat, FPX would be down 43.4% so far in 2017. However, shares of AbbVie - the fifth-largest U.S. biotech with a $114 billion market cap - are up 16.1% so far this year, and the firm accounts for a much larger position in the fund than Snap.
In fact, AbbVie is First Trust's largest holding, consisting of 10.4% of its portfolio as of July 24. In comparison, Match only accounts for 0.98% of FPX's holdings.
And for investors looking to outperform the market with safe investments, FPX is beating the Dow Jones Industrial Average right now. The fund has gained 13.1% so far this year, while the Dow has only gained 9.5% in the same time.
The Bottom Line: With an ambitious CEO at the helm and a clear goal of making Mars travel affordable, the $12 billion SpaceX valuation is more than justified. Although Elon Musk has said there won't be a SpaceX IPO before 2020, Michael recommends investing in FPX to make money once the company eventually goes public. Because the fund offers a healthy combination of new and stable holdings, the First Trust ETF is one of the best ways to profit from IPOs this year.
Up Next: One gallon of this new "crystal fuel" could get you from New York to L.A. and back... seven times! Being hailed by many experts as energy's "Holy Grail," it's 1,693 times more powerful than the gasoline that runs your car. The mainstream investment media isn't even talking about it yet. Read more...