Editor's Note: Lee Adler has more than 44 years of experience trading and investing, as you'll see. You're going to be hearing a lot more from him in the future, because he's taking our newest free research service, Sure Money, "big time" next week. You'll have the chance to join him, but for now, he's going to show you why these four little words just might be the most profitable recommendation you've ever had. Here's Lee...
"Don't fight the Fed" was a refrain I heard often from the old men in the customers' gallery at Walston & Co.'s Philadelphia, Penn., office back in the late 1960s. I was a teenager at the time and sat with them after class.
I tried to understand what these mysterious wise men meant as I watched the ticker tape crawl along, showing a trade from New York every few seconds...
"IBM...200s... GM...1000s... PRD...100s... XRX...10,000..."
The ticker would pause for a few moments, then more trades would come.
Some of these old men were known as "tape readers" or "tape traders." They saw patterns in the movements of the ticker and bought and sold stocks based on those patterns.
They made money, too, and plenty of it.
"Don't fight the tape. Don't fight the Fed. The trend is your friend," they said. I heard it so often, I couldn't stop it from constantly playing in my head.
I still can't, to this day.
Turns out, there's a good reason why: You can make a ton of money if you move when the Fed does, no matter what they do...
How I Learned to "Trade the Tape"
I thought it was amazing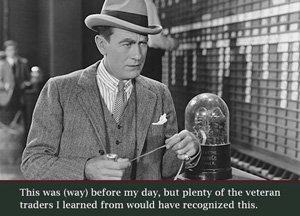 that we could see the trades nearly as they happened - nearly 10 million shares a day! It was exciting for me as a teenager to witness this cutting-edge technology. Often, I saw my own buy or sell order as it crossed the tape a few minutes after I placed it.
In fact, on a table near the customers' gallery there was a Bunker Ramo Corp. machine where we could type in the ticker symbol of a stock and get a quote with the bid, ask, and latest trade within seconds - amazing at the time.
Once a week, the brokerage office got the Standard & Poor's Trendline chartbook in the mail. It contained the daily stock charts for all listed New York Stock Exchange and American Stock Exchange common stocks for a one-year period through the previous Friday. The charts showed not only the prices, but the 50-day and 150-day moving averages.
Join the conversation. Click here to jump to comments…
About the Author
Financial Analyst, 50-year charting expert, finance + real estate pro, and market analyst; published and edited the Wall Street Examiner since 2000.