The conflict in Korea has gone unresolved for 77 years, one month, and 24 days.
On June 25, 1950, North Korean forces armed with weapons and tanks from the Soviet Union invaded the South in an attempt to unite the peninsula under communist rule.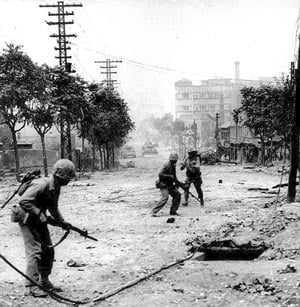 Five days later, the United States, under former President Harry S. Truman's administration, agreed to join its United Nations (UN) counterparts in an effort to aid the South. This marked the first conflict in which the UN played an active, unified role.
A multination military swooped in.
But three years and over a million lost lives later – in 1953 – the conflict stopped as an armistice was signed. But the armistice didn't signify a diplomatic common accordance of peace.
In fact, a Korean War peace treaty was never signed.
Which begs the question:
Is the U.S. still technically at war with North Korea?
That's a complicated question to answer and duly explain, so let's get started...
Is the U.S. Still Technically at War with North Korea?
The answer is no, the U.S. is not technically still at war with North Korea – at least not in the strictest sense of the word.
That's because the United States never declared war on North Korea when the conflict began in 1950.
President Truman sent U.S. military forces to the peninsula in June of that year under the guise of "police action," in an effort to placate the Soviet Union. You see, Truman's "police action" policy included a promise to the Soviet Union that UN troops would not advance past the 38th parallel.
An incredibly rare gold anomaly is shaping up in the markets as we speak -- one that has occurred ONLY twice in the past 20 years. And it's about to happen again. Details here...
The 38th parallel was a post-World War II demarcation used to designate Russia's occupied communist territory in the North and U.S.-occupied territory in the South.
Truman's observance of this border became a major point of contention between the president and U.S. Army Gen. Douglas MacArthur, who had been named commander of all UN forces in Korea.
While MacArthur's forces managed to advance and push North Korean troops back in the first few months of the fight, Truman's promise to keep U.S. troops from advancing past the 38th parallel hindered ground forces' ability to fully secure the border.
And when the Chinese army joined North Korea's fight on Nov. 25, 1950 – UN troops were caught off guard.
That's when it became clear that no matter what Truman was calling it, the United States was fighting a war -- one that ended with the aforementioned armistice signed by leaders from the People's Republic of North Korea (DPRK), China, and the UN.
A Truce, but Not a Treaty
An armistice ceases military hostilities and marks the end of actual armed conflict, while a treaty establishes the rules for maintaining ceasefire diplomatically. And there were plans in place to reach a treaty.
Article IV of the armistice called for the parties to convene in three months' time to establish a treaty. Talks did take place in Geneva in 1954, but they broke down over how future elections would be held under the unified government.
Since then, the two Koreas have been locked in a tense and hostile relationship.
North Korea's enmity for the United States hasn't diminished either – and it stems from our aid to South Korea in the war that left the regime absolutely devastated. U.S. planes had dropped approximately 635,000 tons of explosives on North Korea and 32,000 tons of napalm. The bomb raids responsible for the devastation dropped more explosives on North Korea in three years' time than the United States had carried out during the entire Pacific theater of World War II.
To this day, "the bombing is treated as the American original sin in the (North Korean) propaganda and it certainly was savage," Robert E. Kelly, professor of political science at South Korea's Pusan National University, told CNN on July 26. "It's become a political tool to justify the permanent emergency state."
We may not technically be at war with North Korea, but a "permanent emergency state" sounds about right.
Secret Weapon Set to Foil China's Master Plan: The South China Sea is about to get violent, and the Chinese have an alarming new superweapon they think gives them the upper hand. Or at least that's what their war hawks think. But they couldn't be more wrong. Thanks to a small $6 U.S. defense contractor with a top-secret technology, the Pentagon has an ingenious new checkmate move designed to stop a Chinese sneak attack dead in its tracks. Click here to learn more...
Related Articles:
Follow Money Morning on Twitter @moneymorning, Facebook, and LinkedIn.
[mmpazkzone name="end-story-hostage" network="9794" site="307044" id="138536" type="4"]