Money Morning Director of Technology & Venture Capital Research Michael A. Robinson released The Roadmap to Marijuana Millions nearly a year ago, and his advice has made some of our readers a mint through investing in the right marijuana stocks.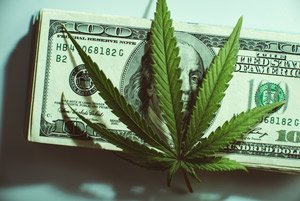 As of Sept. 14, 2017, there have been 10 double-digit winners and eight triple-digit winners through Robinson's recommendations.
One even saw peak gains of 1,588%.
Normally, Robinson keeps these recommendations close to the vest for his paid-up Nova-X Report readers.
But the profit opportunities have been so incredible, he wants Money Morning Members to be able to participate too.
And Robinson has four pot stock predictions for 2018 you won't want to miss...
Why Now Is the Best Time to Own Marijuana Stocks
Investing in pot stocks is still considered taboo by some investors, as cannabis is illegal under federal law.
But attitudes toward marijuana are changing, and more importantly, so are laws.
According to a 2016 Gallup poll, 60% of Americans support marijuana legalization. That support was clear in 2016, as residents of California, Nevada, Maine, and Massachusetts all voted to legalize recreational marijuana use.
Currently, 29 states and the District of Columbia have legalized medical cannabis, and recreational marijuana is legal in eight states.
Special Report: Cannabis Is the Gold Rush of the 21st Century - 30 Stocks to Invest in Now. Details here...
Video
Marijuana Businesses Are Teaming Up with This Billion-Dollar Industry
That means long-term investors who know cannabis is more than just a fad will capture the biggest profits.
And for 2018, Robinson sees four catalysts really driving the marijuana market in the next year.
"I'm expecting four watershed events in marijuana investing to happen over the next 365 days," Robinson said.
Here are Robinson's bold marijuana stock predictions, plus a special profit play opportunity...