Money Morning Director of Technology & Venture Capital Research Michael A. Robinson sees four watershed events in the next 365 days that can send the prices of marijuana penny stocks skyrocketing.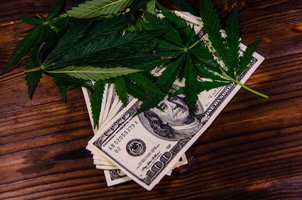 "The profit potential is enormous. And I want to make sure everyone has the chance to deploy their capital when these upcoming events come to pass," Robinson said on Sept. 14, 2017.
You can access Robinson's free marijuana prediction report right here.
And on top of Robinson's report, we are providing Money Morning readers with two pot penny stocks to watch today.
While these aren't recommendations, we're keeping an eye on these cannabis stocks ahead of the upcoming events Robinson says could send pot stocks soaring.
And the first marijuana company on our radar just completed its inaugural cannabis oil sale…
Watch These Two Marijuana Penny Stocks Heading into 2018
Future Farm Technologies Inc. (OTCMKTS: FFRMF) completed its first cannabis oil sale through its subsidiary, FFM Consulting Services LLC, according to a Sept. 14 MarijuanaStocks.com report
Details about the sale weren't provided, but large distributors are now requesting pricing for 2,500 kilos of cannabis oil per year from FFM, according to the same MarijuanaStocks.com report. We don't know how much Future Farm will charge, but we can make some projections.
Brilliant: Timing is everything when it comes to making money in markets – and this new, free service we created puts timing on your side…
CBDEssence.net sells CBD edible hemp oil for $59.99 per ounce. There are 88,184 ounces in 2,500 kilograms, so a company could net $5.2 million in revenue from 2,500 kilos being sold.
Again, we don't know how much Future Farm will sell its cannabis oil for. But we can project how much Future Farm could make from price markups from a range of industry prices.
According to SmallBusiness.Chron.com, the markup on baby food is around 8%, and cars are marked up between 5% and 10%. Even if CBD is marking up its oil 10% from the wholesale price, it still means FFRMF could generate $4.4 million in revenue.
Now, like most penny stocks, the FFRMF stock price has been volatile over the last 52 weeks. It's traded for a high of $0.75 and a low of $0.09 during that time. Today, FFRMF opened at $0.22.
But as more states legalize cannabis and as marijuana companies can sell more products, there's mainstream potential for pot stocks. And that means more profit for shareholders.
And the next pot stock we're watching could make the first cannabis prescription of its kind for cancer patients, while also lining the pockets of long-term shareholders…
Medical cannabis stocks, like GW Pharmaceuticals Plc. (Nasdaq ADR: GWPH), can climb quickly with regulatory approval. GW Pharmaceuticals skyrocketed 1,100% over the past four years, thanks in part to growing sales from one of its drugs that was fully approved for spasticity due to multiple sclerosis in Canada in 2010
BREAKING: New Legislation Could Turn Tiny Pot Stocks into Millions. Click Here…
Right now, the company is entering its medication into Phase 3 trials that could be the first type of cannabis medicine of its kind…
This Could Be the Best Medical Penny Pot Stock to Watch Right Now