Investors hoping to get in early on a popular startup company are asking what the Stitch Fix stock price is, but they'll have to wait a little longer before the company goes public.
According to Recode, the Stitch Fix IPO could be set before the end of 2017. That means there won't be a Stitch Fix stock price until the company goes public.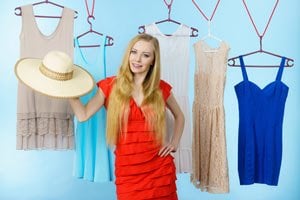 However, the company has to go public soon if it wants to make the 2017 deadline.
While we wait to see if Stitch Fix goes public, we wanted to make sure Money Morning readers know the most important details about this innovative company, including whether it's worth buying…
What Is Stitch Fix?
Stitch Fix is an online clothing subscription service for women and men.
A customer starts by filling out a questionnaire about their budget, size, and style preferences. Then, for a $20 fee, a stylist will ship five pieces of clothing to the subscriber.
The subscriber keeps what they like and are charged the cost of the clothes. Their $20 fee goes toward any purchases.
Any piece they don't like can be shipped back to Stitch Fix via a prepaid envelope. Stitch Fix's model allows for the convenience of shopping online, while adding personalized recommendations from a stylist. This unique model helped Stitch Fix haul in $730 million in revenue for 2016.
However, other business have taken note of Stitch Fix's success…
Stitch Fix's Biggest Competitors
One of Stitch Fix's competitors is Trunk Club. Trunk Club is an online clothing subscription service that Nordstrom bought three years ago for an estimated $350 million.
Trunk Club targets customers looking for more expensive clothes, but it still competes with Stitch Fix. Trunk Club clothing sells for roughly $100 to $300 per item, while the average price point per item for Stitch Fix is $55.
But there's an even bigger and more worrisome competitor just entering the market…
The bigger threat to Stich Fix's sales is Amazon.com Inc. (Nasdaq: AMZN). That's right, the mightiest of U.S. online retailers is also interested in the online clothing subscription industry.
In March, AMZN rolled out a new feature to its Prime customers called "Outfit Compare." It allows the customers to upload several pictures of themselves in different outfits. A stylist will respond with a vote on which one looks better.
At some point, the company could use Outfit Compare as the start of a service that competes directly with Stitch Fix.
How to Retire at 60: Your Action Plan to Make the Most of Your Golden Years
While Stitch Fix does have a unique business model that has allowed the company to close in on sales of nearly $1 billion in six years, can Stitch Fix still make money with Amazon looming?
Here's what we're recommending Money Morning readers do on the Stitch Fix IPO date, plus how they can start profiting from the online retail industry without waiting for another IPO…
Should I Buy Stitch Fix Stock?