Dating stocks are on a tear in 2017, even though the mainstream media still thinks dating stocks are a novelty despite the double-digit profits they are bringing investors.
But the industry is on the verge of going mainstream...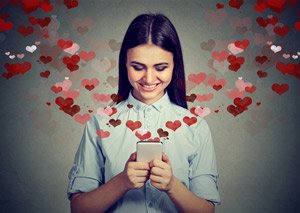 So far in 2017, both of the dating stocks we are about to mention have climbed over 46%. In comparison, the Dow Jones Industrial Average is up just 14.58%.
You see, online dating is still a growing industry, because there's a huge untapped market. And for forward-thinking investors, that means the profit opportunity is just getting started...
Why More Gains Are Ahead for Dating Stocks in 2018
According to StatisticBrain.com, there are over 2 million annual U.S. marriages. But according to a 2015 Pew Research Center study, only 5% of married couples or couples in a committed relationship said they met each other online.
Sign up for SMS so you never miss special events, exclusive offers, and weekly bonus trades.
That means only 100,000 people who got married in 2015 met online. That's changing in a hurry.
Thanks to evolving views on Internet dating, meeting a spouse online is becoming much more common.
In a 2005 Pew Research Center study, only 44% of those polled believed online dating was a good way to meet people. But just 10 years later, Pew found 59% of people surveyed thought online dating was a good way to meet people.
Investing in Drones Will Be Like Investing in Smartphones in 2009: If you've thought of drones in military terms or just as toys, this is a wake-up call. Find out more.
And these changing views are going to lead to a boom in online dating users...
There are expected to be a total of 291.8 million online dating users in 2017. By 2021, that will climb 15% to 338 million, according to Statista.
Now, 15% may not sound like a lot. But we are still in the early stages of Internet dating becoming more socially accepted. That means there is growth potential as online dating becomes mainstream.
While the industry is growing, there's simply no time to wait to invest in this emerging industry, because the biggest gains will be made by those who own dating stocks now.
That's why we had to make sure these two dating stocks were on your radar right now...
For These Dating Stocks, Double-Digit Profits Could Just Be the Start