A new cryptocurrency called Bitcoin Gold will be created on Oct. 25, 2017, when another hard fork establishes another new, alternate version of Bitcoin.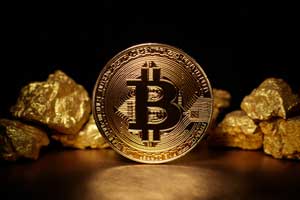 And to help our readers understand what the latest hard fork is all about, we've got an interview with the man behind the initiative.
Here's what Bitcoin Gold means for current Bitcoin holders, as well as what digital currency investors should expect on the day of the fork...
Why Bitcoin Gold Is Being Created
Money Morning Cryptocurrency Expert David Zeiler interviewed Bitcoin Gold's organizer, Robert Kuhne, to give our readers more details on the split.
In the interview, Kuhne said the idea for the split started with Jack Liao, the CEO of LightningAsic, a Hong Kong-based vender of digital currency-mining equipment.
Liao is worried Bitcoin mining is being dominated by a handful of Chinese Bitcoin miners who can afford more powerful machines than the average miner.
Never Miss Breaking Bitcoin News Again: Through our free Profit Alerts service, have breaking Bitcoin stories sent directly to your inbox.
With the hard fork, control over mining power would be more spread out instead of a handful of miners dominating mining efforts. Miners wouldn't have to pay thousands of dollars for expensive machines.
"The inspiration for Bitcoin Gold was to create a version of Bitcoin that is anti-fragile against mining centralization. The only way to do this was through a hard fork," Kuhne told Zeiler.
Kuhne also told Zeiler that Bitcoin Gold should be thought of as an insurance policy against mining centralization or other hard forks trying to overthrow the value of the original Bitcoin.
Just like with the Bitcoin Cash hard fork in August, anyone who owns Bitcoin will receive an equal amount of the newly created digital currency, Bitcoin Gold.
But what our readers want to know is what they should do with their Bitcoin Gold.
Is it smart to sell and just cash out?
Should you use it to buy more of the original Bitcoin?
Should you hold on to it and hope the value climbs?
Zeiler answers all our reader's questions and tells them exactly what to do, right here.
Tiny Company Poised for a 28,700% Sales Surge: Bill Gates and the billionaires at Google have invested millions in a technology that's about to transform medicine as we know it. Wall Street insiders have boosted their holdings by as much as 2,000%. Now, after an epic legal battle, a tiny $6 million company has just won in a shocking patent verdict. With 40 registered patents and 500 patents pending, it's positioned to dominate the U.S. medical markets for decades to come - and an imminent announcement could ignite a 28,700% revenue surge. Go here now for full details...
Follow Money Morning on Facebook, Twitter, and LinkedIn.