The gold price rallied 2.4% higher last week, pushing the yellow metal back above the $1,300 level for the first time since Sept. 26.
That strong gain was likely a relief rally, which gold prices were due for.
From Sept. 12 to Oct. 5, gold declined 5.8% to a two-month low of $1,273. This decline was largely due to the surging U.S. Dollar Index (DXY), which measures the dollar against other prominent currencies like the euro and the Swiss franc. The DXY climbed from 91.88 to 93.96 over that same time period.
But the overbought dollar fell back in the wake of last week's Federal Reserve minutes release from the September FOMC meeting. Despite the CME FedWatch Tool showing a 91.7% probability of a December rate hike, the minutes showed Fed officials talking about a patient approach to raising interest rates, indicating an expected year-end rate hike may not happen after all. The DXY – which often rises on the possibility of rate hikes – fell from 93.80 to 93.06 last week in response.
The bottom line is the Fed remains perplexed over persistently low inflation, putting a December rate hike into doubt. That means a weaker dollar and stronger gold prices, since the two usually move inverse to one another.
I still think that a gold price of $1,300 will prove to be a challenging level. I expect gold to hover near that level, but even if it steadies above it, I don't think it'll move much higher for a few more weeks.
However, we still have more than two months before 2018, and I think that will be plenty of time for the price of gold to run much higher.
Before I show you just how bullish I am on gold this year, here's a closer look at last week's big 2.4% rally…
Gold Price Climbs 2.4% Last Week (Oct. 6-13)
After settling at $1,275 on Friday, Oct. 6, gold prices started the new week higher by opening at $1,283 on Monday, Oct. 9. After moving sideways all morning, it steadied higher to $1,285 by the end of the day. That marked a gain of 0.8% from the Oct. 6 settlement.
The price of gold maintained momentum on Tuesday, starting the session at $1,292. This came as the DXY weakened from 93.50 to 93.25 over the course of the day. Gold eventually settled 0.7% higher, at $1,294.
Here's a look at how the DXY trended last week…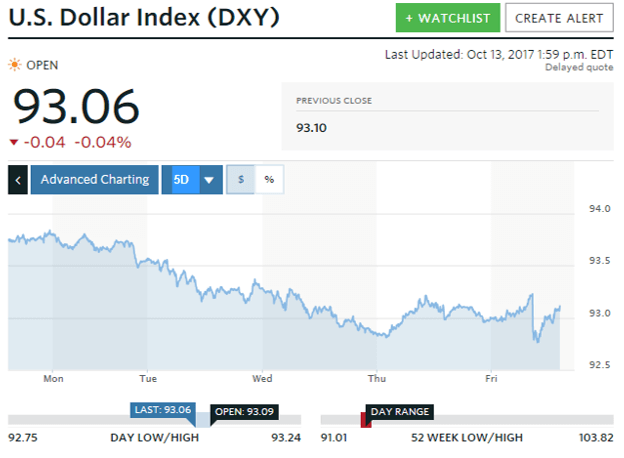 Wednesday saw gold open at $1,290 even, followed by a sell-off to $1,285 by 2 p.m., when the Fed minutes were released. The disagreement among Fed officials on how quickly and aggressively they should raise rates initially lowered both the dollar and gold. The DXY dropped from 93.29 to 93.02 on the day, while the gold price declined 0.4% to $1,289.
On Thursday, Oct. 12, gold opened higher at $1,295 despite a small wave of dollar buying. The DXY rose toward 93.25, which temporarily dragged gold prices lower. The metal still posted a gain, closing at $1,297 for a 0.6% rise for the day.
Urgent: Executive Editor Bill Patalon just saw something on his precious metals charts he's only seen twice in 20 years. He calls it the "Halley's Comet of investing" – and it could lead to windfall profits. Read more…
But the dollar saw a plunge from 93.25 to around 92.70 Friday on the heels of weaker-than-expected economic data. The U.S. Consumer Price Index grew 0.1% in September – below the 0.2% forecast – while retail sales were only up 1.6% – below the 1.7% forecast.
The dollar's decline pushed gold higher throughout the session. It closed the day 0.6% higher, at $1,305 – the highest since Sept. 26. With that, the price of gold posted a weekly gain of 2.4%.
And the gold price today (Monday, Oct. 16) continues to hover near that two-and-a-half-week high. It's currently up 0.2% and trading at $1,307.
Despite last week's rebound, I remain skeptical that gold will keep rallying in the short term. It could likely head back lower through the rest of the fall season.
But that doesn't mean it won't head back higher through the winter, which is why I'm going to share with you my price targets for the end of 2017…
My Gold Price Prediction for the Rest of 2017
Join the conversation. Click here to jump to comments…
About the Author
Peter Krauth is the Resource Specialist for Money Map Press and has contributed some of the most popular and highly regarded investing articles on Money Morning. Peter is headquartered in resource-rich Canada, but he travels around the world to dig up the very best profit opportunity, whether it's in gold, silver, oil, coal, or even potash.