Yesterday (Oct. 24), the last day of Beijing's 18th Communist Party Congress, China's President Xi Jinping signaled to his 1.4 billion constituents that he intends to continue holding absolute power for as long as he possibly can.
Specifically, the Chinese president failed to identify a potential successor to follow his lead once his second term ends in 2022; doing so at the end of each of the country's Communist Party Congresses is a long-followed tradition.
Until yesterday, at least.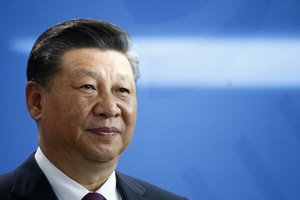 In fact, by failing to appoint a successor as expected, Xi technically broke Chinese law. Beijing's constitution clearly forbids any president from serving more than two terms. But, according to Chinese law scholar Thomas Kellogg in Foreign Policy on Sept. 7, Beijing's constitution "carries little weight," and "its core precepts are regularly violated."
Indeed, Xi's move yesterday - legal or otherwise - was widely accepted by his people and his diplomatic counterparts alike as an indication that the president will at least seek a third term in 2022 and may attempt to rule the country indefinitely.
Xi's prolonged stay as head of state will seriously impact the global markets in the coming decades, especially if he is successful in carrying out the extensive plans he outlined over the course of China's most recent Communist Party Congress.
Here's a look at those economic objectives and what they mean for investors worldwide.
President Xi's Long-Term Economic Goals for China
In his marathon three-and-a-half-hour speech at the opening of the Chinese Communist Party Congress on Oct. 17, President Xi hailed a "new era" for Chinese socialism, NBC News reported.
And what would better develop and maintain that "new era," according to the president, than to give added attention to the nation's economic prosperity and growth in the years ahead.
By 2050, Xi declared, China would be a nation with "pioneering global influence."
This particular objective of Xi's has already taken root.
Just look to China's still-nascent "Belt and Road Initiative" (BRI).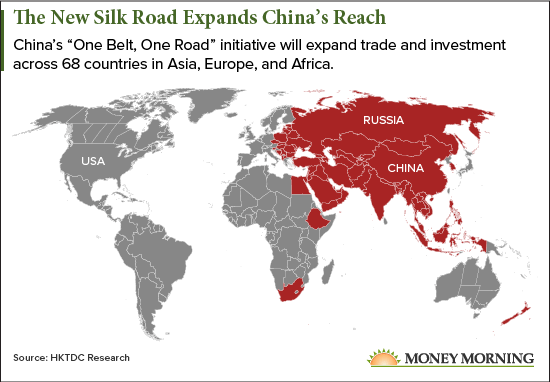 The BRI is a massive project that was first unveiled in October 2013. Its grand purpose is to establish a broad economic zone connecting China and Europe over land (via the ancient Silk Road routes) and sea.
The groundwork for BRI has been laid (and built upon) over the past four years.
The initiative's continued development is so important to President Xi that he had guidelines for its expansion and maintenance written into China's constitution. At the very least, the added mandate serves a symbolic purpose - to consistently remind the Chinese people, and the rest of the world, that Xi is dedicated to achieving global dominance in just three decades' time.
Fortunately for investors, Xi's ambitious plans in the long term provide a clear opportunity to profit in the near term from. That's according to Money Morning Chief Investment Strategist Keith Fitz-Gerald, a 34-year financial analyst who knows Asia's ever-evolving economic outlook like the back of his hand.
Indeed, Keith believes BRI "will create an entirely new batch of millionaires within the next five years."
To become one of them, Keith suggests readers invest in Alibaba Group Holding Ltd. (NYSE: BABA).
That's because BABA already dominates China's e-commerce industry, just like Amazon.com Inc. (Nasdaq: AMZN) does in the States. And since China's e-commerce market could amass sales of $2.4 trillion by 2020, according to eMarketer in August 2016, BABA has incredible growth potential to continuously make investors rich.
Must See: The Defense Industry Is a Gold Mine - You Can't Afford to Miss This $6 Company...
Plus, Alibaba already has 454 million users in China, and Keith says BRI in particular could expand Alibaba's reach to countries across Asia and Europe, too.
There's profit in Xi's near-term goals for China, as well...
President Xi's Near-Term Economic Goals for China
Xi's near-term economic goals for Beijing center primarily on the concept of innovation.
In that same Oct. 17 marathon congressional preamble, the president called for making China a "country of innovators" and a nation for creating competitors in "aerospace, cyberspace, clean energy, and computer technology," reported ABC News on Oct. 18.
"We will strengthen basic research in applied sciences, launch major national science and technology projects, and prioritize innovation in key technologies," Xi declared in the televised speech.
The Chinese president's promise was actually a reiteration of an older objective he first outlined in 2015...
That's when, under the slogan "Made in China 2025," Beijing's government began encouraging its companies to develop indigenous technology.
Immediately, local governments responded vigorously to Xi's new tech campaign...
Right off the bat, Beijing "spent $36 million to turn what used to be an alleyway full of bookstores into Innoway, an office park that houses hundreds of startups," Quartz reported this morning.
In the years since, far more crucial changes have taken place.
For instance, over the past two years, according to Miao Wei, Chinese minister of industry and information technology, the country has seen "the establishment of the likes of National Power Battery Innovation and 35 provincial-level manufacturing innovation centers, which greatly boosted the country's prowess in core technological breakthroughs," reported China Daily on Oct. 21.
And earlier in 2017, on July 21, China announced plans to become a world leader in artificial intelligence by 2030.
All this rapid technological evolution was made possible by Xi's relaxation of decades-old laws restricting corporate spending for the sake of "fairness." Now, Chinese companies are free to innovate, and they're doing just that. Successful companies are coughing up billions of yuan a year to develop their own technology in computers, telecoms, and other fields in order to create a microcosm of "indigenous innovation."
President Xi has also made it easier for China's big corporations to partake in international trade deals, boosting Beijing's technological business production and knowledge in the near term.
This is where international investment opportunities come into play...
You see, thanks to corporate deals between China and tech innovators all over the world, Beijing's semiconductor (computer chip) sector is growing more profitable by the day.
In an Oct. 19 report issued by SEMI, a trade group association for the microchip industry, spending on Chinese chip-manufacturing factories (called "fabs") alone will reach $12 billion by next year - and will grow from there...
"China is the largest consumer of semiconductors in the world, but it currently relies mainly on semiconductor imports to drive its growth," the trade group says in its new forecast, The China IC Industry Outlook Report.
"Policies and investment funds are now in place to further advance the progress of indigenous suppliers in China throughout the entire semiconductor supply chain. This shift in policy and related initiatives has created widespread interest in the challenges and opportunities in China."
Don't Miss Out: Never miss a single update on the latest economic news from China, complete with analysis on how and when your investments could be affected. Get real-time alerts sent to your inbox, completely free, here.
Money Morning Executive Editor Bill Patalon, a 30-year veteran analyst of business, global economics, and world financial markets, says this kind of spending and support from Xi's government presents a clear and lucrative profit play...
Here's the "Fab" Profit Opportunity in Chinese Tech
"With at least 15 new fab projects announced or in production right now, China will soon set records for annual equipment spending for any single region anywhere in the world," Bill told his Private Briefing subscribers on Oct. 19.
"And the world's No. 1 supplier of semiconductor production gear, Applied Materials Inc. (Nasdaq: AMAT), will certainly be a big beneficiary."
Indeed, those who followed Bill's initial recommendation on May 27, 2014, have seen a 169% gain - nearly five times the S&P's gain over the same period.
And AMAT is going to ride the wave of growth from almost every major technology trend - from nearly every country to boot - in the coming years.
That's not just Bill's opinion.
It's JP Morgan's, too. Though they jumped on the AMAT train way later than Bill - unfortunately for them.
This is just one of the many prescient and profitable calls Bill makes for his Private Briefing subscribers every week.
In fact, Bill just caught something on his gold charts that he's only seen twice in the past 20 years. A $13 billion gold anomaly he calls the "Halley's Comet of investing."
It's very rare, and fleeting, and Bill sees things lining up perfectly to bring some very sizeable precious metal profits to well-positioned investors.
Click here to check out his research...
Follow Money Morning  on Facebook, Twitter, and LinkedIn.
Related Articles: