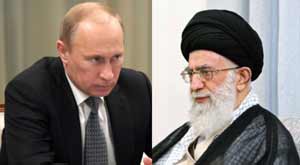 Iran and Russia are on a warpath to isolate America from the global economic stage.
And they plan to do it by using the U.S. dollar.
Or, more accurately, by not using the U.S. dollar.
See what we mean - and how you can protect your investments amid the coming storm...
Iran and Russia Strike Not One, but Six Oil Deals
Russia and Iran need each other.
On Wednesday (Nov. 1), the two countries agreed to collaborate on six separate "strategic" energy deals worth some $30 billion.
These deals would be an economic boon for Tehran after years of sanctions that were only lifted in 2015 via the arguably contentious Iran Nuclear Deal.
In the two-plus years since, Iran has only managed to secure one notable agreement - with French company Total, in July - worth $4.8 billion.
But fortunately for Iran, Russia needs to diversify its global oil assets.
Which brings us to Wednesday's agreement between Moscow and Tehran.
Ultimately, that $30 billion deal will achieve a "production plateau [of] 55 million [metric tons] of oil per year," Igor Sechin, chief executive of Russia's state-controlled Rosneft, said, according to The Financial Times that day.
That's more oil than any nation produced in 2016, though Russia did produce the most crude last year for the first time ever; it outsold Saudi Arabia by 22 million metric tons.
Russia's move into Iran, then, may be a strategic one - a power play meant to secure Moscow's top-producer status into the future.
But Russia and Iran's $30 billion deal also serves another purpose - one that Iran's Supreme Leader Ayatollah Ali Khamenei didn't shy away from advertising across international lines...
Iran Pressures Russia to Ditch the Dollar
After branding America as an "enemy" on Wednesday, Khamenei urged Russian President Vladimir Putin to sever ties with the U.S. dollar.
"By ignoring the negative propaganda of the enemies, that seek to weaken relations between countries, we can nullify U.S. sanctions, using methods such as eliminating the dollar and replacing it with national currencies in transactions between two or more parties; thus, isolate the Americans," Khameni said, according to Economic Times.
You Need This Precious Metal in Your Portfolio - Learn How to Leverage This Rare Market Anomaly Before It's Too Late.
The Supreme Leader's ominous suggestion didn't elicit public agreement from Putin, but the Russian leader did condemn U.S. President Donald Trump's unilateral stance on the Iran Nuclear Deal - that it was "the worst deal ever negotiated."
Putin said that "Moscow opposes any unilateral change in the multilateral nuclear deal," The Washington Post reported on Wednesday.
But Putin didn't go any further with his America-bashing - yet.
So it's safe to assume that Khamenei's suggestion this week was meant to be more of a public performance of sorts. To let American diplomats know that Russia and Iran will support one another should the United States one day nullify the Iran Deal, and that they have the will and the means to disrupt America's leadership in the global economy.
That's because a successful "Russia-Iran dollar ditch" would set in motion a domino effect that could see the greenback overtaken as the global standard in oil deals.
A crushing blow to the U.S. economy.
Here's how it could play out...
If Iran and Russia Give Up the Greenback, Others Will Follow
Make no mistake: Iran and Russia are capable of starting a global movement away from the dollar.
Right now, the "petrodollar" (the dollar-based currency standard for international oil deals) is the standard worldwide. It's been that way since former U.S. President Richard Nixon struck a deal in 1974 with Saudi Arabia - chief oil exporter to the world then and, for the most part, now.
A move away from this standard, however, would invite other nations to follow suit, which would result in exactly the kind of isolation that Khamenei discussed this week.
Iran is not the only nation considering this move at present.
China is actively working to "compel" Saudi Arabia to trade oil in yuan instead, which would make the standard oil currency "petro-yuan."
And the impact of replacing the petrodollar with petro-yuan overall would seriously injure the U.S. economy as a whole.
"Moving oil trade out of dollars into yuan will take right now between $600 billion and $800 billion worth of transactions out of the dollar," Carl Weinberg, chief economist and managing director at High Frequency Economics, told CNBC on Monday.  This would mean "a stronger demand for things in China, whether it's securities or whether it's goods and services. It is a growth-plus for China, and that's why they want this to happen," he added.
A growth-plus for China, and a massive loss for America, that is.
This scenario isn't far-fetched; Venezuela already switched over to petro-yuan on Sept. 13.
Never miss a single update on oil & gas again. Get real-time alerts sent to your inbox, completely free, here.
If Iran and Russia follow through with Khamenei's scheme, joining Venezuela's recent "dollar ditch," then further support from China and even Saudi Arabia could follow close behind, excluding the U.S. dollar from trillions in trade.
And it all stems back to Washington's fraught relationship with Tehran...
American Oil Companies Will Be Left Out in the Cold
When it comes to playing hardball with Iran, the United States is quickly losing leverage.
On Oct. 16, Money Morning Global Energy Strategist Dr. Kent Moors, a 35-year expert in global oil and gas policy and emerging market economic development, wrote about the deleterious future outlook of a re-sanctioned Tehran - particularly, how it would affect average investors in the United States.
Kent wrote that such a future would give OPEC "greater ability to exceed their production cap without depressing overall price."
We all see what happens whenever OPEC does that: Gas prices skyrocket and put a dint in our wallets.
On top of that, Kent wrote, "European energy majors and their continental sources of finance are now quite far along in negotiating deals to extract oil and gas in Iran, as well as for major liquefied natural gas (LNG) export contracts."
This is to say that energy companies across the Atlantic would still pursue oil deals with Iran, regardless of America's stance toward the Middle Eastern nation, because they're already well underway.
Indeed, those deals would continue, Kent wrote, "with the European home governments of both companies and banks supporting the ventures."
In turn, American businesses will be left out in the cold - or "isolated," if you will - because they'll be missing out on global oil buy-in deals.
Fortunately, the global energy balance is shifting. If the politicians in Washington allow short-sighted and fear-based domestic policy to sabotage the preeminence of the petrodollar, savvy investors can - and should - find lucrative energy opportunities outside of oil.
Opportunities like this one...
Utility Companies Spent $400 Million to Kill This
It can power your car, heat your home, and even run entire factories. This special fuel is "harvested" in most parts of the world, and there's enough to power the planet for 36,000 years.
Yet D.C. lobbyists made $400 million preventing it from going mainstream.
See why tech companies are investing millions in this fuel (and how to join them). Click here to read more...
Follow Money Morning on Twitter @moneymorning, Facebook, and LinkedIn.
Related Articles:
Here Are 10 "One-Click" Ways to Earn 10% or Better on Your Money Every Quarter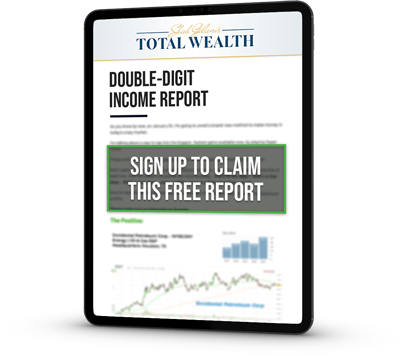 Appreciation is great, but it's possible to get even more out of the shares you own. A lot more: you can easily beat inflation and collect regular income to spare. There are no complicated trades to put on, no high-level options clearances necessary. In fact, you can do this with a couple of mouse clicks – passive income redefined. Click here for the report…