Canadian marijuana stocks are going to soar once Canada fully legalizes marijuana on July 1, 2018, and American investors won't be left out...
Analysts project there's going to be a $22.6 billion cannabis gold rush in Canada thanks to the legalization effort.
While buying stocks on Canadian exchanges can be a complicated process for American investors, we're going to show you how you can still get a piece of the action.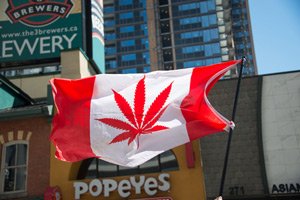 But to make the largest gains, you have to stake your claim right now...
Canadian Marijuana Stocks Set to Rocket as July 2018 Approaches
In 2016, legal marijuana sales across North America totaled $6.7 billion.
And thanks to full legalization in July 2018, that number could more than triple in Canada alone...
Consulting firm Deloitte projects the Canadian marijuana market could be worth $22.6 billion annually. Deloitte believes Canada's retail cannabis sector will be worth between $4.9 billion and $8.7 billion annually.
Marijuana-related products and services, like testing labs, growers, and security systems, will increase that total as high as $22.6 billion.
And that $22.6 billion could even be too conservative when taxes, cannabis-related tourism, and licensing fees are factored in.
Video
5 Things Marijuana Investors Need to Know Now
Now, investing on the Toronto Stock Exchange (TSE) is complicated. You need to find a brokerage firm that allows it, convert your currency into Canadian dollars, and deal with different tax laws.
However, American investors can still buy Canadian marijuana stocks through over-the-counter markets (OTCMKTS).
Like with any investment, we always encourage our readers to do their due diligence before buying Canadian marijuana stocks. Also, we never recommend risking more capital than you can afford to on speculative investments.
Special Report: Cannabis Is the Gold Rush of the 21st Century - 30 Stocks to Invest in Now. Details Here...
But thanks to this historic legislation, tiny pot stocks trading for under $5 are getting set to double, triple, or even quadruple. In an exclusive interview with Money Morning, pot stock expert Michael Robinson shares all the good news - including details on five tiny weed stocks that could potentially turn a small stake into $100,000.
Here's everything you need to know about your next profit opportunity from Canadian marijuana stocks...
How to Profit from the $22.6 Billion Canadian Marijuana Market