America's water infrastructure - including the millions of miles of pipes that deliver water straight to your faucet - needs a $1 trillion upgrade. And a top dividend stock is poised to reap the benefits of any overhaul, turning this trillion-dollar problem into profits for you...
According to the American Society of Civil Engineers' (ASCE) 2017 Infrastructure Report Card, that insane amount of money is needed to maintain service and meet U.S. demand through 2042.
And this expensive crisis could get even worse.
Money Morning Chief Investment Strategist Keith Fitz-Gerald says there are two trends that will drive demand and boost our dividend stock pick over the next two decades...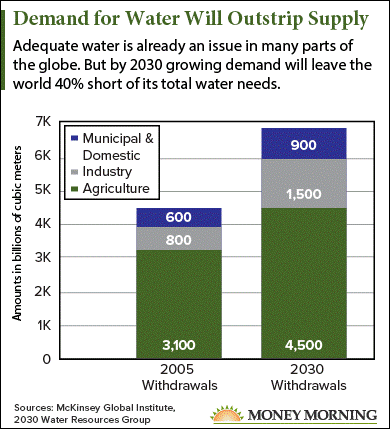 Why Drinking Water Scarcity Will Push Our Top Dividend Stock Higher
The growing scarcity of fresh drinking water combined with rising populations across the globe will fuel demand for our dividend stock.
The much-needed infrastructure upgrade will become even more important as we race to increase freshwater supply, which is set to be outstripped by demand within the next two decades...
According to data from the United Nations, we're projected to have 40% less freshwater than we need by 2030 if supply remains scarce. National Geographic estimates only 0.007% of the Earth's water is available to the global population of 7.5 billion.
That shortage makes the U.S. infrastructure upgrade even more important. If we're unable to spend $1 trillion to renovate and replace our country's millions of miles of pipes, we eventually won't have the means to even access that limited supply of drinking water.
As freshwater becomes scarce, the global population is continuing to grow. The global population is forecast to rise by 29%, to 9.7 billion, by 2050.
That's turning an infrastructure problem into a full-blown crisis.
Those two factors will boost today's stock pick, since they tie into scarcity/allocation and demographics. These are two of Keith's six Unstoppable Trends...
These six trends are medicine, technology, demographics, scarcity/allocation, energy, and war, terrorism, and ugliness (collectively known as "defense"). The Unstoppable Trends are backed by trillions of dollars that Washington cannot derail, the Fed cannot meddle with, and Wall Street cannot hijack.
Urgent: An $80 billion cover-up? Feds use obscure loophole to threaten retirees... Read more...
Even if their share prices are already high, companies that tie into these trends are poised to go higher over the years and are therefore must-haves in your portfolio. That's because they offer basic goods and services that human beings can't live without.
"I do not believe a single dollar in the U.S. economy will be made outside of these trends in the near future," Keith said in 2014. "Put another way, you will be able to look back years from now and trace almost every dollar that will be made in the markets for the rest of your investing lifetime to one of these six primary trends."
Today's recommended stock is one of America's leading water companies, meaning it helps provide the most important resource humans need to survive.
That - combined with its generous dividend and ongoing efforts to replace U.S. water infrastructure - make it one of the best dividend stocks to own for 2018...
The Best Dividend Stock to Buy to Profit from the Water Crisis