As we're watching Bitcoin millionaires being made by the minute, we want our readers to see CoinDesk's top five traders and learn how actual people are turning Bitcoin into life-changing profits. And we're here to help you every step of the way...
In addition to our free cryptocurrency Profit Alerts service and free, premium guide on how to buy Bitcoin, we're also showing our readers how other crypto experts are making money.
On Nov. 10, 2017, we provided Money Morning readers with CoinDesk's list of top five analysts.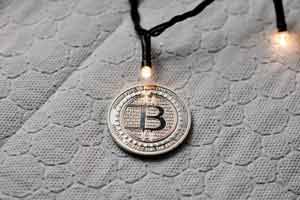 You see, Bitcoin has become a lucrative investment, and it's minted millionaires overnight.
Even though the first Bitcoin transaction was less than 10 years ago, in 2009, the cryptocurrency now has a market cap over $156 billion.
Bitcoin and the underlying blockchain technology that makes it all work are more than just trends. In fact, there's one Bitcoin price prediction that shows the cryptocurrency could reach $1 million by 2030.
That's why we want our readers to know CoinDesk's top five traders in the industry, including what makes them worth following.
The list starts off with "one of the most prolific" sports bettors in the world...
CoinDesk's Top Trader, No. 5: Bob Voulgaris
Before he became a crypto investor, Voulgaris made a career of betting full-time on the NBA games.
He began betting on sports in the late 1990s, and within five years, he had accumulated a fortune, according to ESPN. At the time, he reportedly had a winning streak of 70% and was routinely wagering $1 million in a single day of basketball games.
Now he's investing in Bitcoin and sharing his thoughts on Twitter. Inc. (NYSE: TWTR).
"Make no mistake, Bob has traded cryptocurrencies since the early days, and evangelized friend Mark Cuban from his 'Bitcoin is a bubble position' to investing in tokens," CoinDesk said.
CoinDesk's Top Trader, No. 4: Peter Brandt
Brandt entered the commodity trading business in 1976, and he handled large institutional accounts like Campbell Soup and Godiva chocolate until 1980.
After that, Brandt founded Factor Trading Co. Inc., a company that traded proprietary funds and managed trading activities of institutional clients.
He's also the author of "Diary of a Professional Commodity Trader: Lessons from 21 Weeks of Real Trading."
"Other crypto traders have been able to learn from the best charter in the game, and the crypto industry is better for the attention, thought, and skills Peter has brought," CoinDesk said.
CoinDesk's Top Trader, No. 3: Tone Vays
Vays has a background on Wall Street, serving as the assistant vice president of financial systems at Bear Stearns Asset Management from 2007 until 2008, and as the VP of financial systems at JPMorgan Chase & Co. (NYSE: JPM) from 2007 until 2010.
Video
Top 5 Cryptocurrencies to Invest in Today
Currently, he's the host of the Crypto Scam Podcast, and the head of research for Brave New Coin (BNC).
"An evangelist for the technology, Tone works to give insight into some of the political ideas around Bitcoin along with trading advice through his own chart sharing," said CoinDesk.
CoinDesk's Top Trader, No. 2: ฿TF%$D!
CoinDesk's No. 2 trader goes by the alias "฿TF%$D!", and little is known about the person behind the identity, but we do know they own CryptoHustle.com.
And with over 40,000 Twitter followers, the crypto community wants to hear what @CryptoHustle has to say.
Drones Are Going to Be Big - "$127-Billion-In-New-Wealth-For-Early-Investors Big." See The Seven Reasons This Drone Company's Stock Is Set to Explode.
Reports and crypto updates are shared on the site, as well as guides for securing crypto coins, guides on how to buy Bitcoins, and the trading basics of cryptocurrencies.
CoinDesk's Top Trader, No. 1: CryptoCobain
The alter ego for this pseudonymous trader is pretending late Nirvana singer Kurt Cobain faked his death to become a "cryptocurrency degenerate."
Despite the pseudonym, 62,000 Twitter followers flock to his advice.
"Besides daily commentary, and never wavering from the idea that he quit the band, CryptoCobain shares helpful insight on risk management, portfolio allocation, and which coins he thinks are due for a pump," CoinDesk said.
Up Next: 5 Cryptocurrency Books to Read Right Now
Want a better understanding of Bitcoin, Ethereum, and blockchain technology, but don't know where to start?
These five books will enhance your knowledge and increase your understanding of the crypto world.
Digital Gold: Bitcoin and the Inside Story of the Misfits and Millionaires Trying to Reinvent Money
Ethereum: Blockchains, Digital Assets, Smart Contracts, Decentralized Autonomous Organizations
Blockchain Revolution: How the Technology Behind Bitcoin Is Changing Money, Business, and the World
Blockchain Basics: A Non-Technical Introduction in 25 Steps
[Editor's Note: We are a participant in the Amazon Services LLC Associates Program affiliate advertising program designed to provide a means for sites to earn advertising fees by advertising and linking to the above-mentioned site.]
Follow Money Morning on Twitter, Facebook, and LinkedIn.