The best China solar stock to buy in 2018 is a direct way to play the potential 700% solar industry growth…
We're already bullish on solar stocks thanks to solar's growing cost-competitiveness and the world's growing energy demand. But the one we're recommending today is the best stock to choose from…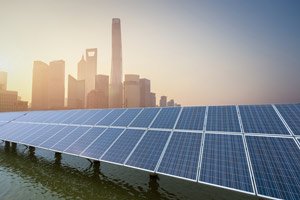 In the United States alone, the costs of solar power are now 1/150th of their costs in the 1970s. And now the International Energy Agency (IEA) is projecting global energy demand will rise 20% by 2040.
But China's solar industry has the most potential for explosive growth, which means investors can find once-in-a-lifetime profits with Chinese solar stocks…
How China Dominated the Solar Energy Industry
China is already the world's dominant solar energy producer, but its potential is staggering.
In 2016, China announced that it would produce 105 gigawatts of solar power by 2020, as part of its five-year economic plan. And that plan was ambitious. To meet the goal, China would need to triple its solar output annually.
The World's First "Universal Fuel": Physicists have known about an unlimited source of free fuel for over 100 years. And the cost of this fuel is zero. It's free. Click here to read more…
One year later, China has already smashed its 2020 goal. In 2017, China produced 112 gigawatts of solar power.
But the growth of China's solar industry was no accident. The country has aggressively pursued solar projects to offset fossil fuels.
In 2017, China completed the largest solar energy production operation in the world, which spreads 12-square miles and is about the same size as the Macau province. But that's not all. The country is also now home to the largest floating solar farm ever built. These two facilities combined are producing enough energy to power 215,000 residences.
According to the IEA, more than 60% of the photovoltaic (PV) cells used throughout the world come out of China. There has been a dramatic increase in the number of PV cells being produced in China over the past decade.
Aside from the solar farms that produce energy for the country, China is also a world leader in the production of the PV cells that are used in solar panels.
And China isn't stopping there. China is also promising to spend an additional $360 billion by 2020 on alternative energy sources.
But that's just part of how China will achieve massive solar energy growth…
Why China Solar Stocks Are on the Cusp of 700% Growth
While China has taken ambitious steps toward building its solar industry, it has yet to truly tap its potential.
You see, China consumes a huge amount of electricity.
China consumes close to 5.9 trillion kWh of electricity annually, which is the most of any country in the world. By comparison, the United States consumes just over half that amount, at 3.9 trillion kWh per year.
For China to meet its demand, it's had to rely on polluting sources of electricity, especially coal. That's created a polluting problem. China emitted 30% of the world's carbon output in 2015, and cities are regularly draped in smog.
Coal is also a finite resource that's becoming more difficult to mine as supplies dwindle.
That's creating the perfect storm for solar power to step in.
Not only is solar energy 100% clean, it's also priced competitively with coal. Money Morning Global Energy Strategist Dr. Kent Moors reports that solar has finally reached grid parity in some parts of the world. That means it costs the same to produce electricity from solar power as it does coal.
Here's why that matters: Currently, China's solar industry only produced about 5% of all energy output in the country, while coal makes up 59%. However, just five years ago, solar made up less than 1% of the output while coal made up 66%. That means China's solar industry is just at its beginning stages, not its peak, and could eventually take over as China's top energy producer.
That's why China's solar power generation is projected to grow by 700% through 2035, according to Wood Mackenzie.
And that's also why investing in China's solar industry is imperative for anyone seeking historic gains in the energy sector. Here's the best china solar stock you can buy to tap into this enormous growth potential…
The Best China Solar Stock to Buy in 2018