The Fed just hiked interest rates on Wednesday (Dec. 13). That has the media abuzz about how it could hurt gold prices, but they are wrong…
Conventional wisdom in the media says that interest rate hikes by the Federal Reserve are generally bearish for the price of gold. In fact, a recent Reuters report said that the yellow metal is highly sensitive to rising U.S. interest rates.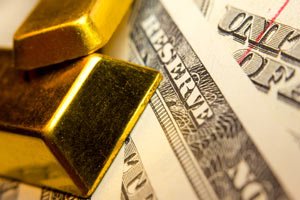 But while the media perpetuates this myth, there is actually very little solid correlation between interest rates and gold prices.
Don't Miss: He's Broken the Cardinal Rule of Trading – and It's Making Him Richer Every Day
Just look at what happened to the gold price earlier this week. When the Fed raised its short-term rate by 25 basis points this week, to a range of 1.25% to 1.50%, gold responded with a significant pop higher. Mining stocks jumped by over 3%, making that day's session the biggest daily rally since August.
We here at Money Morning see gold building on those early gains in 2018, even as the Fed continues to hike rates…
The 3 Catalysts for Gold Prices
While the media believe that higher interest rates will pressure gold prices downward, we know gold prices are still going to rise. In fact, there are three catalysts pushing gold prices higher in 2018.
First, higher interest rates are actually associated with higher gold prices.
As the Fed continues to slowly raise, or normalize, interest rates, many investors and analysts alike believe it will make other investments more attractive than gold. Specifically, they expect money to flow into bonds and other fixed-income investments and out of gold, which offers no yield at all.
Urgent: Executive Editor Bill Patalon just saw something on his precious metals charts he's only seen twice in 20 years. He calls it the "Halley's Comet of investing" – and it could lead to windfall profits. Read more…
To the contrary, rising and higher interest rates may in fact be bullish for gold prices. There is evidence that gold prices are completely unresponsive to the Fed's policymaking. Here are just two examples, but they are important ones.
The gold bull market in the 1970s and 1980s happened even as the Fed tested record-high interest rates. The yield on the 30-year Treasury bond rallied sharply during the late 1970s, eventually topping 15% in 1981. Gold rallied from about $100 per ounce in 1976 to over $850 per ounce in 1980.
More recently, gold prices soared from about $260 per ounce in 2001 to the peak in 2011, when the metal topped $1,923 per ounce. During that entire span, the 30-year Treasury yield declined – from 6.5% to 2.6%, meaning gold prices rose even as buyers flocked to bonds.
Second, gold is traditionally used as a hedge against uncertain times, and we are in the era of uncertainty.
Right now, with tensions in North Korea, pending tax reform, and the rise of cryptocurrencies such as Bitcoin, the potential for instability abounds.
That can only support the case for higher gold prices.
It is not a direct push for higher prices, but it sets the environment where conditions and sentiment become ripe for change. Right now, a recovering economy hides many structural problems. But the next destabilizing event will be a catalyst for gold prices in 2018.
And that leads us to our final gold price catalyst and 2018 gold price prediction…