There's growing speculation that North Korea's next missile test will occur this Sunday, Dec. 17.
Harry J. Kazianis, director of Defense Studies at the Center for the National Interest, warned readers on FOX Business Network to mark their calendars.
"That is when I predict North Korea will once again test its new long-range missile, the Hwasong-15," Kazianis wrote on Dec. 7.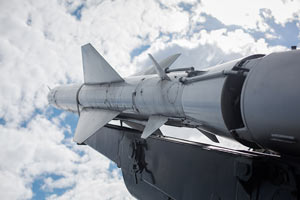 His warning followed a Nov. 26 report from the Center for Strategic and International Studies, a bipartisan, nonprofit policy research organization in D.C., whose data shows elevated chances for provocations by the isolated regime within four weeks.
Sunday, Dec. 17, falls right into that projection.
And there's good reason experts are so concerned right now.
You see, Dec. 17 is a national holiday commemorating the death of former North Korean dictator Kim Jong Il in 2011.
In the past, Pyongyang has marked such commemorations with rocket tests and military drills.
And this year has been the nation's most volatile to date - with 12 mid- and long-range missile tests, three of which flew over Japan, a massive hydrogen bomb test on Sept. 3, and multiple rocket engine tests throughout.
So Dec. 17 is a prime opportunity for Pyongyang to cap off the year with yet another ballistic missile trial run.
Already, Washington seems to be prepping for new hostilities from the peninsula...
The past week has seen an uptick in diplomatic strategy talk coming out of the nation's capital.
Have a look...
North Korea's Back at the Top of Washington's Agenda
On Tuesday, U.S. Secretary of State Rex Tillerson told the Atlantic Council think-tank that the United States is open to having a dialogue with North Korea "anytime," reported The Financial Times on Wednesday.
Tillerson made one particular concession about possible negotiations that shocked the public and pundits alike. He stated that Washington is "ready to have the first meeting without preconditions. Let's just meet. We can talk about the weather if you want. We can talk about whether it's gonna be a square table or a round table if that's what you're excited about. But can we at least sit down and see each other face to face."
This statement was a clear break from the White House's more offensive stance on the regime. Sure enough, just this morning, the U.S. National Security Council said that America's policy "has not changed," Reuters reported, and that the Trump administration remained "open to the possibility of dialogue" with North Korea toward the aim of removing nuclear weapons from the Korean Peninsula... but not without preconditions.
Defense Stocks Are Skyrocketing - See How You Could Profit from This Incredible Company Before It's Too Late
Also today, news broke that Russia President Vladimir Putin and U.S. President Donald Trump agreed via phone call to exchange information about Pyongyang and to cooperate on possible initiatives to resolve a crisis around the nation.
"The primary point was to talk about North Korea, because we would love to have his help on North Korea. China's helping, Russia's not helping; we'd like to have Russia's help," Trump said at a briefing outside the White House, according to Reuters.
But Moscow is quickly becoming Pyongyang's closest ally.
In fact, trade between the two nations increased by a staggering 73%, to $31.4 million, during the first two months of 2017 compared to the same period last year, reported USA Today on June 5.
That trade figure could be a vast understatement, since Russia's oil deliveries to North Korea don't appear on official customs data, CNBC reported on Nov. 23. The news outlet estimated that "actual trade volumes [between the two countries] are at least three times higher than what is recorded."
Truth is, this trade is just a means to an end. As we told you last week, Russia's ultimate goal is to achieve the status of "international power broker" - the nation through which all Eastern diplomatic negotiations will one day flow.
And now, we're watching Putin position himself as the last broker-dealer capable of stopping North Korea from launching a nuclear warhead at the United States.
How to Profit from Russia's Rise to Power
Money Morning Chief Investment Strategist Keith Fitz-Gerald sees Russia as a great way to stay one step ahead of the crowd.
"Negative headlines about Russia are on the covers of several major magazines, including The Economist," Keith says. "That's a dead giveaway that it's time to make your move, as far as I am concerned."
THEY CALL HIM "THE NIGHT TRADER"... and he's already up to 929% in total gains. You have to see this...
His reasoning: "The fact that most global traders and the mainstream media are almost universally against Russia right now is a glaring signal that emotions are running high. Given that we know they are almost always wrong, the logical move is to take the other side of the trade."
That "other side" exists in the company Qiwi Plc. (Nasdaq: QIWI).
Qiwi provides Russia, Kazakhstan, Moldova, Belarus, the United Arab Emirates, and the United States with many of the financial services that the Western world takes for granted, like bill payments and simple financial transactions.
"It's developed a loyal following in a notoriously complicated part of the world," Keith explained, "where consumers are way behind their Western counterparts and, more importantly, acutely aware of what they are missing out on."
What's extremely encouraging about Qiwi's potential is that the financial payment service provider is achieving new levels of growth despite Russia's capital flight more than doubling in recent years. It's carried out partnership deals with some of Moscow's largest Internet companies, including MegaFon, a leading Russian telecommunications operator.
"When the news in Russia goes from terrible to less bad - and foreign capital starts to return even as domestic spending increases," Keith wrote, "QIWI will be able to ride a surge in demand, and yield incredible profits for investors who buy the stock at its discounted price today."
To that point, the stock is trading down at $14.28 a share, or 43% from its six-month high of $25.
Which means now is the time to buy.
Free Book for Money Morning Readers - Claim Yours Here
With the secrets you'll find in this book, we've produced 89 chances to double, triple, and even quadruple your money in the past two-and-a-half years - 42 chances this year alone!
Fun fact: You only have to double $500 11 times to turn it into $1 million.
Click here to learn how you can claim your free copy today.
Follow Money Morning on Facebook, Twitter, and LinkedIn.