Beijing started the U.S.-China trade war last week in its ongoing bid to change the global power "status quo."
And today, U.S. President Donald Trump will reveal his comprehensive national security strategy (NSS) as a way to push back.
Here's how China fired the first shot, and what we expect President Trump to do about it. Plus, a winning profit play no matter what the outcome for the United States...
The U.S.-China Trade War Started Last Friday in the Steel Industry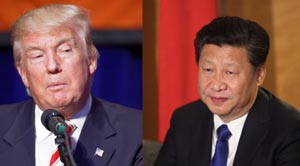 Last Friday, China's Ministry of Finance announced that it will remove the export tax on its steel products.
The declaration drew immediate ire worldwide, because the country's steel sector - the world's largest, responsible for 109 million tons exported in 2016 - is vastly oversupplied.
Removing the tax would ostensibly unleash a flood of steel output onto world markets, suffocating domestic demand for the product. And while Beijing's steel is actually not a big source of American imports, it is in markets where America competes.
"[U.S. diplomats] are actually more worried about competition in third countries," Mei Xinyu, a strategist for the Chinese Ministry of Commerce, told The Financial Times back on April 25.
Indeed, China was the subject of a total of 119 global trade investigations involving alleged cases of dumping in 2016. Half the cases in question, which covered 27 countries and regions, involved steel exports worth a total of $7.9 billion, The South China Morning Post revealed on Friday.
Back in April, the Trump administration threatened even more investigations into Beijing's trade practices, as well as sweeping tariffs on Chinese steel imports.
That threat has seemingly fallen by the wayside.
At least, until today...
How the United States Is Fighting Back in the U.S.-China Trade War
President Trump will label China a "strategic competitor," casting aside the "strategic partner" term preferred by former U.S. President Barack Obama.
In a televised speech this afternoon, the 45th commander in chief is expected to fall back on his presidential campaign rhetoric, claiming Beijing maintains a "repressive vision" and pursues aggressive economic policies aimed specifically at weakening the United States.
Indeed, the outline released to the press on Trump's NSS speech this afternoon claims that China and Russia "are determined to make economies less free and less fair, to grow their militaries, and to control information and data to repress their societies and expand their influence," The New York Times reported this morning.
The document stated, "the United States will no longer turn a blind eye to violations, cheating or economic aggression."
Defense Stocks Are Skyrocketing - See How You Could Profit from This Incredible Company Before It's Too Late
While the press release does not explicitly name China in the context of "cheating or economic aggression," the overwhelming majority of its charges are aimed at Beijing.
In keeping with Mei's statement that the United States fears China's presence in third countries, the NSS speech outline claims "China is also expanding its military and economic presence in Africa, and permitting practices that undermine development by 'corrupting elites' and locking countries into debt commitments that are not sustainable."
For its part, Beijing has already fired back ahead of Trump's speech this afternoon...
Just today, The Global Times, a nationalist media site and newspaper published by the Chinese Communist Party, called the U.S. president's expected move "irrational" and "reckless" - one that would damage bilateral relations.
"Washington is using its massive strength to recklessly define the behavior of and relations with other countries," the publication said. "It is the U.S. that has recently become the biggest saboteur of international rules and challenger of free trade."
As the U.S.-China trade war intensifies, one thing has become crystal clear...
China will continue to exert its economic growth worldwide whether Uncle Sam likes it or not.
And the primary way Beijing intends to do so is through its "Belt and Road Initiative (BRI)." The BRI establishes outbound trade and investments along China's trade routes through a combination of five railway links and maritime sea routes. It will connect Asia, Africa, and Europe, and cover a cumulative population of 4.5 billion, or 63% of the world, with a total economic output of $27.5 trillion.
And no matter what that means for U.S. interests, you can start profiting from China's expansion right now.
Wall Street Got This Company Wrong - but We Got It Right