The price of gold is up thanks to the Federal Reserve, just like we predicted.
The FOMC raised rates on Dec. 13, as expected. In the days leading up to the meeting, the U.S. dollar rallied, and gold sold off.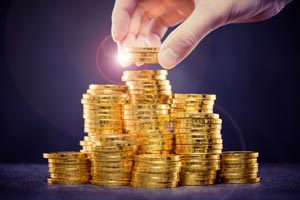 But then both of these reversed direction, with the dollar retreating and the gold price rallying.
For those of us watching this space carefully, it has played out pretty much as anticipated. Over the past two years, mid-December rate hikes helped launch powerful rallies in gold and gold stocks.
Act Now: The Night Trader Is Coming (Be Prepared)
And if history is any guide, by late February, we could see gold rally between 8% and 20% from the gold price today, and gold stocks could surge anywhere from 30% to 40%.
We'll show you exactly why in just a second, but here's how the Fed boosted gold prices over the last week...
How the Fed Helped Raise Gold Prices
The big catalyst for gold prices last week was the Fed's rate hike decision, but here's how gold's price moved over the week.
The yellow metal opened with a bit of strength on Monday, Dec. 11, at $1,250 an ounce. But the pre-Fed dollar rally would cut gold's strength short.
The U.S. Dollar Index (DXY) had an early morning rally to near 93.90, retreated, then spent the rest of the day climbing toward 93.50. As a result, gold sold off, falling to $1,241 by 3:00 p.m. and ending its NY trading day at that level.
Don't Miss: Executive Editor Bill Patalon just saw something on his precious metals charts he's only seen twice in 20 years. He calls it the "Halley's Comet of investing" - and it could lead to windfall profits. Read more...
On Tuesday, gold prices were volatile, as the DXY shot above 94.
By midday, the DXY had reached back to 94.25. Gold prices opened at $1,242, then sank to an intraday low of $1,237 by 11:00 a.m. Then, on the back of a dollar sell-off that took the DXY down to 94.05 by 5:00 p.m., gold bounced back and closed higher than its open, at $1,244.
But it was Wednesday that brought out the fireworks.
The dollar sold off early in the morning, but remained above 94. Then after the Fed's statement, it sold off further, eventually hitting 93.45 around 5:00 p.m. The Fed rate hike was no surprise, but the FOMC's statement, in which members projected tame inflation expectations in the near and medium terms, was unexpected.
Market observers saw that as having to expect a slower pace of rate hikes over the next year or two, and that hurt the dollar. As a result, gold popped from $1,241 at 8:00 a.m. to a close at $1,255.
Here's a look at the DXY over the last week, where you can see how the dollar lost value after the FOMC's announcement on Wednesday.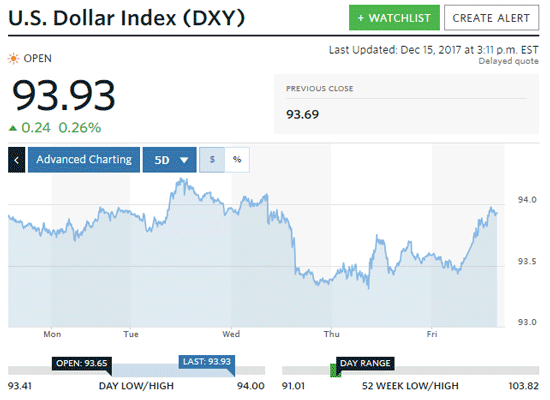 But the dollar would slightly rally on Thursday. Gold opened at $1,257 but retreated over the course of the day to $1,253. For its part, the DXY started out at 93.40 at 8:00 a.m. and rallied to 93.7 by late morning. After a brief pullback, the DXY rallied back to reach 93.65 by 5:00 p.m.
Then on Friday, gold opened a bit higher as the dollar weakened slightly.
The yellow metal started the trading day at $1,261, but sold off as the DXY found some renewed strength. By late morning, the DXY was at 93.90 thanks to optimism over tax-cut legislation, pushing the price of gold back down to $1,254. At mid-afternoon, gold was changing hands at $1,256.
But just as history showed us a mid-December rate hike would boost gold prices, so too will it boost prices through 2018. Here's why we're expecting a gold bull market to really kick off in 2018...
Why the Price of Gold Is Heading Higher in 2018
Join the conversation. Click here to jump to comments…
About the Author
Peter Krauth is the Resource Specialist for Money Map Press and has contributed some of the most popular and highly regarded investing articles on Money Morning. Peter is headquartered in resource-rich Canada, but he travels around the world to dig up the very best profit opportunity, whether it's in gold, silver, oil, coal, or even potash.