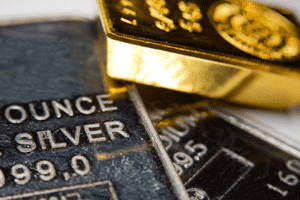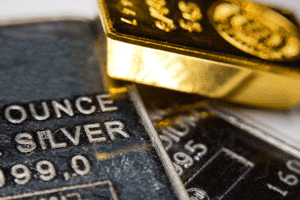 Last week, before the unsurprising Federal Reserve interest rate hike, I said the end of the silver price pullback could be close. I also said the "insurance" offered by precious metals was cheap.
It was time to buy. The price of silver spiked 2.5% last week, which has caused me to revise my silver price forecast for 2018.
Urgent: The Night Trader makes 226% on one stock, in one day…
Well, the Fed shocked exactly no one with its rate hike last week, but it did surprise with its view of ongoing tame inflation expectations.
That sent the dollar tumbling and helped launch a rally in silver prices and silver stocks.
In fact, on Nov. 14, I told you silver stocks could dramatically outperform the silver price before 2018.
That's already started to happen, with silver stocks rallying hard over the past week. And I think there's a lot more of that to come…
How the Silver Price Is Trending Now
All was pretty quiet for the silver price as we approached the December FOMC meeting early last week. On Tuesday, Dec. 12, silver was trading at $15.73 at the New York open. Then the U.S. Dollar Index (DXY) would start a morning rally that took it from 93.85 to 94.20 by midday, in anticipation of the Fed's rate hike. That sent silver down to $15.63. But traders would take some profits in the dollar, and silver bounced back slightly to close at $15.69.
On Wednesday, silver was quiet in morning trading. It opened at $15.67, then rallied hard as the DXY dropped back below 94. Silver prices soared to $16.12 by 3:00 p.m. post-Fed statement, then retreated to close at $16.04. The DXY would reach 93.45 by 5:00 p.m.
Don't Miss: Executive Editor Bill Patalon just saw something on his precious metals charts he's only seen twice in 20 years. He calls it the "Halley's Comet of investing" – and it could lead to windfall profits. Read more…
On Thursday, silver traders took profits. The metal opened at $16 even, then sold off as the dollar enjoyed a small bounce that boosted the index back up to 93.7 by mid-morning. That pushed silver down to a mid-morning low of $15.83. But then buyers took control and helped drive silver higher, to close at $15.86.
Have a look at the dollar's action of the past trading week.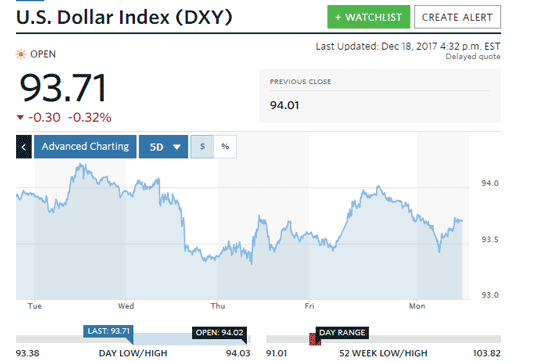 As we entered Friday trading, the silver price got back its mojo and rallied again. But this time it would be despite the dollar, which also enjoyed a strong bounce. The DXY was at 93.50 around 7:00 a.m., but soon rallied to just shy of 94 at 5:00 p.m. And still, silver, which opened at $15.98, kept rising on balance to end the week at $16.05.
On Monday, Dec. 18, the dollar had a mid-morning sell-off that took it from 93.7 to 93.40. But it quickly reversed and climbed back to reach 93.7 by the late afternoon. That didn't seem to bother silver prices at all. The grey metal opened at $16.06, then managed to spend most of the day above $16.10, finally closing at $16.13.
Now that we've examined the recent silver price rally, here's how high I see the price of silver heading in 2018…
Here's How High Silver Prices Are Headed in 2018
Join the conversation. Click here to jump to comments…
About the Author
Peter Krauth is the Resource Specialist for Money Map Press and has contributed some of the most popular and highly regarded investing articles on Money Morning. Peter is headquartered in resource-rich Canada, but he travels around the world to dig up the very best profit opportunity, whether it's in gold, silver, oil, coal, or even potash.