Tech pioneer and entrepreneur John McAfee just named Dogecoin (DOGE) his "coin of the week" for the week of Jan. 8. That might come as a surprise, but Dogecoin is worth more than you think...
Created as a joke by founder Jackson Palmer, McAfee says DOGE is now one of the "most widely accepted and loved cryptocurrencies in the world."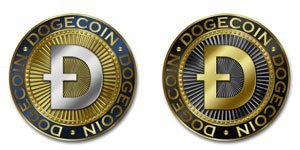 On its website, Dogecoin lists itself as a fun and friendly Internet currency.
Now, it's easy to see why DOGE is called a "joke coin." After all, the company's mascot is a somewhat-confused-looking Shiba Inu, a Japanese breed of dog.
It also isn't using blockchain technology to solve specific problems.
That makes Dogecoin seemingly less competitive in a crowded market where coins are expected to go mainstream based on their functions.
While there's no way of knowing exactly which crypto coins will be used the most in the next five years, consider these examples: Bitcoin could be a storage of value, like gold, Litecoin can be used for daily transactions, and Ethereum could become the payment of choice for smart contracts.
But DOGE shows why hundreds and even thousands of crypto coins can co-exist with each other and still have value...
The Power of Dogecoin Is Its Community
Cryptocurrencies are only worth what someone is willing to pay for them, and that's why hundreds of thousands of crypto coins could eventually co-exist.
There could be coins created for each and every hobby and industry in the world, and as long as there's a community there to buy and sell the coin, the cryptocurrency will have a value.
For instance, the Dogecoin community rallies together to support different causes.
In 2014, the Jamaican bobsled team qualified for the 2014 Winter Olympics. Marvin Dixon, the brakeman for the team, revealed that there wasn't enough money to send the team to Russia.
The Dogecoin community stepped in and raised $36,000 worth of DOGE to help send the Jamaican team to the 2014 Winter Olympics, according to The Los Angeles Times.
DOGE supporters also came together again in 2014, when $55,000 worth of DOGE was raised to sponsor NASCAR driver Josh Wise.
As long as people keep using DOGE, it's going to have value.
Over the past year, the price of DOGE has climbed from $0.0002 on Jan. 8, 2017, to $0.015 today, for a 7,400% increase.
These Three Pot Stocks Could Turn a Small Stake into Millions
 California is bracing for a tsunami-sized wave of wealth - and if you play your cards right, you could make more money from the marijuana markets than you've ever seen in your life.
You see, thanks to The Golden State's complete cannabis legalization, $20.2 BILLION is expected to flood this industry, delivering massive upward momentum to tiny cannabis startups currently trading for pennies apiece.
But as soon as the money starts flowing into these small companies, and their share prices go from $1, to $5, to $20 or more... you may never see a chance like this again.
Your first step on the road to marijuana millions starts right here...
Follow Money Morning on Twitter, Facebook, and LinkedIn.