In an uncharacteristically cooperative move, North Korea sat down with South Korea today (Jan. 9).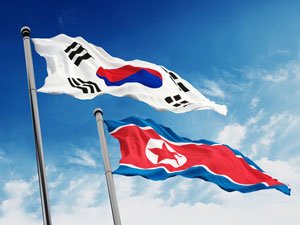 While today's talks between North and South Korea focused strictly on Pyongyang's participation in the Winter Olympic Games next month, the fact that there was a successful meeting between the nations at all marks a historic shift in a lengthy narrative brimming with contention.
This could be the first step toward a long-term resolution, but that resolution will require parties on both sides to make sacrifices. And when it comes to making those sacrifices, the one wild card is U.S. President Donald Trump himself.
Here's why Trump – not North Korean dictator Kim Jong Un – could be the holdout in the coming talks between North Korea and South Korea… and how you can make the most of the prolonged uncertainty on the Korean Peninsula.
South and North Korea Are Both in a "Peaceful" Mood
The meeting is largely credited to South Korean President Moon Jae In.
"Amidst the fire and fury of missile tests and testy tweets, the Moon administration has been hard at work over the past few months creating the opening which we are now seeing bear fruit," wrote Associate Professor at Yonsei University Graduate School of International Studies John Delury yesterday for Foreign Affairs.
Indeed, Moon was elected in May 2017 after campaigning on promises to reinitiate contact with Kim Jong Un.
But until nine days ago, Moon's appeals had gone unacknowledged.
Then, on Jan. 1, Kim adopted a peacemaking tone in his annual, national New Year's Day address to the citizens of North Korea, declaring his wish "for peaceful resolution with our southern border" and offering talks over sending a delegation to the Winter Olympics in South Korea.
"North and South must work together to alleviate the tensions and work together as a people of the same heritage to find peace and stability," Kim said during the speech.
Several experts on North-South Korean relations have since publically theorized that the young dictator struck a friendly tone because he's now comfortable with the nuclear advancements Pyongyang's made.
"The North has made significant advances in its ballistic missile and nuclear weapons program so I think they feel a bit more willing to engage in talks now that they've actually demonstrated an incipient nuclear capability that can strike the U.S.," Taylor Fravel, associate professor of political science at MIT, told CNBC yesterday.
 The Defense Industry Is a Gold Mine: You Can't Afford to Miss This $6 Company.
Whatever reason lies behind Kim's entreaty, Moon didn't waste time in promptly following up with an offer on Jan. 2 to set a negotiation date within the week.
Although the talks today only addressed the upcoming Winter Olympic Games, the world is waiting with bated breath to see if North Korea's surprisingly diplomatic approach will last.
Even if it does, however, there's just one possible caveat that could quickly obstruct future negotiations between the two Koreas…
President Trump.
President Trump Doesn't Negotiate with Terrorists
Though North Korea and South Korea seem ready to put their differences aside, the prospect of negotiations between North Korea and the United States seems as unlikely as ever.
While President Trump has told myriad reporters this past weekend that he "always believes in talking" should future relations between the United States and North Korea remain at an impasse, he also added that Kim "knows I'm not messing around, not even a little bit."
Comments like these shed doubt on the president's willingness to compromise should North Korea ever come to the negotiating table.
You see, North Korea has long sought an end to the annual U.S.-South Korea military drills.
On Oct. 13 – just three days ahead of the most recent spate of drills – Pyongyang Institute for American Studies researcher Kim Kwang Hak warned in North Korean state media that a "salvo of missiles" would be directed toward Guam if the U.S. "provocations" continued.
"The U.S. military action hardens our determination that the U.S. should be tamed with fire and lets us take our hand closer to [the] 'trigger' for taking the toughest countermeasure," the researcher added, according to USA Today.
The regime's vitriolic, international warnings over the joint drills means that, in order to have peace on the Korean Peninsula, President Trump is going to have to make concessions when it comes to its military drills with South Korea.
Trump did concede on Saturday to cancel preplanned naval maneuvers with Seoul that were slotted to go down amid the Olympic Games.
But several analysts and pundits are worried that Trump won't maintain such an amiable attitude, especially given recent rhetoric…
For instance, Trump recently threatened the North Korean leader via Twitter once again.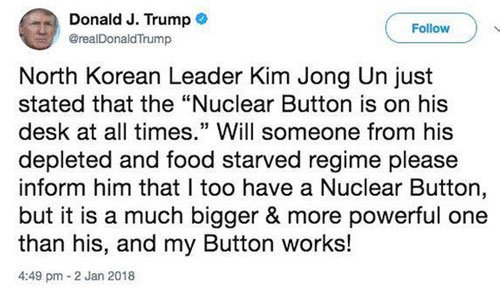 Trump's tweet came in response to a threat Kim made amid the same New Year's speech in which he offered South Korea an olive branch.
U.S. ambassador to the United Nations Nikki Haley was asked by ABC "This Week" host George Stephanopoulos on Sunday if Trump's tweet was such a good idea.
Haley said: "I think [Trump] always has to keep Kim on his toes. It's very important that we don't ever let [Kim] get so arrogant that he doesn't realize the reality of what would happen if he started a nuclear war."
But Stephanopoulos countered that even senior Senate Republicans Sen. Corey Gardner (R-CO) and Sen. John Cornyn (R-TX) said Trump's tweet was reckless.
To this point, Haley told Stephanopoulos, "You know, everyone's going to have their opinion. What I can tell you is I'm dealing with the diplomats on the ground, I'm dealing with all the actors in this situation. It is a serious situation and [Kim] can't sit there and imply that he's going to destroy the United States without us reminding him of the facts and the reality that if you go there, it's not us that's going to be destroyed, it's you."
This aggressive rhetoric indicates that no matter how well North and South Korea seem to be getting along, relations between Trump and Kim aren't about to get less volatile any time soon…
That means that particular safe-haven investments will continue to be propelled upward.
And this one is our favorite in 2018…
This "North Korea-Proof" Asset Could Return 127% Gains This Year