We're in the middle of a perfect storm.
The Federal Reserve is beginning to unwind its $4.5 trillion balance sheet. The Fed, which was designed to protect big banks and not the American people, has no real understanding of what this will do the economy, because it's never been done before.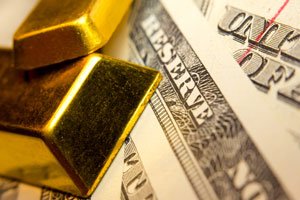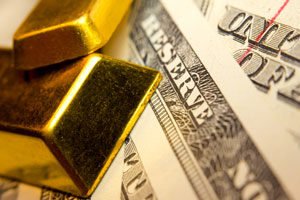 Meanwhile, the 10-year U.S. Treasury is closer to the end of its 35-year bull market than to the beginning. The 10-year yield is up roughly 25% since September, and just yesterday, it jumped to a 10-month high, as investors dumped their bonds on mere rumors that China would stop buying American debt. The yield stayed elevated even after China called the report "fake news."
And to top it all off, the Fed continues to raise rates, slowly putting the brakes on the American economy.
None of this inspires much faith in the American economy in the short term. We may even be in for a market pullback within the next few months…
But a pullback doesn't mean a loss of wealth.
In fact, you could be looking at a 127% profit just this year – if you know where to invest…
To Hedge Against Federal Reserve Risk, Invest in Gold
Each one of these factors works in gold's favor.
Of course, any market pullback or correction caused by the Fed's unwinding will increase interest in gold as a safe-haven investment.
Similarly, gold generally moves opposite the 10-year Treasury. As the value of the Treasury goes down (and its interest rate increases), the price of gold will go up.
This principle holds true for the federal funds rate, as well.
Indeed, if you follow gold's price run since the Fed officially began raising interest rates post-recession – in December 2015 – you'll notice a distinct pattern about the yellow metal's price.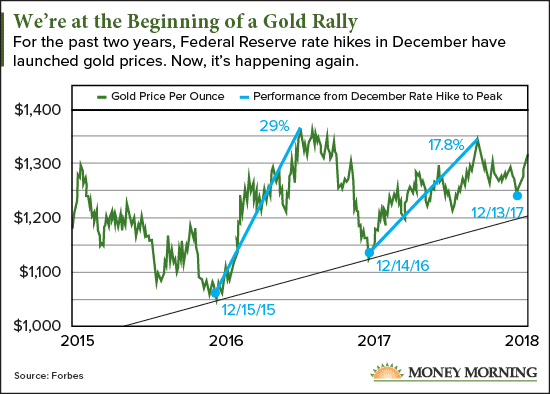 In July 2016, for example, you'll see that gold peaked close to $1,370 an ounce – a 29% surge since that December 2015 hike. And in September 2017, the yellow metal topped out around $1,360 – an 18% gain since the December 2016 rate hike.
Forbes predicts that this pattern will send gold to somewhere between $1,460 and $1,600 an ounce by summer.
But we believe that's far too light a forecast.
In fact, we think $3,000 is entirely possible by year's end.
That's a 127% increase in price.
In fact, you could trounce even those amazing gains if you know how to play this incredible gold bull market. Check it out…
These Little-Known Gold Investments Could Have Handed You Up to 7,679% Profits
In an exclusive, free report, see what the gold market's ultimate authority is doing that the markets have never seen before.
He's planning to discuss the stocks he buys with his own money.
You see, in this new bull market, these obscure, often-overlooked stocks have already delivered enough profits to turn $1,000 into as much as $77,000 – or to turn $25,000 into nearly $2 million.
Once you see the profit potential for yourself, your life will never be the same again.
Follow Money Morning on Facebook, Twitter, and LinkedIn.