Editor's Note: 10 Reasons Why Gold Could Hit $3,000 in 2018
The price of silver has continued to consolidate over the past week, digesting its impressive gains since mid-December. Because of this pullback, I've just released my newest silver price forecast for the end of February.
I see two main reasons for this pullback. First, silver had been sprinting higher since mid-December, so it was time to rest.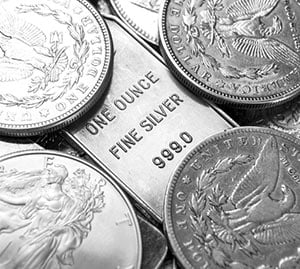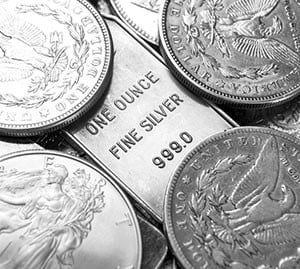 Secondly, the U.S. dollar, as seen through the U.S. Dollar Index (DXY), lost 400 basis points, from 94 to 90. It may be due for a short-term bounce from oversold conditions.
But most of the volatility risk, I believe, remains to the upside for silver prices. If the U.S. Federal Reserve should dial back rate hike expectations, or if geopolitical tensions heat up, silver's likely to see considerable safe-haven demand.
Weak sentiment as a contrarian indicator suggests silver could be ripe for a strong technical breakout this year. Before I show you my new silver price target, here's how silver prices are trending now…
Here's How the Price of Silver Is Trending This Week
Silver had a bit of a challenging week, closing lower nearly every day except Tuesday. That's when silver sold off dramatically in early morning trading thanks mostly to buying pressure on the dollar. The DXY would jump from under 90.50 to over 90.75 by mid-morning. Silver opened at $17.10, but then clawed back to $17.17 as the DXY sold off again to below 90.50.
BREAKING: Executive Editor Bill Patalon just saw something on his precious metals charts he's only seen twice in 20 years. He calls it the "Halley's Comet of investing" – and it could lead to windfall profits. Read more…
On Wednesday, silver managed to open a little higher at $17.20, even as the DXY was consolidating high around 90.70. By 2:00 p.m., the DXY sold off dramatically to 90.30 then bounced right back to 90.80 by 5:00 p.m. That caused silver to sell off on balance, ending the day at $16.97.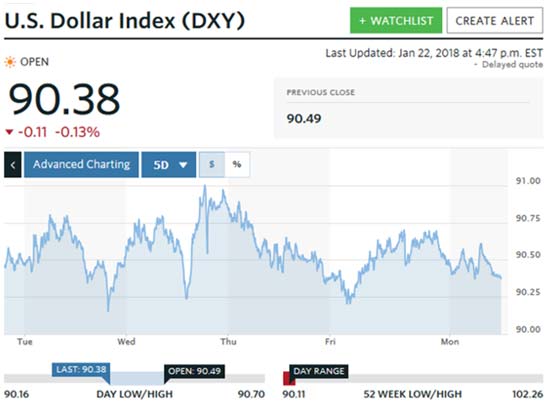 Thursday brought still more weakness to the grey metal. Despite opening higher, at $17.05, and a DXY that trended down from 90.62 at 8:00 a.m., silver ended the day at $16.93, as the DXY reached 90.50.
Here's the DXY action of the last week of trading.
Friday saw silver prices stabilize somewhat, even as the dollar bounced back a little. Silver opened at $17.02. The DXY went from 90.45 at 8:00 a.m. to a 5:00 p.m. peak at 90.70. As a result, silver dropped a few cents to close at $16.99.
Then, on Monday, silver managed a slightly higher open at $17.04, but even some renewed dollar weakness wasn't enough to help buoy the precious metal. The DXY went from an 8:00 a.m. level of 90.55 to 90.38 at 5:00 p.m., while silver ended the day at $16.98.
While silver prices may have dipped this week, I remain very bullish on the precious metal in both the short term and the long term.
That's why I just released my newest silver price forecast for February…
Here's My Bold New Silver Price Forecast for February 2018
Join the conversation. Click here to jump to comments…
About the Author
Peter Krauth is the Resource Specialist for Money Map Press and has contributed some of the most popular and highly regarded investing articles on Money Morning. Peter is headquartered in resource-rich Canada, but he travels around the world to dig up the very best profit opportunity, whether it's in gold, silver, oil, coal, or even potash.