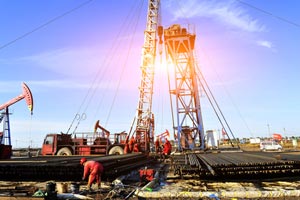 The Energy Department projects U.S. oil production will surpass 10.3 million barrels a day in 2018, smashing the record for oil production set in 1970. That's more than 1 million barrels a day higher than U.S. production in 2017.
And we've found the best energy stock to buy now that's perfectly positioned to profit from this massive production boost.
Over the last year, international demand for oil has soared. That's brought down inventory levels and pushed oil prices to three-year highs. Today, WTI oil prices are trading at $65.00, which is a 35% jump since June 2017.
In response, American oil companies are aggressively ramping up production to meet demand and take advantage of rising oil prices.
The increases are staggering…
Last year, domestic oil production averaged 9.3 million barrels a day. That's expected to climb nearly 11% in 2018, to 10.3 million barrels a day. In fact, oil production in the United States is growing so fast that it's expected to surpass Saudi Arabia's average output of 9.8 million barrels and challenge Russia's dominance as the world's largest oil producer by the end of the year.
Best of all, this explosive growth is providing us an excellent profit opportunity through one of the best energy stocks to buy now.
Before we look at our pick for best energy stock, here's what's spurring this aggressive growth – and what it means for your money…
The United States Is a Promising Frontier for Energy Stocks
First and foremost, technology is the biggest factor behind this oil boom.
Advances in drilling tech have allowed oil companies to access previously unreachable fossil fuel deposits, creating a nationwide drilling mania.
States like New Mexico and North Dakota, which were once considered "empty" by oil companies, have become vital suppliers of the nation's petroleum thanks to advances in drilling technology. In fact, drilling in North Dakota's Bakken Shale Formation now produces nearly 400 million barrels annually, the second most of any deposit in the nation.
Over the last decade, U.S. production has doubled, and pipelines now ferry oil from the deserts of the Southwest and the Dakota plains.
Can a Single Book Make You a Millionaire? Anyone with a computer or a smartphone can use this 10-minute secret to put $1,000,000 in their account. Every day, thousands of people are proving the success of this little book. Today, you can get it free. See how here…
But it's not just growth in America's domestic oil production that's causing the nation's energy stocks to boom…
On an international level, America now relies less on oil from the Middle East and North Africa.
Cutting domestic imports slashes the profits and resources of Middle Eastern competitors. As Middle Eastern nations tighten their belts, U.S. oil companies are becoming the predominant suppliers of oil to growing global markets, especially those in China and India.
Oil companies aren't the only ones excited about these developments. Better technology and an increasing market share on the global stage is showing in the market.
Energy stocks have increased their value by 20% in the past six months, making them one of the market's leading performers.
Over the past month, long-term futures contracts for oil have become cheaper than short-term ones.
This situation, known as "backwardation," indicates that traders have more interest in seeing oil delivered sooner rather than later. This is good news, because it shows that investors are optimistic about aggressive short-term growth.
According to Morgan Stanley, the energy sector tends to beat the broader S&P 500 index by about 6% in the year after oil futures exhibit backwardation.
That's why we've found the best energy stock that will help you take advantage of the domestic oil boom and its impact on international markets.