Legendary software leviathan and crypto-wiz John McAfee offered up a bold prediction about the fate of digital coins the other day.
A bold prediction that, on a broader scale, makes a lot of sense.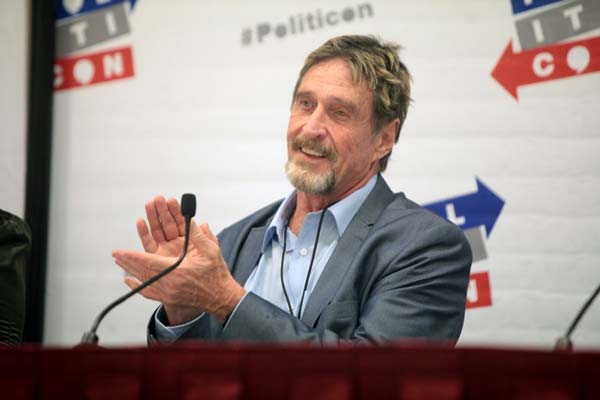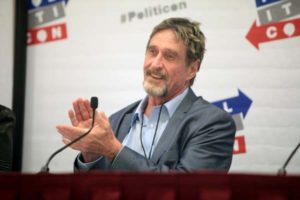 Specifically, McAfee told RT on Jan. 25 that "in five years' time, over half the world, I promise you, will be using cryptocurrency."
The legendary security software pioneer continued, "And the half that does not is going to be the half that probably doesn't have smartphones or any access to the Internet."
That's quite an intrepid prediction; we doubt that economic powerhouses like the United States and China are going to allow cryptocurrency to replace fiat.
But we think McAfee's got a point on his global scale forecast – only it will be the world's developing economies using blockchain technology in day-to-day transactions.
Here's how the third world could bring cryptocurrency to new heights…
Crypto Will Rule the (Third) World
At this very moment, global money systems are undergoing an unprecedented transition from centralized to decentralized.
Cryptocurrency and the emergence of its infrastructural blockchain are the major players behind this sea change.
And developing countries are opening up to this transition faster than their more stable, international counterparts.
Take Venezuela, for instance.
The country is suffering a dire shortage of bank notes after its central bank failed to issue enough cash to keep pace with surging inflation.
ATMs are empty across the capital, Caracas, and local banks limit customers to withdraw the equivalent of just a few cents a day. The International Monetary Fund (IMF) predicts inflation will spiral to 13,000% by the end of this year, while the economy is set to contract 15%, reported Bloomberg on Jan. 30.
Silicon Valley Breakthrough: This tiny company's revolutionary new device is expected to "change the world on a scale hardly seen in human history." It could hand early investors a $78,000 windfall in the process. Here's how to get in…
So Venezuela's dictatorial leader, Nicolas Maduro, has opted to take on crypto culture with a digital coin backed by Venezuelan oil barrels, which currently go for about $60. This new digital currency, the Petro coin, will go on sale to select institutional investors on Feb. 20 – just a few weeks away.
And because the Petro – like all crypto coins – will be decentralized, Maduro might be able to work around the harsh sanctions placed upon his government by Washington in recent months.
Other countries are in the midst of such sanction-evading "crypto schemes" as well, like Iran and Russia.
Indeed, in five years' time, the crypto world may look entirely different than it does today. McAfee's got the right idea.
But it won't be the cellphone-laden developed nations holding all the digital moolah; it will likely be the little guys looking to get ahead.
And that's great news for crypto investors.
The need for a functional currency is an "Unstoppable Trend" for which crypto is the only answer in many parts of the world.
Cryptocurrency – now widely considered a purely speculative play – could soon become an essential part of national economies worldwide.
It's this kind of monumental shift that will send cryptocurrencies to unprecedented highs, so it's critical to get in on cryptocurrencies like Bitcoin – or the more versatile Ethereum – before these sea changes take place.
Now, there's no guarantee this will be a smooth ride, so we recommend only contributing 2% of your portfolio to cryptocurrencies.
Still, if you've got the means to invest in digital assets, you may very well thank yourself in the not-so-distant future.
Critical: FCC Approves Revolutionary Device
It's a stunning breakthrough that's set to spark the most monumental life-changing transformation you'll ever see.
The Washington Times says the technology behind this revolutionary innovation "will change the world on a scale hardly seen in human history."
And now that it's approved by the FCC, the floodgates are set to open – and could reward early investors with astronomical gains.
With one tiny company at the heart of this massive shift, even a small investment could create staggering wealth for years to come.
Follow Money Morning on Twitter @moneymorning, Facebook, and LinkedIn.