A majority of Americans now favor legalizing marijuana, with 29 states already legalizing medicinal marijuana, making cannabis one of the most exciting new industries to invest in.
That's why today we'll show you our three best marijuana penny stocks to buy in 2018.
Now, marijuana is still illegal at the federal level, which makes investing in cannabis stocks riskier than other industries.
But make no mistake: Despite U.S. Attorney General Jeff Sessions' attempts to re-criminalize marijuana users and businesses, the marijuana market continues growing as legalization spreads to more states.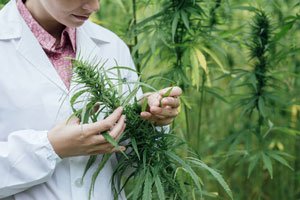 As of Jan. 1, 2018, the state with the largest population, California, officially legalized recreational marijuana across the state. Other states like Massachusetts, Maine, and Nevada have also recently legalized cannabis. They join states like Colorado, which legalized recreational pot back in 2012.
Currently, 29 states have at least decriminalized or legalized marijuana in some form, and that number is likely to increase over the coming months.
Still, until federal laws change, larger and more established companies will not be willing to enter the legal marijuana market.
That's because these bigger firms trade on major exchanges regulated by the U.S. Securities and Exchange Commission (SEC). They also keep their money in banks regulated by the Federal Deposit Insurance Corp. (FDIC).
These are both federal agencies that can prosecute federal crimes even if they're legal under state law. Specifically, the SEC can delist stocks, and the FDIC can freeze assets.
That leaves the field wide open to small, innovative companies. They often trade on over-the-counter exchanges, which have lower requirements to be listed than major exchanges like the New York Stock Exchange (NYSE) or Nasdaq.
As a result, small marijuana startups can take risks and grow quickly, since they're operating virtually free of competition from larger and more capitalized companies.
For example, one of the largest marijuana-infused edible companies in California started out as four workers experimenting in a kitchen. Today, the company's workforce has grown to 80 employees in a 30,000-square-foot production facility.
Companies like this have first-mover advantage in a sector expected to expand rapidly.
According to BDS Analytics, revenue from legal pot in California alone will hit $577 million this year.
And that's just the beginning. ICF International predicts that revenue from combined legal marijuana sales - solely in California - will eventually hit $20 billion annually.
Pot Stock Profits: A historic event is unfolding in California's marijuana markets, and the wealth expected to flow into this industry is record-breaking. Learn how to cash in here...
That would ultimately represent an increase of 3,366% for the California marijuana industry.
To get in on the first-mover advantage, here's the first of our top three marijuana penny stocks to buy in 2018...
[mmpazkzone name="in-story" network="9794" site="307044" id="137008" type="4"]
Best Marijuana Penny Stocks to Buy, No. 3: InMed Pharmaceuticals Inc.
InMed Pharmaceuticals Inc. (OTCPK: IMLFF), based in Canada, is a pre-clinical-stage, marijuana-based drug developer.
Its primary product, INM-750, is a topical medication to treat epidermolysis bullosa. This is a genetic disease in which a patient's skin blisters easily from just slight friction.
Now, for investors concerned about the legality on the U.S. federal level, InMed has two benefits. First, its base in Canada is more stable, as Canadian Prime Minister Justin Trudeau is anticipated to legalize cannabis fully during summer 2018.
Second, its product line is medical-marijuana-oriented. If recreational legalization hits unexpected roadblocks in either Canada or the United States, demand for IMLFF's products shouldn't be affected, since medical marijuana is supported by even the strictest politicians.
Currently, IMLFF shares trade at $0.89.
Our next company is based in Las Vegas and sells product through multiple channels...
Best Marijuana Penny Stocks to Buy, No. 2: GB Sciences Inc.
GB Sciences Inc. (OTCPK: GBLX) sells supplies to grow plants indoors, with the intention to eventually produce and sell cannabis-based drugs.
GB Sciences currently has an agreement for contract research with Spain's University of Seville to work on a marijuana-based treatment for chronic pain that is THC-free.
The two product streams make GBLX potentially less risky than companies focused only on cultivation or supply in a recreational legal market.
Currently, GBLX products can be used in any kind of indoor crop cultivation. The Texas-based company will likely wait for Texas to legalize marijuana in some form before it decides to directly enter the marijuana market.
Currently, Texas has no broad laws legalizing marijuana, according to Governing.com.
The shares are currently trading at $0.68.
Next up is a stock trading for less than $0.50...
Best Marijuana Penny Stocks to Buy, No. 1: Surna Inc.
Our best marijuana penny stock to buy is Surna Inc. (OTCPK: SRNA), headquartered in Boulder, Colo.
The company sells agricultural equipment for marijuana operations, including lights, reflectors, LED systems, irrigation equipment, climate control solutions, and customized indoor systems for growing.
Unlike the two other marijuana penny stocks on this list, Surna is a business-to-business company, meaning it has no retail or cultivation operations. This makes it less risky, since the company's equipment can be used in any sort of crop cultivation.
Now, companies that specialize in marijuana cultivation equipment do have entrenched competition. Established agriculture suppliers that have deep roots in the farming business also sell equipment that can be used for marijuana cultivation.
But small marijuana equipment specialists also have distinct advantages as first movers.
First, they have specialized experience designing indoor grow operations and providing supplies specifically for marijuana cultivators. This experience could be a key competitive edge that allows Surna to secure partnerships with marijuana cultivators.
Second, Surna could become a buyout candidate for large established firms down the road. Many of the bigger players in the agriculture equipment space have been shelling out hundreds of millions of dollars for hydroponic (soil-free cultivation) equipment firms over the past decade.
Right now, SRNA shares sell at $0.30.
How to Cash In Thanks to California's Legal Cannabis: People have accumulated massive gains from previous marijuana legalization announcements, but this event could blow the lid off of anything we've seen so far. In a special interview, our penny pot stock expert, Michael Robinson, shows ordinary people how to potentially make millions from California's Jan. 1 marijuana legislation - starting with three tiny stocks expected to explode following legalization. Watch now...