Thanks to Elon Musk's grand ambitions to land on Mars by 2022, private equity firms are lining up to own a piece of SpaceX stock. Musk's company raised $450 million as of November 2017, and SpaceX is now worth $21.5 billion, according to Equidate.com.
But only tech giants and venture capital firms can invest in SpaceX right now...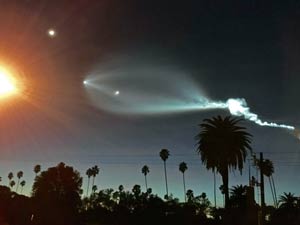 Capricorn Venture Partners, Valor Equity Partners, Fidelity Investments, and Alphabet Inc. (Nasdaq: GOOGL) have all invested in Musk's space company, according to Crunchbase.com.
But SpaceX may never go public because of a potential merger. That means retail investors may never have a chance to buy SpaceX stock directly.
Until now...
We've uncovered a backdoor strategy that gives Money Morning readers a chance to own a piece of SpaceX even without an IPO.
Here's how it could work...
How to Profit from SpaceX Without a SpaceX IPO
There may never be a SpaceX IPO, because the private space firm may merge with Musk's other company, Tesla Inc. (Nasdaq: TSLA), according to a December 2017 Business Insider report.
"Musk is also CEO of SpaceX, and last week, Morgan Stanley analyst Adam Jonas teased a merger with Tesla, arguing that such a deal would yield powerful synergies," the Dec. 9, 2017, report said.
That makes buying shares of TSLA stock a backdoor investing strategy for SpaceX.
SpaceX would provide Tesla with $1 billion worth of cash and assets through a merger.
And because of previous comments, we know Musk doesn't want to run more than one publicly traded company...
The CEO said at Vanity Fair's New Establishment Summit in 2015 that he wouldn't recommend running two publicly traded companies because it decreases a CEO's freedom.
Fortunately, Tesla is already a company we recommend at Money Morning.
BIG, FAST PROFITS: This one pick paid 100% in seven days, then 205% the next day, and 410% by the next week. You've got to see how it's done... 
"The company is a Power Profit Trades and Gentile family favorite," Money Morning's options trading specialist, Tom Gentile, said on Feb. 1.
For Members of our free IPO Profit Alerts service, we will continue to provide breaking news about SpaceX and other highly anticipated public offerings directly to your inbox.
And if you're looking for a method to potentially double and triple your money over and over, we've also got you covered.
In fact, this opportunity could turn a small stake in $1 million...
It Only Takes 10 Minutes per Week to Double Your Way to $1 Million