A controversial Litecoin hard fork will create a new cryptocurrency, Litecoin Cash (LCC), and it's causing a lot of confusion among crypto investors.
Anyone who owns LTC ahead of the fork will automatically receive 10 LCC crypto coins, but the lack of transparency around the fork is raising red flags...
Our readers have a lot of questions and concerns leading up to the Feb. 18, 2018, scheduled Litecoin hard fork, including:
Who is behind the Litecoin Cash hard fork?
How do I claim my Litecoin Cash?
Should I claim my Litecoin Cash?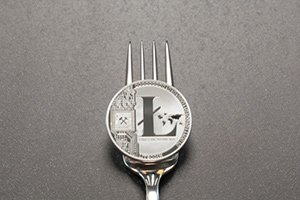 That's why, today, we wanted to address all these questions and concerns.
And the best place to start is with who is behind the Litecoin Cash hard fork and why they are forking...
Who Is Behind the Litecoin Hard Fork?
There isn't a lot of information about the development team on the Litecoin Cash website, which is always is dubious.
The lead developer is listed as "Tanner." The Litecoin Cash site says he has over 20 years of commercial experience, but we weren't able to confirm his background.
The site doesn't say what his experience is in, only that he's been "active in the crypto scene since 2013."
The rest of the Litecoin Cash team is listed as "Loxley" (Systems Lead), "Roger" (PM, Public Relations Leads), and Michael "Scarlet" Wyszynski (Design Lead).
We couldn't find anything else out about these team members besides the vague descriptions on the site.
Wyszynski is also listed as the "Liason Lead," a misspelling of "liaison," which further heightens our skepticism of this operation.
And because of the lack of transparency about this team's experience, some believe Litecoin Cash is a scam...
Is Litecoin Cash a Scam?
When developers and miners push for a cryptocurrency hard fork, it's important to understand the reasoning behind it.
For example, the Bitcoin Cash hard fork occurred on Aug. 1, 2017, because Bitcoin Cash proponents were unhappy with Bitcoin's high transaction fees.
It costs $2.94 to send Bitcoin, according to BitInfoCharts.com, which can add up across multiple transactions and weakens the case for Bitcoin to become a viable alternative to cash. The average transaction for Bitcoin Cash is just $0.15, which makes it much more useful for everyday transactions.
The No. 1 Crypto Tom's Buying Right Now: Tom Gentile is predicting a massive price surge for a little-known cryptocurrency trading under $0.30. Click here to see his pick and exactly how to trade it.
While some in the crypto community believe Bitcoin Cash was created just to profit off Bitcoin's name, there was at least an understandable reason behind the fork.
However, as Money Morning Cryptocurrency Expert David Zeiler told me, Litecoin Cash seems to be trying to solve non-existent problems.
Zeiler was one of the first financial journalists to cover Bitcoin in 2011, and that's when he first started mining Bitcoin, so he's seen it all in the crypto world.
LCC says it will have lower transaction fees, but Litecoin fees are already low, at $0.33.
Litecoin Cash's website also says it will offer "better difficulty adjustment."
The difficulty level of mining a cryptocurrency ensures that not all coins are mined at once. For Bitcoin, the level of difficulty is automatically reviewed and recalibrated every two weeks.
For Litecoin, it happens every 3.5 days.
For Litecoin Cash, it will be adjusted each block.
That's a change, but the average crypto investor isn't clamoring for better difficulty adjustment, and there doesn't seem to be anything wrong with Litecoin's as it is.
The limited benefit of a Litecoin hard fork has crypto observers skeptical that the fork is merely a cash grab by the team behind it.
Tanner said he understands why people think Litecoin Cash may be a scam.
"There will be Litecoin forks that are scams. I absolutely understand why people are screaming 'scam!'" Tanner said in a Feb. 9 interview with SmartOptions.io.
"If absolutely nothing else, we'll be the 'tutorial level' for the Litecoin community, because we're adamant that we're going to teach people how not to get scammed."
He may be saying all the right things, but the most prominent voice in the Litecoin community has a different take on the situation...
On Jan. 29, Litecoin creator Charlie Lee warned his Twitter Inc. (NYSE: TWTR) followers about any hard forks of Litecoin.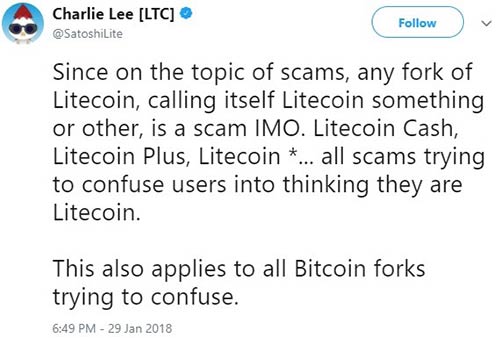 Now, receiving 10 free coins of anything sounds enticing.
After all, if you have 10 litecoins, you'll end up with 100 LCC coins.
But before trying to claim your Litecoin Cash, here's how you can do it, and whether it's safe to do at all...
Here's What to Do When Litecoin Forks