You wouldn't know it from following the mass media and Wall Street, but the stocks handing out the largest profits right now are in the biotechnology industry.
In fact, one of the three best biotech penny stocks to buy for March is a company developing treatments for the gut health of race horses, among other treatments.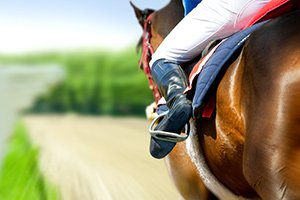 Some analysts think it could skyrocket more than 792% over the next 12 months. That's enough to turn a $1,000 investment into $8,920 if these analysts are right.
However, investors must remember that penny stocks are risky investments.
Take VistaGen Therapeutics Inc. (Nasdaq: VTGN) for example. From Dec. 5 to Dec. 6, it climbed 188%, jumping from $0.92 to as high as $2.65.
But less than two weeks later, on Dec. 18, VTGN opened the trading day at $1.03. Investors who purchased the stock when it traded at $2.65 lost more than 61%.
That's why, at Money Morning, we advise our readers to never invest more than 2% of their overall portfolio in such risky investments and to never invest more money than you can afford to lose.
But for investors willing to accept the risks, biotech penny stocks pack major profit potential.
Silicon Valley Breakthrough: This tiny company's revolutionary new device is expected to "change the world on a scale hardly seen in human history." It could hand early investors a $78,000 windfall in the process. Here's how to get in...
And to help you find biotech penny stocks with potential, we're showing you three stocks with triple-digit potential according to the analysts who cover them.
All it takes is the announcement of positive clinical trial results to send this next stock soaring...
The Best Biotech Penny Stocks to Watch, No. 3: Synergy Pharmaceuticals Inc.
Synergy Pharmaceuticals Inc. (Nasdaq: SGYP) is a New York-based company developing therapies for gastrointestinal (GI) diseases. GI disorders can affect the stomach, small and large intestines, esophagus, and rectum.
SGYP's main product is plecanatide. It retails under the drug name Trulance.
Trulance/plecanatide is a tablet intended for once-daily use. It treats people with two conditions: chronic idiopathic constipation (CIC), and constipation-predominant irritable bowel syndrome (IBS-C).
In March of last year, Bezinga.com indicated that the full-year 2017 sales for Trulance were expected to top $53 million. For this year, sales are forecast to soar an astounding 575%. That would put total 2018 sales at $362 million.
This forecast puts the company in a good place for profitability. Wall Street analysts are responding accordingly.
Analysts at Canaccord Genuity, for example, placed a 12-year target price of $13 on the stock. From today's opening price of $1.95, that's a whopping 566% climb.
But Synergy Pharmaceuticals isn't the only potential triple-digit gainer on our list...
The Best Biotech Penny Stocks to Watch, No. 2: ZIOPHARM Oncology Inc.
Boston-based ZIOPHARM Oncology Inc. (Nasdaq: ZIOP) develops therapies to fight cancer.
ZIOP is currently partnered with another biotech, Intrexon Corp. (NYSE: XON), and Texas's world-renowned M.D. Anderson Cancer Center to create innovative immune-oncology treatments.
This program is aimed to help get the body's immune system to combat cancer, along with radiation treatment.
In mid-January, ZIOPHARM Oncology said it had begun phase 1 clinical trials to evaluate the combination of three drugs intended to fight malignant tumors affecting the spine and brain.
And it seems we're not the only ones keeping an eye on ZIOPHARM. Wall Street is very bullish on the stock, owing largely to its innovative therapies.
Griffin Securities, for example, set a one-year target price on the stock of $23. The shares currently trade at $3.77, so the achievement of that price target would return slightly over 510% to investors.
That's enough to turn a $1,000 investment into $6,100 a year from now.
But the company with the most impressive potential could skyrocket more than 792% over the next year...
[mmpazkzone name="in-story" network="9794" site="307044" id="137008" type="4"]
The Best Biotech Penny Stocks to Watch No. 1: Jaguar Health Inc.
Jaguar Health Inc. (Nasdaq: JAGX) is a California-based company developing therapies for GI ailments.
One of its products, Mytesi, was approved by the FDA to treat diarrhea stemming from the use of certain HIV drugs meant to treat adults with HIV/AIDS.
Jaguar Health also makes drugs to treat diarrhea in animals. For dogs, Jaguar's main prescription medication is Canalevia.
The company is also developing a drug in its pipeline called Equilevia that will offer race horses treatment for their gut health.
BusinessWire.com reported that, according to a 2005 study, 97% of horses that are active in equestrian sports eventually have gastric or a colonic ulcers.
With a diverse portfolio of revenue streams in GI treatment, Jaguar Health could be a big winner in 2018.
One firm forecasts that it will skyrocket from today's price of $0.14 per share to $1.25, for a potential gain of 793%.
In a recent conference call, the company's CEO announced 17.7% average monthly growth between August 2017 and December 2017.
Although total sales over that period only amounted to $1.4 million, the monthly sales growth and increasing amount of interest and awareness of the drug could deliver investors a great return on investment.
Critical: FCC Approves Revolutionary Device
 It's a stunning breakthrough that's set to spark the most monumental life-changing transformation you'll ever see.
The Washington Times says the technology behind this revolutionary innovation "will change the world on a scale hardly seen in human history."
And now that it's approved by the FCC, the floodgates are set to open - and could reward early investors with astronomical gains.
With one tiny company at the heart of this massive shift, even a small investment could create staggering wealth for years to come.
 Continue here to learn more...
Follow Money Morning on Twitter @moneymorning, Facebook, and LinkedIn.