The price of silver today is down 0.34% in morning trading, as the Federal Reserve's next meeting approaches. However, silver prices could be gearing up for a new rally.
The grey metal has been consolidating sideways since early February in a narrowing range between $16.20 and $16.85.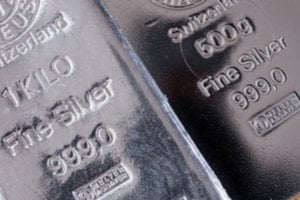 But this week brings another FOMC meeting, one where the market currently pegs the odds of a rate hike at 94%. And given new Fed Chair Jerome Powell's suggestion that we could get up to four hikes, the market's reaction says it doesn't like that scenario.
The S&P 500 has tried on two occasions since late February to get past 2,787, with no success. It currently sits near 2,700, with downward momentum that risks pulling it back to retest the early February low at 2,581.
Don't Miss This Shot at a $78,000 Windfall: This tiny firm is about to make the entire world wire-free. As its game-changing technology revolutionizes the global power structure, its stock could hand investors a massive return. Learn more…
If we get the Fed rate hike this week, and if silver reacts as it has after the last few increases, we could see the metal launch a new rally. But a bit more weakness is not out of the question first.  It could get down to $16, or even $15.50, as a final round of capitulation shakes loose the weakest silver holders.
Still, momentum continues to build for the precious metal, and sentiment could shift on a dime.
Before we get to my full outlook, here's how the price of silver today is trending…
How the Price of Silver Today Is Trending
Silver began trading last Tuesday, March 13, nearly flat from the previous close. It opened at $16.48, then reveled in response to dollar weakness. The U.S. Dollar Index (DXY) hovered just above 90 until 8:00 a.m., then rapidly sold off to 89.75, eventually bottoming at 89.6 by 1:00 p.m. That boosted silver prices, which reached $16.57 by 9:00 a.m., then bounced around to end at $16.55 by the 5:00 p.m. close.
Overnight trading pulled silver even higher as the dollar lost more ground. By Wednesday's open, silver had reached $16.59. But the dollar then got its second wind and rallied back around 89.8 most of the morning. Silver pulled back and bottomed at $16.48 at 1:00 p.m., then recovered slightly as the DXY retreated, eventually settling for the day at $16.51.
Thursday was tough on silver, as traders began looking forward to this week's Fed FOMC meeting. As rate hike expectations were building, the dollar rallied throughout the day, running from 89.63 all the way to 90.15 by late afternoon. That was enough to force silver to retreat, opening at $16.47 and closing at $16.36.
Here's the DXY's action over the past five trading days.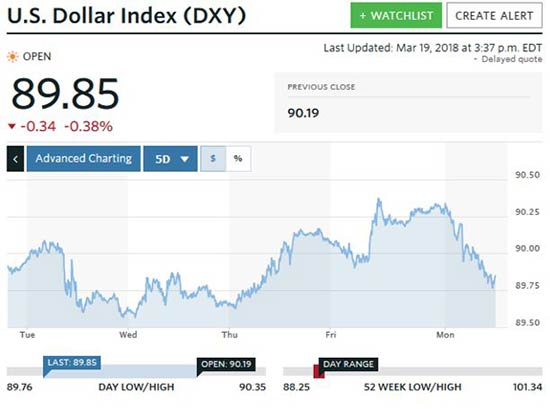 On Friday, silver exhibited early morning strength as the dollar weakened to just below 90. That helped boost silver to open at $16.44. But it quickly sold off as the DXY managed a rally above 90.3 as traders looked forward to this week's expected rate hike. Silver quickly hit a low of $16.20 by 11 a.m., then fought back to close at $16.33.
And finally, on Monday, silver bounced as stocks suffered another rough day. The Dow lost nearly 400 points while the S&P 500 lost 40 points, both giving back about 1.5% together with the DXY, which spent most of the day heading downward from 90.25 to 89.85. As a result, silver opened at $16.22 and rallied on balance to $16.31 into late afternoon.
Now that we've seen how the price of silver is trending, here's where I expect it to head next…
Here's My Next Silver Price Target
Join the conversation. Click here to jump to comments…
About the Author
Peter Krauth is the Resource Specialist for Money Map Press and has contributed some of the most popular and highly regarded investing articles on Money Morning. Peter is headquartered in resource-rich Canada, but he travels around the world to dig up the very best profit opportunity, whether it's in gold, silver, oil, coal, or even potash.