Gold prices took a hit last week, giving back most of the previous week's gains, but that was only a temporary pullback.
After the best week in nearly two years, the price of gold took a hit after a small relief rally in the U.S. dollar.
But the dollar's strength won't last much longer.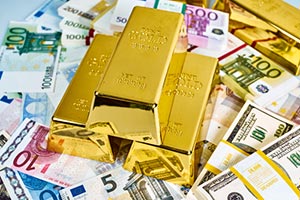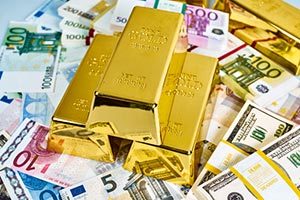 The dollar is likely still in the midst of a longer-term bear market, and bouts of strength tend to be short-lived.
In fact, this past week's dollar rally may have more to do with seasonal money flows than any real fundamental strength.
You see, March 31 marked the close of the first quarter and the beginning of the Easter holiday weekend. Traders and fund managers may be taking advantage of the lull in trading as the quarter turns over to "window dress" and rebalance their accounts.
You Must Act Now: America is headed for an economic disaster bigger than anything since the Great Depression. If you lost out when the markets crashed in 2008, then you are going to want to see this special presentation…
But growing U.S. deficits combined with higher rates overseas are likely to continue to draw investors away from the greenback and into other currencies.
Even more importantly, seasonal gold prices show the metal tends to put in an interim bottom at the end of March before kicking off a strong rally into the end of May.
I'll show you my latest gold price target based on this seasonal trend in a bit, but let's first recap last week's gold price action…
A Strengthening Dollar Hurt Gold Prices Last Week
Gold enjoyed a bit of strength on Monday (March 26), as the U.S. Dollar Index (DXY) fell. The index weakened early then spent most of the day hovering just above 89, as stocks rallied strongly. Gold opened at $1,349, then jumped to a 1:00 p.m. peak of $1,355, before settling back into the close at $1,353.
On Tuesday (March 27), gold peaked very early at 3:00 a.m. at $1,355, then sold off hard.
The DXY surged to an 8:00 a.m. peak at 89.60, causing gold to fall to $1,342 by 11:00 a.m. The DXY backtracked to hover around 89.30 for the balance of the day, while gold clawed back to close at $1,345.
On Wednesday (March 28), gold suffered the most damage. The dollar rallied after stocks moved sideways on the day. The DXY rose from 89.5 in the early morning to 90.10 by 2:00 p.m. It was up over 100 points from early Tuesday morning. Gold opened weak at $1,336, then sold off further on the dollar's strength to close at a battered $1,324.
Take a look at the dollar's rally on Wednesday…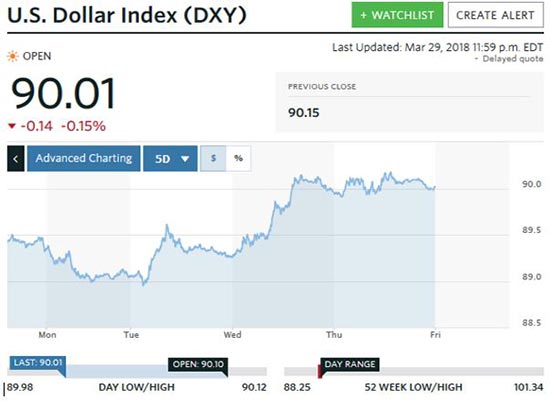 Then, on Thursday (March 30), some intriguing action took place heading into the Easter weekend. Even as the DXY maintained its strength above 90 and stocks showed strong gains on the day, gold stocks bounced back even as gold stayed weak after Wednesday's action.
Gold opened at $1,325, then weakened to $1,322, before bouncing back to close flat at $1,325.  But gold stocks, as measured by the VanEck Vectors Gold Miners ETF (NYSE: GDX) were up a strong 1.48% in the absence of gold strength.
That's a strong bullish indicator for gold prices this week. Here's my gold price prediction for the first half of the year…
Gold's Seasonal Boom Will Overpower the Dollar's Recent Strength
Join the conversation. Click here to jump to comments…
About the Author
Peter Krauth is the Resource Specialist for Money Map Press and has contributed some of the most popular and highly regarded investing articles on Money Morning. Peter is headquartered in resource-rich Canada, but he travels around the world to dig up the very best profit opportunity, whether it's in gold, silver, oil, coal, or even potash.