The Saudi Aramco IPO is dominating media coverage thanks to its potential $2 trillion valuation. But investors eager to participate in the biggest IPO of all time might have to wait another year.
However, that doesn't mean you can't start profiting from the trillions in capital the Aramco IPO will generate…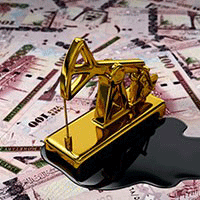 While the Saudi Crown Prince Mohammad bin Salman is currently touring the United States to raise interest in the IPO, it might not actually hit the markets until 2019.
While the prince is bringing attention to the IPO, he's already cutting deals. Deals you can profit from if you know where to look.
Here's what's going on with the Aramco IPO and how you can get in on the trillions of dollars changing hands…
Why the Saudi Aramco IPO Date Is Moving, and Why It Doesn't Matter
Saudi Aramco is getting so much attention because it's the largest oil company in the world.
The company's valuations reach up to $2 trillion, which means even a 5% stock offering will be worth a record-smashing $100 billion. The current biggest IPO of all time is Alibaba Group Holding Ltd. (NYSE: BABA), at $25 billion.
While that valuation could be high, with oil prices currently in the $60 a barrel range, Aramco is so valuable because it has exclusive rights to all of Saudi Arabia's oil fields and reserves. Currently, the country has proven reserves that make it the world's second largest, with an estimated 265 billion barrels.
For comparison, Exxon Mobil Corp. (NYSE: XOM) – the largest oil company in the United States – has worldwide control of just 24 billion barrels of oil. This is less than 8% of Aramco's oil despite the fact that the United States is No. 3 of the world's top oil-producing nations.
Urgent: Oil prices could soar to $100 (or higher) ahead of largest IPO ever – click here to see how you could triple your money from oil's epic rise.
But Saudi Arabia's ownership has some drawbacks, too, and it's slowing down the IPO process.
You see, Saudi Aramco is Saudi Arabia's national oil company.
And there is much about the company that the Saudi government would like to keep secret, but a publicly listed company is obligated to disclose information to shareholders.
One of the issues is that Saudi Arabia doesn't want to disclose how much oil it actually has, and this would be revealed if Aramco is publicly traded. The Saudi government is trying to find a workaround solution before the IPO.
Another problem with the oil company being state-owned and transitioning to a public company is that Aramco can no longer loan money to the Saudi government.
Aramco had previously used its massive revenue to fund government projects.
A public company's duties are to reward its shareholders, not the Saudi government, and the two will need to be disentangled before the company is listed on an exchange.
Both issues are creating conflicts over which stock exchange Aramco will actually list on. A major Western exchange, like New York's or London's, will raise the most money for the Saudis, but these exchanges come with more rigid transparency requirements.
The company says it's narrowed its choices down to the New York Stock Exchange (NYSE) and the London Stock Exchange (LSE), but it is still negotiating for less rigorous transparency requirement.
Fortunately, you don't need to wait for the Saudi Aramco IPO to begin profiting from the company's $2 trillion valuation.
That's because Saudi Arabia is selling Aramco to fund a massive new investment scheme, and it's one you can profit from starting right now…
Profit from the Saudi Aramco IPO Without Waiting to Buy a Single Share