Gold prices may have seemed volatile last week, but they've actually been trending steadily higher and are on the verge of a bullish breakout.
And despite another run by the U.S. Dollar Index (DXY) to challenge the 90.50 level - for the fourth time since mid-January - it proved too difficult once again.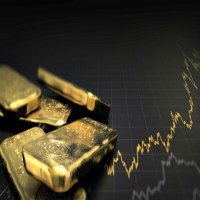 In fact, the dollar should have gotten even more help on Friday, as U.S. Federal Reserve Chief Jerome Powell gave his first speech on economic outlook since taking on his new position two months earlier. Powell said labor markets remained tight and that inflation was expected to rebound within the next few months, supporting further rate hikes.
Instead, the dollar backed off, and gold maintained its strength as markets sold off hard once again.
And the outlook for the price of gold is getting even better, as gold could benefit from some seasonal strength on top of the declining dollar.
Here's what moved gold prices last week, plus a look at my updated gold price forecast...
Gold Prices Were Driven Higher by the Falling Dollar
As the new trading week began after the Easter weekend, gold got a great shot in the arm.
China announced that it would impose duties on 128 different U.S. goods. These would include wine, frozen pork, fruits, and nuts, in retaliation for American tariffs on Chinese steel and aluminum. The DXY remained under pressure early in the week, and stocks continued to struggle, allowing gold to rise to $1,342 on Monday.
You Must Act Now: America is headed for an economic disaster bigger than anything since the Great Depression. If you lost out when the markets crashed in 2008, then you are going to want to see this special presentation...
Tensions between the two largest national economies, the United States and China, remained heated. The United States then imposed 25% tariffs on 1,300 Chinese industrial technology, transportation, and medical products.
But as trade war fears ebbed, the DXY made another run at 90.50 on Thursday (April 5). Fortunately for gold prices, the DXY was unable to hold that level and retreated to just above 90 on Friday.
Take a look at the DXY's movement over last week, including its jump to its 90.5 resistance level on Thursday and Friday...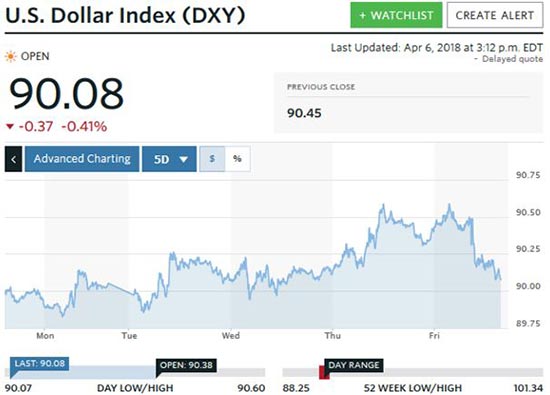 The DXY's Friday weakness helped gold regain some of the ground it lost earlier in the week. Gold reached $1,332 by Friday afternoon.
Now that the price of gold is back on a bullish trajectory, I want to show you exactly how much seasonal influence will have on gold over the short term.
Here's my gold price target...
Where the Price of Gold Is Heading Next
[mmpazkzone name="in-story" network="9794" site="307044" id="137008" type="4"]
A volatile and challenging week that took the S&P 500 back within spitting distance of its February lows turned out to be "not so bad" for gold. It closed the week just even with its 50-day moving average, at $1,332.
Meanwhile, the dollar has been attempting another brave rally, but, at least so far, to no avail.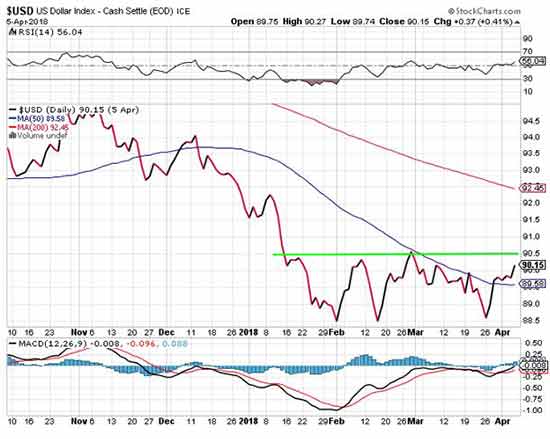 We'll have to watch the dollar closely, but if the U.S.-China trade wars don't abate, the dollar risks returning to bearish action soon.
As for gold, to the untrained eye, it may be looking kind of directionless lately.
Gold's been trading between $1,310 and $1,365 for the entire first quarter of 2018. In the near term, the RSI is near mid-range and doesn't provide much indication of near-term direction. But the MACD is trending higher, and the 200-day moving average also continues to trend solidly upward.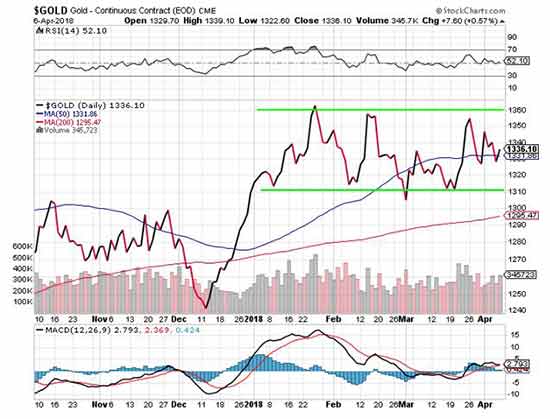 If we step back and look at Gold's action over the past couple of years, another picture emerges.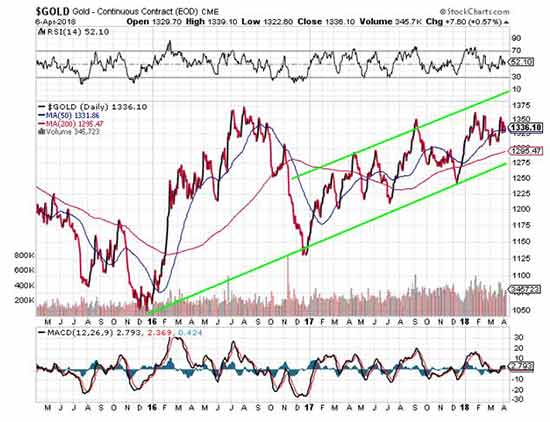 Gold has maintained its upward trendline, which has acted as support for new higher lows since late 2015. We also can see an upward trend channel, with the top line acting as overhead resistance.
The top of that channel is near $1,400, which is certainly a threshold that's likely to get a lot of observers excited about gold.
Also, both gold stocks and the gold-stocks-to-gold ratio have been tracing out what appears to be a "u-shaped" rounding bottom.  These are typically traced out at the end of an extended downward period.
Here how gold stocks have done, according to the VanEck Vectors Gold Miners ETF (NYSE Arca: GDX).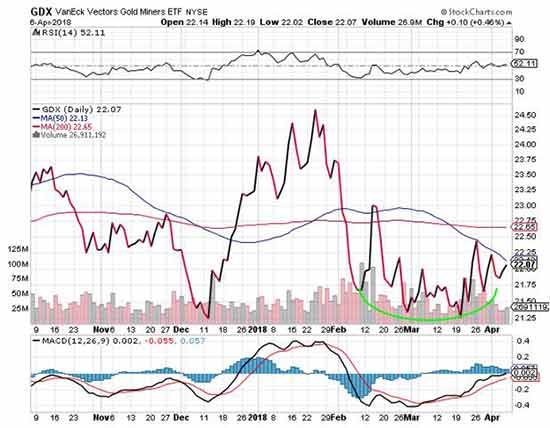 And here's the "u-shaped" pattern in the gold-stocks-to-gold ratio...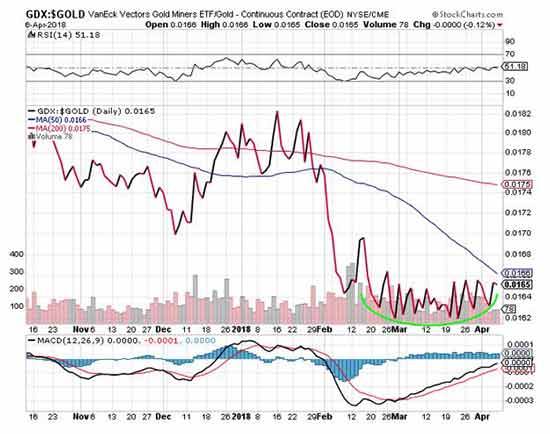 While less pronounced, the possible rounding bottom for the gold-stocks-to-gold ratio suggests gold stocks may start rising faster than gold itself. And that would suggest a possible "breakout" for the sector.
Escalating trade wars are adding uncertainty and volatility to markets. Gold's going to attract capital as a safe haven in this kind of environment. In fact, the World Gold Council just reported that gold-backed ETFs added an impressive $1 billion in holdings in the month of March.
And that could help catapult the yellow metal to best the $1,400 level by this summer.
While gold is an important hedge against economic uncertainty, there's more to planning for the next crash than owning gold...
Bloomberg Reports: "Trouble Is Brewing."
According to Bloomberg's latest report, America could be heading for an economic disaster that would rival the Great Recession.
Billionaire Ray Dalio's hedge fund, Bridgewater Associates, has made a $22 billion bet against the market.
And Citibank calls our present situation "eerily reminiscent of the mortgage crisis."
To see why we believe some of the richest players in the world are preparing for a market collapse, click here.