Legal marijuana sales are expected to skyrocket 145%, from $10 billion in 2017 to $24.5 billion in sales, by 2021. That's why we're providing Money Morning readers with the best marijuana stocks to buy ahead of this massive sales growth.
Now, we've been talking about the profit potential of traditional marijuana companies for years, but Money Morning Special Situation Strategist Tim Melvin has found a new way to play the sector.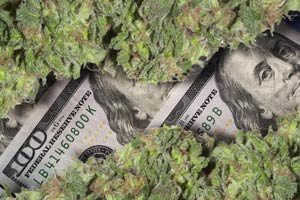 You see, Melvin is always looking for a value.
And although the banking industry has been slow to do business with cannabis firms, he's found two undervalued cannabis banking stocks.
Melvin is a 27-year veteran of the financial services and portfolio management industries.
He's served as a top broker for millionaires for more than two decades. He is considered a top authority on private equity and value investing.
And thanks to Melvin's extensive experience in finance, he uncovered two of the best stocks to play the future $24.5 billion cannabis market.
In fact, it could be your last chance to get in on the ground floor of the weed banking revolution...
The Marijuana Industry Is Getting a Warmer Welcome from Banks
Some form of medical marijuana is legal in 30 states and Washington, D.C., but all marijuana use is still illegal under federal law.
Banks don't want to loan money or service the accounts of cannabis companies.
The financial firms don't want to risk more federal regulations or lawsuits.
"Banks have enough regulatory issues to deal with at any given time, and inviting a whole new host of regulatory bodies - including the FBI and other federal agencies - has not been in their best interest," Melvin said on April 20.
Only small, privately owned investment banks, like Chardan Capital Markets and Viridian Capital Advisors, have assisted public companies in the weed business.
"So these private firms have been making a killing helping weed companies raise money, but so far, there hasn't been a way for us regular folks to capitalize on the weed financial services boom taking shape before our eyes," said Melvin.
However, things are starting to change...
Pot Profits: Forget Jeff Sessions! These Five Canadian Pot Stocks Are Set to Skyrocket. Click Here...
Melvin has uncovered two major firms opening up their banking services to the legal marijuana industry.
Best of all, these aren't considered as "risky" as your typical pot stock...
The Two Banks Leading the Way in the Marijuana Revolution
[mmpazkzone name="in-story" network="9794" site="307044" id="137008" type="4"]
The first bank cashing in on the legal cannabis revolution is Canaccord Genuity Group Inc. (OTCMKTS: CCORF).
It's a Vancouver-based investment bank and wealth management firm, and Canaccord was the most dominant investment bank in the Canadian cannabis sector by number and value of transactions for 2017, according to PRNewswire.com.
The profits for Canaccord in the legal Canadian cannabis sector will only keep growing, as our neighbors to the north plan to legalize all marijuana use by September 2018.
Economists predict sales in Canada could reach $10 billion during the first year of legalization, according to the Canadian Broadcasting Corp.
And Melvin really loves this play on the legal cannabis industry because of CCORF's diversified revenue stream.
"Now, investing in Canaccord doesn't just give you exposure to the cannabis sector. It also exposes you to the firm's other high-growth areas, like healthcare, technology, sustainable energy, and even blockchain. All of this has made it one of the largest wealth managers in Canada - and among the top 10 wealth management firms in the United Kingdom and Europe," Melvin said.
CCORF opened yesterday (April 25) at $4.49 per share, and it pays a dividend of $0.03 (0.58% yield).
Aside from Conaccord Genuity, Melvin is also very excited about Cowen Inc. (Nasdaq: COWN).
Cowen is headquartered in New York City, N.Y., and it worked with Canopy Growth Corp. (OTCMKTS: TWMJF) as an advisor for its equity offering last year.
It has $10.4 billion in assets under management as of October 2017 and raised $16 billion in equity for its clients in the last 12 months.
And while most of Wall Street is overlooking this stock, it's actually a steal at current prices...
"Cowen shares trade for less than 70% of book value and under six times earnings expectations for 2018," Melvin said.
"That is an unreasonably attractive price for a company that could see explosive earnings growth with the eventual legalization of marijuana on the U.S. federal level."
The COWN stock price opened this morning at $15.30 per share. So far in 2018, the Cowen stock price has climbed 11.72%, while the Dow is down 2.81% during that same time.
And Melvin expects the market-beating gains to continue...
"Until now, financial services companies have been reluctant to tackle the potential regulatory and legal hurdles of the cannabis industry," he said.
"But Canaccord and Cowen are proof that's changing quickly, and those companies who get an early foot in the door have a good chance of dominating the cannabis financial services industry for years to come."
Five Penny Pot Stocks That Could Make You Millions? You've Got to See This
A momentous government announcement is about to change the face of legal marijuana forever - and you could make more money from the stock market than you've ever seen in your life.
You see, thanks to this historic legislation, tiny pot stocks trading for under $5 are expected to double, triple, or quadruple.
We've been tracking five tiny pot stocks positioned for a massive upward jolt - the kind of gains with the power to turn a small stake into a $100,000 payday.