Saving for retirement is a difficult endeavor, especially for people struggling every month to pay their bills. If you're having trouble trying to boost your retirement income, you're not alone.
It's actually rather shocking just how many people are not financially ready to retire. A majority of Americans have less than $1,000 saved up. And according to the Economic Policy Institute, almost half of all families have no retirement account savings at all. Nothing.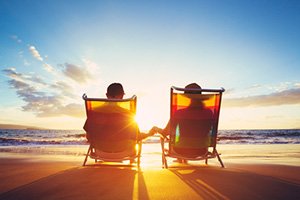 The problem does not get much better after people have had a lifetime of work under their belts. Even people between the ages of 56 and 61 have a median savings of just $17,000. That's not enough for one year, let alone the rest of your "golden years."
Experts suggest having seven times your annual salary in the bank by that age.
Unfortunately, Social Security is not the answer. In 2017, the average monthly payment received by retirees was $1,386. That's only $16,632 for a full year.
Rather than risk outliving your money, you have to think about supplementing your nest egg now.
That's why we're bringing readers five ways to supplement your retirement income.
Here's the full list...
Retirement Income Generator No. 5: High-Yield Dividend Stocks
Don't let the term "high yield" fool you. Don't confuse high-yield stocks with the similarly named high-yield bonds, which is a nicer way to say junk bonds.
High-yield stocks are usually quality companies (even blue chips) that throw off plenty of cash. In fact, they generate so much, they give a generous amount back to shareholders in the form of dividends.
A "Blueprint to Financial Freedom": America's No. Pattern 1 Trader used this secret to become a millionaire. Now he's sharing it live on camera - and you could learn how to set up a series of $822... $1,190... or $2,830 payouts... every single week.
Legendary money manager Peter Lynch, who managed the $14 billion Magellan Fund from 1977 to 1990, said that all investors really needed were dividend-paying stocks. Their income streams could be enough so that bonds were not needed. And whatever was not spent was left to grow with the market.
The caveat is that a high-dividend yield can, ironically, be a sign that the stock and company are in trouble. If a dividend yield seems too good to be true, then the odds go up that the dividend may be on the chopping block for a reduction.
So for your retirement fund, stick to blue chips that pay steady, solid dividends...
Retirement Income Generator No. 4: Immediate Annuities
An annuity is like a life insurance policy in reverse. Instead of making payments so that your beneficiaries receive a payout when you die, you make a payment up front so that you can receive payments over the term of the investment.
A single premium immediate annuity offers an income stream right away, and it continues for a defined period of time - even for the rest of your life. It allows you to decide how often you want your payments, from monthly to something longer. You can buy them from an insurance company with a one-time premium or lump-sum payment.
The good news is that you own a type of fixed income instrument. You know how much and how often you will receive income.
There are other advantages, including safety, potential tax deferral, and simplicity, in that you buy it once and collect checks for years. Further, the interest rates are often higher than those from traditional Treasury securities.
The bad news is that you are generally committed to the annuity and there is no mechanism to sell it. And when the term of the annuity ends, whether it was fixed or life, there is no residual value to sell, gift, or will to someone else. However, it is possible to extend payments beyond your life if you pay for that feature upfront.
Annuities are not for everyone. You should carefully consider their suitability for your needs.
Retirement Income Generator No. 3: REITs
A real estate investment trust (REIT) is a company that essentially gives you the chance to participate in the real estate market on a larger scale than just buying a second house. These mutual fund-like companies, which get special tax treatment but have special requirements, own, operate, or finance income-producing real estate.
They can own residential apartment buildings or office complexes. Some of them just own real estate mortgages. Others own shopping malls, but given what is happening in retail, these are probably not good investments for retirement.
By law, REITs must distribute at least 90% of their portfolios' income to shareholders in the form of dividends. That means they offer a nice income stream. And to make them even easier to buy, they trade like regular stocks on stock exchanges.
Retirement Income Generator No. 2: MLPs
Master limited partnerships (MLPs) are basically limited partnerships that trade on public exchanges. As such, they are easy to buy and sell, plus their trading falls under FINRA regulations designed to protect investors.
They also combine the tax advantages of a partnership, where taxes on profits are only due when investors actually receive payouts, with the liquidity of a regular stocks.
MLPs are required to distribute all available cash to investors, so they offer a nice income stream.
The downside is that MLPs are a bit harder to understand that regular stocks. Plus, at tax time, investors must file a K-1 form rather than a simple dividend form.
And unlike regular public companies, MLPs are considered to be the sum of its partners rather than a separate, legal, corporate entity. In a strange twist, they also technically have no employees. General partners running the MLP take care of providing labor resources to run the company.
This complexity may make MLPs a bit much for the typical investor to wrap their heads around, but they could be worth it for the income and tax benefits.
And that brings us to the No. 1 income generator on today's list: "The Money Calendar."
This incredible tool can show any investor how to start profiting in a matter of seconds.
Retirement Income Generator No. 1: The Money Calendar
[mmpazkzone name="in-story" network="9794" site="307044" id="137008" type="4"]
With Tom Gentile's Money Calendar, he is able to determine which stocks make dramatic moves at the same time each year. And the calendar can pinpoint when they're about to move.
It could make you $15,000 richer in the coming weeks.
But it gets even better...
You see, the Money Calendar allows you to collect instant cash, because it's able to predict a stock's future with at least 90% certainty.
It's like shooting fish in a barrel...
And you don't have to wait for earnings season or some other catalyst for these stocks to move. The Money Calendar analyzes 10 years of historical data to determine the specific time each stock moves.
That means you can start making money this very second...
Just look at United Parcel Service Inc. (NYSE: UPS).
Our tool showed UPS stock rose nine out of the last 10 years between August and September. And in 2017, it jumped 3.6%. Now, that's a decent return if you simply owned the stock.
But we aren't looking for 3% returns.
Using our system, you could have instantly made $1,190 in a matter of seconds.
Without buying a single share of UPS stock...
...and without spending a penny...
...this trade would've instantly paid you cash in a matter of seconds...
You don't need to take my word for it, either. You can watch this system live, in action...
Now, for the first time ever, Tom's revealing all his trading secrets and strategies - so you can amass a fast fortune for yourself.
Step by step, click by click, he'll guide you through setting up your account - and show you how to set up a series of take-it-to-the-bank payouts of $605... $822... $1,190... or $2,830... every single week.
There's no guesswork involved, and the best part is, it'll only take you 10 minutes per day! Click here now to start this once-in-a-lifetime journey...