Investors who purchase real estate investment trusts (REITs) can reap the benefits of high dividend yields and potential real estate appreciation.
In order to make the most of REIT gains, we're looking at the best healthcare REIT to buy in 2018.
You see, REITs are backed by income-producing real estate. Because real estate is immune to market volatility, REITs can protect investors from unpredictable market conditions.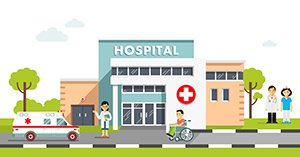 Additionally, REITs provide a fantastic dividend yield. To be a REIT, a company is required to distribute to shareholders a minimum of 90% of the taxable income. As a result, REITs often provide investors with highly profitable dividend payments.
Before we get to our best healthcare REIT to buy, let's take a closer look at the specific qualities of healthcare REITs and how you can profit...
Healthcare REITs Are Targeting a Growing Industry
Healthcare REITs are a specific type of REIT that specializes in healthcare and medical-related real estate, such as doctor offices, clinics, and hospitals.
In almost every way, they function like traditional REITs - 75% of healthcare REITs assets are invested in real estate, and 90% of their taxable income is distributed to shareholders.
Historic FCC Approval: The FCC has approved a breakthrough device that's about to change all our lives. With one tiny company at the heart of this massive shift, even a small investment could create staggering wealth. Learn more...
What really sets them apart this their profit potential for investors.
Global healthcare spending is projected to reach $8.7 trillion by the end of the decade. This will benefit healthcare REITs - the greater their profits, the more demand there will be for REITs, which will cause their share prices to appreciate.
Money Morning Special Situation Strategist Tim Melvin believes that REITs focusing on medical real estate are likely to become one of the most lucrative real estate investments an investor can make.
"There are a bunch of listed real estate operating companies and REITs available for investors to consider. Picking which one to buy is a simple matter of bargain hunting," Melvin says.
And Tim has identified a great one that is poised to take advantage of the expanding medical market for the nation's aging population.
Older Americans - those 65 years old and above - are going to require significant levels of personal care in the coming decades. Demand for physicians' practices, medical centers, and assisted living facilities is going to skyrocket in the near future.
In 2016, 46 million people in the United States were 65 or older. By 2060, this number is forecast to reach 98 million, a climb of more than 113%.
Tim's favorite REIT is perfectly positioned to profit from this trend.
In the next 12 months, investment bank B. Riley FBR Inc. expects the price of this company to climb 35%. In addition, this company pays a dividend of $0.80 - a massive yield of 11.05%.
Here's Tim's pick...