For investors looking for quick gains, penny stocks are an easy solution. But finding winners can be incredibly hard. In order to give Money Morning readers an advantage, we're bringing you the three best penny stocks to buy in May 2018.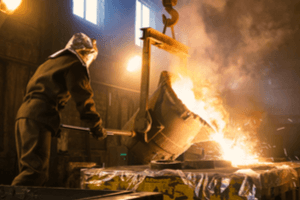 While a select few penny stocks have tremendous growth potential, many of these cheaper stocks have little chance of generating good returns for investors. In order to protect your portfolio, it's important to identify penny stocks that have strong financials and a good chance for growth.
In order to protect our investments, we follow five rules for investing in penny stocks - take a look at them on the right.
We also use the Money Morning Stock VQScore™ to make sure our investments have great growth potential.
The VQScore system identifies undervalued stocks with the highest profit potential by looking at a company's earnings potential, growth rate, earnings-per-share acceleration, and market volume.
The VQScore system runs on a scale of 1 to 4, with 4 indicating a stock with strong growth potential.
Our three top penny stocks for May have VQScores of 4, indicating that they have strong underlying value and a high chance of providing significant gains for investors.
In fact, our top pick is on track to provide returns of over 400% in the near future.
Here are our top penny stocks to buy for May...
Top Penny Stock to Buy, No. 3: McDermott International Inc.
McDermott International Inc. (NYSE: MDR) is an American engineering company that specializes in construction and installation oil drilling infrastructure across the globe.
Thanks to rising global economic activity and increasing demands from the transportation industry, international demand for oil has steadily risen. According to OPEC, worldwide demand for oil rose to 97 million barrels a day in 2017, up by 1.6 million from just the previous year.
As a result, McDermott has had plenty of business, as oil drillers boost output to maintain a steady global supply of oil.
Fast Money: This powerful secret made one man a millionaire. Now he's sharing it live on camera - find out how you could use it to become $2,918 richer in less than minute. Click here...
Just last month, McDermott signed a deal to build 13 jackets - the underwater structures for shallow water oil platforms - for oil giant Saudi Aramco Co. The deal is worth upward of $250 million. This recent deal comes on the heels of three other large Middle Eastern construction contracts that the company has signed over the last year.
McDermott has given clear signs that the company is setting aggressive growth objectives.
Last month, the company rejected a $2 billion hostile takeover bid from Norway drilling company Subsea 7 (OTCMKTS: SUBCY). While Subsea was prepared to offer investors $7 a share for McDermott's stock, McDermott argued that the proposal "significantly undervalued" the company's growth potential and market value.
The company's numbers back this opinion up. McDermott recently revised its 2017 fiscal year guidance - the company expects to generate between $0.60 and $0.63 per share, up from its previous estimate of $0.53. And Wall Street analysts have given the company a high price target of $14.00 - a 48% increase over today's price of $9.40.
As oil production continues to boom, McDermott has tremendous growth coming its way in 2018.
However, our next penny stock is even more profitable...
Top Penny Stock to Buy, No. 2: Cleveland-Cliffs Inc.
Cleveland-Cliffs Inc. (NYSE: CLF) is a mining company that specializes in the mining and refinement of iron ore. The company owns mines across North America and Western Australia.
The company produces 32.9 million gross tons of iron ore annually in five iron ore mines in Michigan and Minnesota alone.
Much of the company's recent growth has been the result widespread anticipation over growing domestic steel demand.
While the United States only produces 5% of the global steel supply, that figure is expected to rise as domestic demand continues to grow. According to the World Steel Association, North American steel demand is expected to rise by 3% in 2018 and an additional 1.9% in 2019.
Plus, U.S. President Donald Trump is slapping tariffs on steel imports, which will further bolster domestic companies like CLF.
Cleveland Cliffs is certainly anticipating as much - in its 2018 outlook summary, the company sees ore pellet prices jumping from $97 per ton to $107 - a 10% increase.
And analysts sees this increase playing out in the company's bottom line. Cleveland's earnings per share was recently up to $1.23 from $0.89 - an increase of 38%.
Cleveland currently trades for $7.43. However, with such strong growth behind the company, analysts see the price heading 62% higher, to $12.
Both McDermott and Cleveland have some excellent profit prospects. But our favorite penny stock to buy blows them out of the water.
This company is looking at possible returns of 430%.
Here it is...
[mmpazkzone name="in-story" network="9794" site="307044" id="137008" type="4"]
Top Penny Stock to Buy, No. 1: Partner Communications Co. Ltd.
Partner Communications Co. Ltd. (Nasdaq: PTNR) is an Israeli-based mobile network operator, as well as Internet and telephone provider. Founded in 1999, Partner was formerly operating under the umbrella of the French telecommunications company "Orange" until 2016.
Partner is in the midst of an aggressive expansion effort that's yielding significant gains. In 2017, the company added 79,000 mobile subscribers and 29,000 Internet customers. These customer increases were more than double than the previous year and resulted in a 2% increase in the company's annual profit.
In large part, these numbers are the result of lucrative media distribution deals the company has struck over the last few years. In 2016, Partner made a deal with Netflix Inc. (Nasdaq: NFLX) to offer a free subscription to Netflix through its service.
In December 2017, the company announced a similar partnership with Apple Inc. (Nasdaq: AAPL) to include Apple Music in its subscription packages.
Partner has also expanded the company's telecomm abilities, bringing fiber optic service to tens of thousands of households in Israel and introducing a television subscription service in July of last year.
Even after this robust period of expansion, the company shows no signs of slowing down. Last week, Partner announced another collaboration, this time with Amazon Inc. (Nasdaq: AMZN). Through the deal, Partner subscribers will now receive access to Amazon Prime Video content - an offering that is likely to have similar impact on subscriber numbers as previous partnerships have.
And Wall Street analysts agree - they've put a high price target of $22.00 on Partner. That's a 435% increase over today's price of $4.11.
But penny stocks aren't the only way to make quick gains...
This Easy-to-Follow Blueprint Could Make You $15,000 Richer
America's No. 1 Pattern Trader used to be an average Joe scraping to get by. He never graduated from college, and he spent most of his career as a Home Depot customer service rep.
He didn't want to be stuck at a job he didn't like until he was 80 - so he taught himself how to trade. He found he had a knack for it, and he became richer than he ever thought possible.
Then he invented his patent-pending "Money Calendar," and he knew it could change people's lives.
Now, for the first time ever, he's revealing all his trading secrets and strategies - so you can amass a fast fortune for yourself.
Step by step, click by click, he'll guide you through setting up your account - and show you how to set up a series of take-it-to-the-bank payouts of $605... $822... $1,190... or $2,830... every single week.
There's no guesswork involved, and the best part is, it'll only take you 10 minutes per day! Click here now to start this once-in-a-lifetime journey...