When it comes to investing, there is nothing like identifying a massive change and finding the companies in the best positions to profit from it.
That's exactly what's about to happen with the $1 billion cannabis drug, set for FDA approval in June...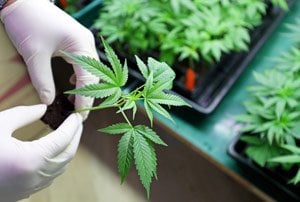 Whether you've followed Money Morning Defense and Tech Specialist Michael A. Robinson for years or are "meeting" him for the first time today, you have to agree that he really nailed one "cannabis drug" stock right on the head.
Since he first recommended GW Pharmaceuticals Plc. (Nasdaq ADR: GWPH) in 2014, the stock's performance crushed the market, with nearly 100% gains compared to the S&P 500's roughly 40% gain over that same span.
And that's just the start for this marijuana stock...
Indeed, GW is beating the market so far this year 8.2% to 1.5%. Up market or down, this stock is killing it.
However, there is yet another catalyst coming in June that could be the biggest thing the stock has ever seen...
Top Five: These tiny Canadian pot stocks are set to skyrocket. Click here...
No doubt, legal cannabis is coming. Last year, the big news was California announcing it would go fully legal on Jan. 1, 2018. It's a huge market, with 37 million people and a $2.5 trillion economy.
Wall Street also sees what's happening. For example, Cowen & Co. recently forecasted that U.S. legal cannabis sales will hit $50 billion by 2026 and $75 billion by 2030.
Sorry U.S. Attorney General Jeff Sessions. You cannot legislate this away.
GW has already released a cannabis-based mouth spray called Sativex to treat pain in multiple sclerosis patients. The drug was approved in the United Kingdom in 2010.
The company also has a pipeline of earlier-stage marijuana-based drugs that are focused on schizophrenia, autism, and other conditions. We expect the company to finish 2018 with roughly $400 million in the bank, enabling GW Pharma to become medical marijuana's most dominant player.
And this upcoming cannabis drug will be the biggest catalyst yet. And it's just weeks away from FDA approval...
Be Bullish - GW Pharma Is About to Explode Higher