Legalized sports gambling is sweeping across the United States thanks to a recent Supreme Court decision. That's creating a once-in-a-lifetime opportunity to get in ahead of the cash windfall as different states vote to legalize sports betting.
Unfortunately, the media is touting the same run-of-the-mill, has-been sports betting stocks that aren't going to make you any money.
Instead, I'll show you exactly where to go to bank profits, and it's a place you'll never hear about from a TV talking head...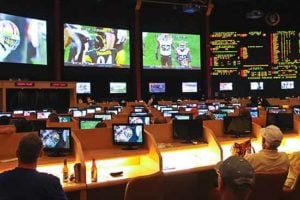 On Monday (June 11), Gov. Philip Murphy (D-NJ) signed a bill legalizing sports betting in New Jersey. The announcement comes just weeks after the Supreme Court overturned a law barring states from legalizing sports gambling. Delaware, West Virginia, and Nevada have already legalized gambling, and more states are following suit.
Naturally, the mainstream press jumped all over the story.
The press began hawking any public company that could have any ties to the newly legalized pastime. CNBC and other mainstream sites have been pumping the same 20 different companies from gaming-software firm Scientific Games Corp. (Nasdaq: SGMS) to the recently bankrupt Caesars Entertainment Corp. (NYSE: CZR).
But these stock prices are already inflated, and they aren't the best ways to make money.
Today, I want to show you a totally different way to make money on legalized gambling.
This contrarian play will be sending cash right to your account, and it'll be worth even more when this next state legalizes sports gambling...
Billions of Dollars Will Start Pouring In Thanks to Sports Betting
Previously, betters had to travel to Vegas or look for a black-market bookie if they wanted to place a wager on sports.
But thanks to the landmark Supreme Court ruling in May that opened up state-sanctioned gambling, that's all going to change...
Elected officials in 14 states - including California, Maryland, Illinois, and Michigan - have introduced bills to legalize sports wagering.
By 2020, there could be 20 states that cash in on sports betting, syphoning money away from the $57 billion black market, all for themselves.
Stunning Video Footage: Watch this guy become $4,238 richer in under a minute - then follow his simple instructions to learn how you could pocket a potential $2,918 in just one move. Click here...
Now, I know owning stocks in casinos and racetracks seems like the fastest way to make money.
But I'm sorry, overpaying for them is not what I do.
I'm looking for value...
And I'm not talking about some decrepit gambling facility with cocktail waitresses in ill-fitting outfits waiting for legalized sports betting to take their casino off life support.
The investment I like is one you won't hear about in the mainstream media.
You see, I've figured out how to tap into the huge, billion-dollar tax streams created by this law.
That's where the real money is.
Fortunately, there's a way for retail investors to get in on the action and make a killing...
Here's Where the Real Money Is in Sports Betting
[mmpazkzone name="in-story" network="9794" site="307044" id="137008" type="4"]
The states that have legalized sports gambling have large debts and need the tax revenue.
Sports gambling could produce $3.4 billion a year in taxes for states and local governments, according to Oxford Economics.
And the best way to make money right now on the coming wave is to buy shares of funds that own the debt of states poised to legalize sports gambling.
For me, that state is Pennsylvania.
You see, Pennsylvania was ready and waiting for this to happen. In 2017, it launched a gambling expansion law that authorized sports betting as soon as a federal court made it legal for states to regulate bets.
They are already prepared to get sports betting up and running.
With that in mind, I love the Nuveen Pennsylvania Investment Quality Municipal Fund (NYSE: NQP).
It pays an annualized dividend payout of $0.61 (4.81% dividend yield), and it creates income that is exempt from federal income taxes.
That's a nice stream of money.
Digging under the hood, the fund holds debt that finances the state's turnpike, different country operations, and higher-education facilities.
The portfolio manager, Paul Brennan, has been in the financial-services industry since 1991. He joined Nuveen in 1997, and he helped it climb from $7.66 during the 2008 recession to $12.60 per share today.
That's a 64% return in 10 years.
Look, I'm well aware that owning state debt isn't that exciting.
But it will make you money.
And when Wall Street wakes up and realizes sports gambling will be a huge boon for Pennsylvania, a flood of funds will start pouring in.
Being ahead of the curve, Money Morning readers could score a quick double-bagger on this investment fund.
That's because you're buying a portfolio that is trading at a 15.2% discount to its net asset value, which means the market is undervaluing this investment.
You're buying the state's debt for less than it's worth, paying $0.85 for every dollar.
It's always a joy when we're able to reach into the bargain bin and capitalize on a trend well before it becomes mainstream.
LIVE ON CAMERA: Watch America's No. 1 Pattern Trader Officially Become $1,050 Richer in 15 Seconds!
And then $940 RICHER in 11 seconds...
$1,260 RICHER in eight seconds... and $988 RICHER in seven seconds!
You've never seen anything like this. And you may never see it again!
His secret to becoming a multimillionaire is so easy that anybody can do it!
Click here to get all the details...
Follow Money Morning on Twitter, Facebook, and LinkedIn.
About the Author
Garrett Baldwin is a globally recognized research economist, financial writer, consultant, and political risk analyst with decades of trading experience and degrees in economics, cybersecurity, and business from Johns Hopkins, Purdue, Indiana University, and Northwestern.