Gold prices took a hit at the end of last week. But now isn't the time to worry. It's entirely normal in the wake of a rate hike, and we know higher rates are a long-term catalyst for the price of gold. Plus, rising economic uncertainty will send traders flooding into gold...
Things played out in the gold and dollar markets pretty much as expected last week when the U.S. Federal Reserve raised interest rates.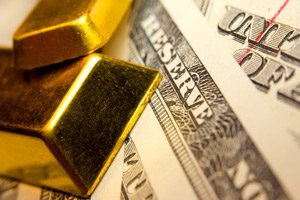 The Fed raised rates by 0.25%, as expected.  Simultaneously, the dollar popped and gold dipped temporarily.  And then they both reversed, allowing gold to head back above the crucial $1,300 level.
While many are focusing on the Fed's dot plot that suggests decent odds of a fourth hike this year, looming trade wars should command more attention.  The European Central Bank followed on, saying it would end its QE program this year while promising no rate hikes for at least a year.
Massive Upgrade Could Send Bitcoin to $100,000 - Click Here to Learn About the Opportunity That Could Deliver a Million-Dollar Payday to Investors Who Act Now
After the first salvo from Trump on foreign steel and aluminum, America's trading partners have started retaliating.  Even down to the municipal level, groups are looking for ways to avoid "buying American."
The bottom line is there are no winners in this scenario.  Life will get more expensive for everyone, and gold stands to benefit.
While this last week was brutal for gold traders, it's setting the stage for a gold price boom...
How the Rate Hike Weakened Gold Prices
Gold began trading on Monday of last week (June 11) able to garner a decent $6 rally that allowed it to close at $1,300 even.  But the pending Trump-Kim summit in Singapore overwhelmed the metal the next day.
As that summit went relatively smoothly with a positive outcome, even though it was light on details, gold prices backed off as tension eased.
As we approached the Fed's interest rate hike on Wednesday (June 13), the U.S. Dollar Index (DXY) weakened to 93.6 and then jumped on the Fed's hawkish outlook.
But soon after the rate hike, the DXY resumed its downward trend to close at 93.6.  Gold rose to $1,298 in anticipation of the hike, dropped to $1,293 on the news, then rallied to $1,300 into the close.
And while the DXY responded to the rate hike, what it did on Thursday (June 14) was much more drastic...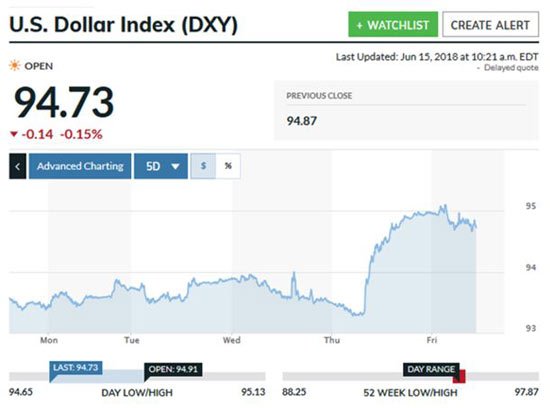 The DXY popped back above 94 early Thursday and then soared to test 95 by 5 p.m. as the markets digested news that the European Central Bank would end its $3 trillion bond-buying program by the end of this year.
That seems to have hurt the euro, which dropped 1% against the greenback. But the interesting part is gold pulled back from a $1,310 high but remained solidly above $1,300 around $1,304, despite a relentless climb in the dollar.
Then on Friday morning (June 15), the price of gold collapsed...
The DXY retreated from as high as 95.12 in early trading to open at 94.80 on news the United States was slapping $50 billion of tariffs on Chinese goods, with the Chinese promising swift retaliation.
Gold held its ground just below $1,300 until just after 8 a.m.  That's when it got smacked down to $1,285 by 9:30 a.m., along with stock markets which opened decidedly lower.
But gold wasn't the only commodity to suffer.
Silver joined in as well, along with oil, copper, and a host of other raw commodities. By late afternoon, stocks had recovered from their lows but didn't reach back into positive territory.  Oil had lost 3.6%, but the DXY was up a smashing 150 basis points from its Thursday low at 93.3 to 94.8.
Gold finished at $1,279, down 1.75% on the day.
But don't worry. The price of gold's plunge is expected after official rate hike announcements, and I think it's only setting the stage for gold to reach my price prediction.
After all, gold continues to be one of the safest assets on the planet, and things are about to get even worse...
Why Owning Gold Will Become Even More Important
Join the conversation. Click here to jump to comments…
About the Author
Peter Krauth is the Resource Specialist for Money Map Press and has contributed some of the most popular and highly regarded investing articles on Money Morning. Peter is headquartered in resource-rich Canada, but he travels around the world to dig up the very best profit opportunity, whether it's in gold, silver, oil, coal, or even potash.