Editor's Note: Today we want to share with you this subscribers-only content from U.S. Global Investors CEO Frank Holmes. It's part of his weekly Investor Alert, which you can get delivered straight to you. Just use the link at the end of this article to sign up. Now, here's Frank…
The U.S. inflation story made further inroads this month, with year-over-year price growth for consumers and producers alike hitting multiyear highs.
U.S. consumer prices expanded at their strongest pace in more than six years, climbing to an annual change of 2.8 % in May. Prices for final demand goods, meanwhile, grew 3.1%, their strongest annual surge since December 2011.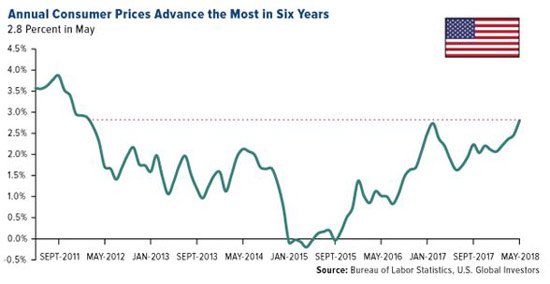 As you might expect, energy was the greatest contributor to higher prices in May, with fuel oil jumping more than 25% from the same month a year ago. The current average price for a gallon of regular gas nationwide was just under $3.00, compared to only $2.33 in June 2017, according to the American Automobile Association (AAA).
Inflation is set to get an even bigger jolt now that U.S. President Donald Trump has formally approved 25% tariffs on as much as $50 billion of Chinese goods. China has already announced retaliatory action.
While I agree that some targeted tariffs are welcome to address intellectual property theft, tariffs at the wholesale level are essentially regulations that threaten to undermine all the work Trump has done to supercharge the U.S. economy. They act as headwinds to further growth, which in turn makes gold look attractive as a safe-haven investment.
Let's take a look at some other factors playing into this…