U.S. President Donald Trump's trade war is getting increasingly expensive. And U.S. consumers and investors will bear a lot of the cost.
In the big picture, President Trump's tariff policy is having a significant impact on global trade. According to UK-based research firm Oxford Economics, a full-blown trade war will chop global trade by 4% — the equivalent of $800 billion.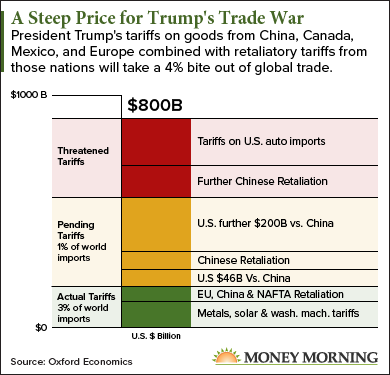 And it appears the world is moving headlong toward the scenario Oxford outlined in a report earlier this month.
Wednesday, the Trump administration unleashed tariffs on $200 billion worth of Chinese products, one of the possibilities the Oxford report warned about.
"Recent tariff threats, if realized, would extend high tariffs to over 4% of world imports – a tenfold rise," Oxford lead economist Adam Slater wrote in the report. "This comes just as the global upturn shows signs of faltering. The threat to world growth is significant: in a scenario of escalating tariffs, our modelling suggests world GDP could be cut by up to 0.4 percentage points in 2019."
As he announced the latest round of tariffs, President Trump said levies on $200 billion more of Chinese imports await if China retaliates. China vowed it would shortly after Trump's announcement.
These tariffs, if implemented, would exceed the glum Oxford Economics forecast.
President Trump is confident the tariffs are the right way to go – in March he tweeted "trade wars are good, and easy to win." But as I warned back in 2015, a tariff-heavy trade policy is likely to do more harm than good.
And the costs to Americans are already adding up…
Wall Street Hates the Trump Trade War
Investors get slammed every time another salvo is fired in the trade war.
Back in March, when President Trump announced tariffs on steel and aluminum, the Dow Jones Industrial Average plummeted 420 points.
You Must Act Now: America is headed for an economic disaster bigger than anything since the Great Depression. If you lost out when the markets crashed in 2008, then you are going to want to see this special presentation…
A late June report that the Trump administration was going to prevent Chinese firms from investing in U.S. tech companies while curbing technology exports to China sent the Dow down 328 points.
And this week's news that the United States would slap tariffs on $200 billion of Chinese products sliced 219.21 points off the Dow Wednesday.
Concerns about the escalating Trump trade war have been a drag on stock prices for most of 2018. They've contributed to the 7% decline in the Dow since its Jan. 26 closing high of 26,616.71.
Meanwhile, the new tariffs are going to raise the prices of hundreds of common products here in the United States…
How the Trump Tariffs Will Hit Your Wallet
The first batch of tariffs mostly targeted imported materials such as lumber, steel, and aluminum.
The tariffs increase the cost of these materials, which either must be eaten by the manufacturers or passed on to the consumer.
The National Association of Homebuilders said last month the lumber tariffs have added about $9,000 to the cost of a single-family home.
And the steel and aluminum tariffs will add thousands of dollars to the cost of a new car, according to the Alliance of Automobile Manufacturers. But Harley-Davidson Inc. (NYSE: HOG), rather than raise prices on its motorcycles, is opting to move several of its factories out of the United States. That will cost jobs.
"While President Trump says his trade policy is meant to punish China, the numbers show that, in reality, U.S. businesses, workers, and consumers will pay the price under this policy," Sage Chandler, vice president for international trade at the Consumer Technology Association, wrote in a July 5 blog post on the CTA website.
The just-announced round of tariffs are extensive and hit a broad range of everyday goods. The document listing them is a hefty 195 pages long.
Here are just a few of the products that will cost you more as a result of the trade war:
Fabrics: Wool, leather, cotton, fur products, synthetic fibers, and woven and knitted products.
Electronics: Batteries, remote controls, flash drives, and thermostats.
Food: Dried fruit, wheat and grain, beer, wine, seafood, nuts, fruits, and fruit juices.
Furniture: Chairs, couches, mattresses, tables, and paintings.
Machinery: Combustion engines, air conditioning units, washing machines, and hydraulic jacks.
Unfortunately, there isn't much you can do about rising prices. But you can take action to protect your investments…
What to Do with Your Investments to Beat the Trade War