Our latest list of best stocks to buy features big companies you're already familiar with and some you've probably never heard of. We've got some Money Morning All-Stars that have given our readers big gains over the years but that still have room to run. And we've got a couple newcomers ready to take off.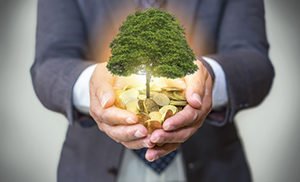 Here's a glimpse at the stocks we'll be sharing with you today:
One of the biggest, most expensive stocks in the world also might still be undervalued. You don't want to miss any more of its rapid-fire growth.
A backdoor play on legal cannabis offers a range of testing and analytics products to help growers stay compliant with an ever-changing regulatory system.
A tax software producer also has a product to capitalize on the staggering rise of the freelance workforce.
Readers who have followed Money Morning for a long time have reaped enormous gains from one biotech firm. A new drug on the way toward FDA approval could be its next big blockbuster.
Logistics is now a $1.5 trillion industry, and a diminishing supply of warehouse space bodes well for the full-service logistics tech leader we've picked.
Now for our five latest best stocks to buy now...
Best Stocks to Buy Now, No. 5: Just Because This Superstar Is Expensive Doesn't Mean It's Not Undervalued
As Amazon.com Inc. (NASDAQ: AMZN) shares hover around $2,000, it's worth remembering how many times the "experts" have said that the stock was overpriced or had hit its peak. That was the tune CNBC's Jim Cramer, for example, was singing last year when AMZN first crossed the $1,000 mark - half of its current price.
Whoops.
Money Morning Defense and Tech Specialist Michael Robinson knew better. He wrote in June 2017 that Amazon still had a long way to go.
Now he's going even further, setting his AMZN price target at $3,000 within the next three years.
That's a conservative estimate, Michael says, and Money Morning Chief Investment Strategist Keith Fitz-Gerald agrees. Keith predicts that Amazon, not Apple Inc. (NASDAQ: AAPL), will be the first company to hit a $2 trillion market cap. That's a climb that would translate to a share price of roughly $4,000.
In other words, just because a stock is expensive doesn't mean it's not still undervalued. And just because it has already enjoyed massive success doesn't mean its best days are behind it.
The Amazon cynics have been wrong over and over again for the last 20-plus years. There's no reason to think they're suddenly going to be right for the first time now.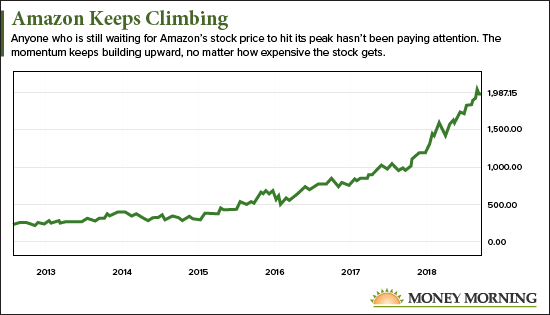 According to Keith, Amazon's got four factors ensuring its continued success:
Artificial Intelligence: The Echo and Echo Dot are available at very affordable prices because the company gets so much value in return. Alexa, the virtual assistant that comes with the products, tethers users to Amazon services and enables pinpoint customization between the company and the users.
Amazon Web Services: AWS, the company's cloud services division, accounts for more than half of the company's revenue and is growing at about a 50% annual rate.
Industry Disruption: Look for moves into healthcare and pharmacy markets, finance, and more, as Bezos's team finds ways to offer those services more efficiently and at a lower price than existing providers.
Advertising: Speaking of disruption, Amazon is already elbowing its way into the advertising market. Advertising is largely what made Chinese counterpart Alibaba Group Holding Ltd. (NYSE: BABA) the behemoth it is today. Amazon's entry into this segment opens up enormous possibilities to add to its existing revenue streams.
So regardless of how expensive Amazon's stock looks or how long its run of success has been, the momentum right now is still pointing distinctly upward.
16 New Reasons Why You Could Mint Marijuana Millions: Cannabis stocks could be destined to break all profit records for investors this year - and we've scoured the industry to uncover four stocks to potentially lead the pack...
"Even if you can only buy one share of Amazon," Keith says, "I'd urge you to get aboard with the one stock that can get you exposure to countless billions in actual and potential growth."
Best Stocks to Buy, No. 4: This Pick-and-Shovel Play on Legal Cannabis Gives You Lots of Upside Without the Downside
There's no question that legal cannabis is a booming market. But it's a volatile one, too. In the last couple months, we've seen weed stocks on major exchanges post triple-digit gains in a matter of days - and triple-digit losses too.
You may or may not be willing to ride that rollercoaster. But regardless of whether you have a few small pot stocks in your portfolio or not, adding a stable pick-and-shovel play like our next stock is a great choice.
[mmpazkzone name="in-story" network="9794" site="307044" id="137008" type="4"]
PerkinElmer Inc. (NYSE: PKI) is a $10 billion company specializing in diagnostics and research for a variety of industries.
This is a great company even before we get to its role in legal cannabis. It's already gained 38% over the last 12 months on the strength of its 81 years of delivering quality products and its consistent earnings growth year after year. For the most recent quarter, Perkin's earnings per share (EPS) came in 36% higher than the year before.
Now that PerkinElmer has money coming in from the legal cannabis market, though, it's not just a great company but a must-have stock.
Cannabis legalization in giant economies like California and Canada represent an enormous opportunity for growers. But it also comes with a set of standards regarding potency, toxins, chemicals, and other factors.
Not only do growers need to meet these regulations to stay in business, but they also need to be able to adapt to constant changes in those regulations as the industry matures. That's where PerkinElmer comes in.
The Massachusetts-based company offers a range of tools that can measure various attributes of cannabis products and spot the presence of specific chemicals and impurities. These tools give growers everything they need to make sure their products are not only street legal but up to the company's own standards before they hit the market.
As this industry continues to develop, more and more clients are going to need these products to keep their operations running. And there's every reason to believe that this company will be the primary beneficiary, thanks to its well-established footprint and great operations.
"As the trend to legalize marijuana spreads across North America and then onto the rest of the world," Michael Robinson says, "PerkinElmer's presence in 130 countries stands as a great calling card."
Best Stocks to Buy, No. 3: A Rapidly Expanding Pool of Customers Is Generating Windfalls for This Virtual Accountant
Nothing is certain but death and taxes. So the top provider of tax preparation software is one of the most dependable investments you can make.
That's why Michael Robinson recommended it in July 2015. Since then it's up 116%, compared to 40% for the S&P 500.
But Intuit Inc. (NASDAQ: INTU) is much more than its wildly popular TurboTax software. Its QuickBooks software has long been a favorite of small businesses. And in 2014, it launched QuickBooks Self-Employed, tapping into an enormous and growing market.
The United States is riding an impressive 95-month job creation streak. But what's even more striking is that the freelance workforce - now accounting for $1.4 trillion annually - is growing three times faster than the overall labor force.
At this rate, according to a 2017 study by Upwork and Freelancers Union, freelancers will be a majority of the U.S. workforce by 2027.
Some of those new freelancers are making the switch out of pure entrepreneurial spirit, and some are simply adapting to economic realities. Either way, this trend puts Intuit, which already has 5.5 million small businesses and freelancers as customers, in an ideal position to serve this growing segment of the population.
QuickBooks Self-Employed is available at a very reasonable subscription price of $10 per month. It allows users to track every aspect of their finances, including mileage for work purposes, and to keep personal and business transactions separate along the way. And it can all be done seamlessly between the user's computer, tablet, and smartphone.
Upgrading to the $17-per-month package gives them TurboTax too, which is fully integrated into QuickBooks to make the user's yearly tax return a cinch. It will even calculate estimated taxes automatically over the course of the year.
Another stream of revenue is Intuit's highly popular Mint app. Available free of charge to users, Mint consolidates all their financial accounts into one easy interface. Users can keep track of bills and pay them directly through the app, set budgets, and monitor their overall financial health.
Through advertisements, consumer data, and referral services for financial institutions, Mint is part of a consumer segment that grew sales by 14% in the most recent fiscal year to $2.5 billion.
Sales for the company overall grew by 17% in the most recent quarter from the year before, and earnings per share (EPS) doubled to $0.18.
As the workforce changes over the next decade and more, Intuit is going to be one of a small number of companies prepared to reap the rewards.
"This is one of those dependable tech leaders that you can count on for the long haul," writes Michael Robinson, "to keep you squarely on the road to wealth."
Best Stocks to Buy, No. 2: This Money Morning All-Star Has Even Bigger Gains Ahead
Our next pick is another one that's already been a big winner for our readers. It's up 615% since Money Morning Executive Editor Bill Patalon recommended it in 2012, compared to just 112% for the S&P 500.
If you go back to August 2011, when Bill recommended the stock to Private Briefing subscribers, it's up an astonishing 1,153%.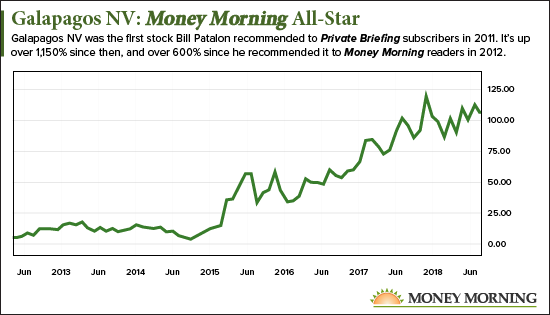 We're talking about Galapagos NV (NASDAQ: GLPG). This biotech firm started in 1999 as a small joint venture between two firms from the Netherlands and Belgium. Over the last decade, it's grown into a major industry player worth nearly $6 billion.
But a new catalyst is about to push GLPG even higher.
In September, it was revealed that filgotinib, which Galapagos developed to treat arthritis, successfully completed phase 3 trials. That means it's ready to go to the FDA for approval.
What's important is that the drug was effective in treating patients who had tried other therapies without success. So filgotinib could significantly change the lives of people who suffer from stubborn cases of this ailment.
Have 28 Seconds? You Could Make $2,353. Click Here to Learn More...
Vamil Divan at Credit Suisse says there's an 80% chance filgotinib will win approval. From there, he thinks it could go on to generate as much as $2.5 billion in annual sales, making it a certified blockbuster.
But that's just the beginning. Galapagos, along with its partner Gilead Sciences Inc. (NASDAQ: GILD), is also exploring the viability of filgotinib in treating Crohn's disease and other ailments. These applications combined could make this drug the kind that can single-handedly carry a biotech company for years.
As it is, the company already has another treatment in its pipeline heading to phase 3 trials, plus three more in phase 2 trials. The illnesses treated include inflammatory diseases, idiopathic pulmonary fibrosis, and atopic dermatitis. Look for news on some of these later this year.
So if you've already enjoyed big gains on this one thanks to Bill's recommendation, you'll want to hang on a while longer. And if you haven't joined in on the fun yet, don't worry. As Bill says, Galapagos still has room to run.
Best Stocks to Buy, No. 1: Trade War or No, This "Pure Play" on the $1.5 Trillion Logistics Market Will Deliver Returns for Years
You probably don't spend much time thinking about the logistics industry - comprising all those miscellaneous processes involved in getting a product or service from the producer to the consumer - but it is a huge business.
Spending on logistics hit a record $1.5 trillion in 2017, according to a report by the Council of Supply Chain Management Professionals. That's up $250 billion from the total in 2008.
There are some giant conglomerates out there with large logistics technology divisions, such as Verizon Communications Inc. (NYSE: VZ). The problem in those cases is that logistics represents a relatively small portion of the overall enterprise, and shareholders can't pick and choose which parts of the company they want to invest in.
So we've got a pure play on logistics for you instead: Expeditors International of Washington Inc. (NASDAQ: EXPD).
Headquartered in Seattle, EXPD has 322 locations across six continents. It specializes in supply chain management for all kinds of industries, including autos, aerospace, energy, healthcare, retail, and technology.
Expeditors International works with clients to maximize productivity from order inception to delivery. That might include optimizing production, packaging, and shipment processes. Or it could mean handling shipping and customs: Expeditors has relationships with every major carrier by air, land, and sea.
Where this company really flexes its muscles, though, is in developing custom logistics software. That way, clients can take over the reins of the supply chain themselves, with an interface that works seamlessly with their specific needs.
The company boosted sales by 13.5% in 2017, up to nearly $7 billion. Its EPS for the most recent quarter rose 31.7% compared to the same quarter last year. And according to FactSet, earnings are projected to keep rising through at least 2020.
And as Michael Robinson explains, this is one company that doesn't have to worry about trade wars.
That's because warehouse space to store goods is at such a premium right now. According to CBRE Group Inc., industrial vacancies have been falling for 32 consecutive quarters.
With demand for space steadily outstripping supply, the companies tasked with moving the stock inside those spaces will have their hands full regardless of any intervention by governments in the next few years.
"Add it all up," Michael writes, "and you can see that Expeditors has the right tech tools at the right time. It's ready for a boom in shipping and logistics."
The Gains on This One $10 Stock Alone Could Earn You Enough to Retire
A paradigm-shifting technology could disrupt every major industry, and one tiny company is at the center of it all.
It recently inked four major deals... BlackRock has snatched up 29 million shares... and its technology could be adopted by millions around the globe.
Best of all, this stock trading for less than $10 could deliver a 471.9% gain for early investors.
Follow Money Morning on Facebook, Twitter, and LinkedIn.
About the Author
Stephen Mack has been writing about economics and finance since 2011. He contributed material for the best-selling books Aftershock and The Aftershock Investor. He lives in Baltimore, Maryland.