Our latest list of best stocks to buy features big companies you're already familiar with and some you've probably never heard of. We've got some Money Morning All-Stars that have given our readers big gains over the years but that still have room to run. And we've got a couple newcomers ready to take off.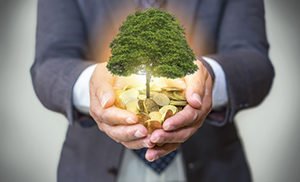 Here's a glimpse at the stocks we'll be sharing with you today:
One of the biggest, most expensive stocks in the world also might still be undervalued. You don't want to miss any more of its rapid-fire growth.
A backdoor play on legal cannabis offers a range of testing and analytics products to help growers stay compliant with an ever-changing regulatory system.
A tax software producer also has a product to capitalize on the staggering rise of the freelance workforce.
Readers who have followed Money Morning for a long time have reaped enormous gains from one biotech firm. A new drug on the way toward FDA approval could be its next big blockbuster.
Logistics is now a $1.5 trillion industry, and a diminishing supply of warehouse space bodes well for the full-service logistics tech leader we've picked.
Now for our five latest best stocks to buy now...
Best Stocks to Buy Now, No. 5: Just Because This Superstar Is Expensive Doesn't Mean It's Not Undervalued
As Amazon.com Inc. (NASDAQ: AMZN) shares hover around $2,000, it's worth remembering how many times the "experts" have said that the stock was overpriced or had hit its peak. That was the tune CNBC's Jim Cramer, for example, was singing last year when AMZN first crossed the $1,000 mark - half of its current price.
Whoops.
Money Morning Defense and Tech Specialist Michael Robinson knew better. He wrote in June 2017 that Amazon still had a long way to go.
Now he's going even further, setting his AMZN price target at $3,000 within the next three years.
That's a conservative estimate, Michael says, and Money Morning Chief Investment Strategist Keith Fitz-Gerald agrees. Keith predicts that Amazon, not Apple Inc. (NASDAQ: AAPL), will be the first company to hit a $2 trillion market cap. That's a climb that would translate to a share price of roughly $4,000.
In other words, just because a stock is expensive doesn't mean it's not still undervalued. And just because it has already enjoyed massive success doesn't mean its best days are behind it.
The Amazon cynics have been wrong over and over again for the last 20-plus years. There's no reason to think they're suddenly going to be right for the first time now.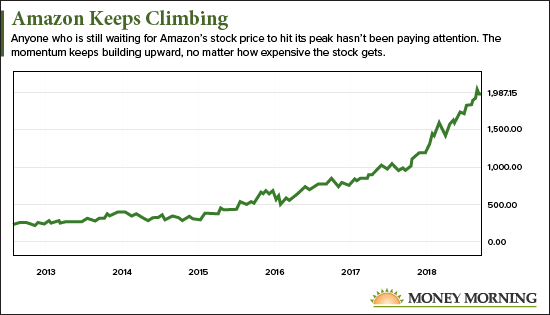 According to Keith, Amazon's got four factors ensuring its continued success:
Artificial Intelligence: The Echo and Echo Dot are available at very affordable prices because the company gets so much value in return. Alexa, the virtual assistant that comes with the products, tethers users to Amazon services and enables pinpoint customization between the company and the users.
Amazon Web Services: AWS, the company's cloud services division, accounts for more than half of the company's revenue and is growing at about a 50% annual rate.
Industry Disruption: Look for moves into healthcare and pharmacy markets, finance, and more, as Bezos's team finds ways to offer those services more efficiently and at a lower price than existing providers.
Advertising: Speaking of disruption, Amazon is already elbowing its way into the advertising market. Advertising is largely what made Chinese counterpart Alibaba Group Holding Ltd. (NYSE: BABA) the behemoth it is today. Amazon's entry into this segment opens up enormous possibilities to add to its existing revenue streams.
So regardless of how expensive Amazon's stock looks or how long its run of success has been, the momentum right now is still pointing distinctly upward.
16 New Reasons Why You Could Mint Marijuana Millions: Cannabis stocks could be destined to break all profit records for investors this year - and we've scoured the industry to uncover four stocks to potentially lead the pack...
"Even if you can only buy one share of Amazon," Keith says, "I'd urge you to get aboard with the one stock that can get you exposure to countless billions in actual and potential growth."
Best Stocks to Buy, No. 4: This Pick-and-Shovel Play on Legal Cannabis Gives You Lots of Upside Without the Downside
There's no question that legal cannabis is a booming market. But it's a volatile one, too. In the last couple months, we've seen weed stocks on major exchanges post triple-digit gains in a matter of days - and triple-digit losses too.
You may or may not be willing to ride that rollercoaster. But regardless of whether you have a few small pot stocks in your portfolio or not, adding a stable pick-and-shovel play like our next stock is a great choice.
Join the conversation. Click here to jump to comments…
About the Author
Stephen Mack has been writing about economics and finance since 2011. He contributed material for the best-selling books Aftershock and The Aftershock Investor. He lives in Baltimore, Maryland.