Legalizing recreational marijuana could create a $24.5 billion industry by 2021, and we're giving our readers an insider advantage by showing them which states experts believe will legalize recreational marijuana next.
You know what's going to happen when more states legalize recreational cannabis...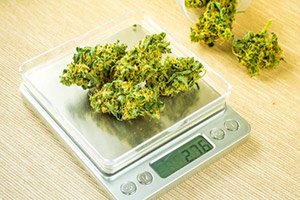 Demand is going to skyrocket when anyone 18 or older is able to buy cannabis legally.
Marijuana growers will need more equipment to grow more plants, and that's more money for manufacturers of specialty lights, indoor grow systems, farm real estate, and financiers.
With more equipment to grow more cannabis, growers will have more marijuana plants to sell to dispensaries.
Dispensaries can then sell more cannabis products to consumers.
Security firms, consultation services, and creative entrepreneurs can also cash in on their niches within the cannabis industry.
Some creative entrepreneurs are even becoming weed wedding planners and yoga instructors.
Legalized cannabis isn't a fad. And it's a life-changing opportunity for those who invest early.
The only question to ask yourself is if you want to be a part of the $24.5 billion profit opportunity or sit on the sidelines.
Brand New: You're entitled to our exclusive guide on cannabis investing. Click here to claim your copy.
That's why today, as a service to Money Morning readers, we tapped into our contacts in the marijuana industry to help uncover which states could legalize marijuana next. That will help you profit by getting in early.
These are directors, presidents, and CEOs at the forefront of the cannabis industry. They have their fingers on the pulse of the cannabis industry.
Our contacts identified three states where legalization is likely to happen next, including their top state for legalization to hit next.
And the next state that could legalize recreational marijuana just missed out on passing legalization during the 2016 elections, with 48.68% in favor of it...
[mmpazkzone name="in-story" network="9794" site="307044" id="137008" type="4"]
Marijuana Legalization Prediction, No. 3: Arizona
Wil Ralston is the president of SinglePoint Inc. (OTCMKTS: SING), a publicly traded cannabis and technology holding company specializing in acquisitions of small- to mid-sized companies with an emphasis on mobile technologies and emerging markets.
Ralston said Arizona's legalization is likely because its last attempt narrowly failed.
"Arizona has one of the largest medical marijuana programs in the U.S. and will get larger with full legalization," he said.
Arizona seems like a solid bet, with full legalization almost happening in 2016, but this next expert has a more surprising prediction...
Marijuana Legalization Prediction, No. 2: Delaware
Jack Rein is the national services director at Acology Inc. (OTCMKTS: ACOL), a global design, manufacturing, branding, and sales company that developed the Medtainer, which allows patients to store, grind, and pour a variety of medications.
Rein told us that of the states considering legalization, Delaware is the most likely candidate to change its laws.
"Having already decriminalized cannabis and having a population that is overwhelmingly favorable to the notion, it seems most likely that Delaware will become the ninth state to legalize recreational cannabis consumption."
And while Ralston and Rein may have different predictions, there were two other experts who agreed that this could be the next state to legalize recreational marijuana...
Marijuana Legalization Prediction, No. 1: New Jersey
Erik Knutson is the CEO of Keef Brands, which specializes in medical cannabis manufacturing consulting services, such as facility layout and design, equipment specification, standard operating procedures, extraction, compliant packaging design, and license application support.
Jeremy Jacobs is the founder of Eyechronic, a dispensary technology company that provides advertising and tools to the cannabis industry.
"Over the past several years, we have seen a clear shift in the legalization process, as state legislative bodies have begun to work bills through the legislature to avoid ballot-initiated amendments and referendums," Knutson said.
"One of the most exciting and promising states to take this approach is New Jersey. It is widely assumed that Jersey will pass adult use language this year; at that point, it will immediately become the second largest market, next to California, in the U.S."
Jacobs is also bullish on legalization in New Jersey...
"New Jersey has been on the cusp of legalization for years, and with last year's election results, I think it's safe to say that they are likely to enact legislation this year," he said.
As more news breaks about legalization efforts across the country, Money Morning readers will be the first to know.
Four Cannabis Stocks Potentially Destined to Soar Up to 1,000% This Election Year
In the election year of 2012, marijuana stocks started rare gains of as much as 3,240%.
In 2014, they started producing up to 4,606% profits.
In 2016, they began rare climbs of 6,074% and more.
How much richer could select cannabis stocks make YOU in the election year of 2018? Take a look...