Today (Oct. 12), the Dow Jones Industrial Average gained 300 points, recovering some of the 1,300-point decline it's suffered over the last week.
Many investors are breathing a sigh of relief.
But now isn't the time for complacency.
In fact, there's still a high chance we're heading toward a stock market crash.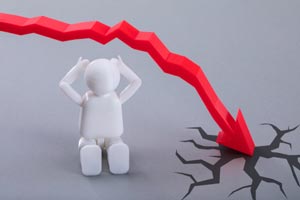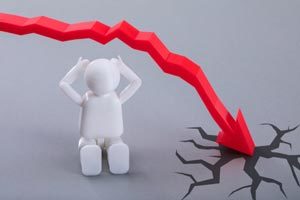 You see, there are three central threats that could undermine today's bull market – and crush your portfolio.
Let's take a close look at these threats and how you can protect your investments…
Soaring Stock Valuations Could Be Forming a Bubble
The first catalyst that could lead to another financial crisis is the soaring valuation of the current stock market.
Company share prices have skyrocketed in recent years, and many of these gains are not sufficiently backed by fundamentals such as earnings growth.
Prospering During a Financial Crisis: Incredible wealth-building opportunity for those who are prepared – quickly amass a potential $1.5 million retirement nest egg. Learn more…
As a result, we now have the prospect of a market bubble that could burst or at least trigger a major pullback.
This is especially evident when we look at the market from a historical perspective.
The Shiller price/earnings (P/E) ratio is one of the best measures of stock valuations since it factors in the cyclical business cycle to earnings. Its average is 15.67 dating back to 1872.
Leading up to the 2008 financial crisis, the Shiller P/E for the S&P 500 was about 24, which was about 10 points over the average.
Just a month before the 1929 stock market crash, the Shiller P/E was a stunning 32.56.
But today's Shiller P/E is at a level that should give investors pause.
It currently sits at 33.27 for the S&P 500, more than double its historical average. That indicates the price of shares outpaces the underlying fundamentals to a greater degree than the last two major financial crashes.
This also means the overall market is overvalued more now than it was just prior to either the Great Recession or the Great Depression.
We are in the tail end of the longest-running bull market on record, with stocks at some of the highest valuations in history, which is an indication that a downturn could be around the corner.
And there are other signals that could be catalysts for an impending stock market crash.
Unstable Emerging-Market Currencies are Rattling Markets
Another possible trigger for the next recession could originate from overseas.
Emerging-market currencies have plunged to recent lows over the past several months.
This has resulted in higher inflation domestically and raised concerns that market instability could migrate into more developed areas.
Over the last 12 months, the South African rand, Indonesian rupiah, and Mexican peso have fallen close to 20%. There has been a nearly 40% drop in the Turkish lira and an over 50% drop in the Argentine peso.
Overall, these currency fluctuations have occurred because flows of capital into emerging markets have shrunk.
In other words, the demand for emerging-market currencies has plummeted because fewer developed-world currencies are being used to buy government bonds or purchase domestic goods.
In 2018, capital inflows into emerging markets are less than half of what they were only a year ago.
When these inflows disappear, the emerging markets have difficulty covering their deficits.
When a country is unable to adequately finance debt, it prompts developing nations to default on their agreements, producing instability in creditors.
If countries that are heavily relying on Wall Street for capital flow aren't able to fulfill debt obligations, investors may lose confidence in the ability of banks to meet outstanding agreements.
This could produce a domino effect sparking a major tumble in the American stock markets, destroying your portfolio.
However, that's not even the worst-case scenario…