On Monday (Nov. 12), the Dow Jones Industrial Average fell as much as 500 points as a broad sell-off pounded stocks.
After shaking off October's abysmal stock market performance, many investors are wondering why the Dow Jones Industrial Average is down today.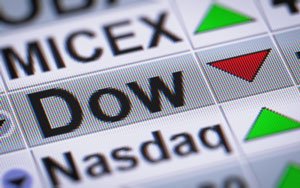 That's why we're taking a close took at what's causing the Dow to give up its gains and if today's losses are the start of something more serious.
After looking at the catalysts behind today's losses, we'll show you a way to protect your investments if the market decline takes a turn for the worse…
Volatile Tech Stocks Are Hurting the Dow Jones Industrial Average Today
Following Monday's market open, Apple Inc. (NASDAQ: AAPL) stock fell over 4% on reports that one of the company's key suppliers cut its earnings and revenue outlook due to weak sales forecasts for Apple products.
Apple's sudden drop sent the tech sector into the red, with Amazon.com Inc. (NASDAQ: AMZN) stock entering correction territory and shares of Alphabet Inc. (NASDAQ: GOOGL) falling over 2%.
You Must Act Now: America is headed for an economic disaster bigger than anything since the Great Depression. If you lost out when the markets crashed in 2008, then you are going to want to see this special presentation…
In 2018, the tech sector has been largely considered a bellwether for consumer and investor confidence.
Markets widely interpreted Apple's sudden drop as a sign the tech sector is slowly weakening – and with it the market as a whole.
This comes on the heels of October's stock route that saw FANG stocks enter correction territory and $75 billion lost in market value just last Friday (Nov. 9).
The tech sector's increasingly negative performance has rattled investors, causing them to pull their money out of the market as a whole – which is dragging down the Dow Jones Industrial Average.
In addition to the tech sector's poor performance, the specter of rising interest rates is also increasing market uncertainty.
Last week, the U.S. Federal Reserve announced that it was "on course" to raise interest rates in late 2018.
Markets react negatively to higher interest rates because they make borrowing money more expensive, discouraging companies from taking loans to finance growth.
And that slows economic expansion, hurting the bottom line of firms and eventually squeezing stock market returns.
Despite these negative catalysts, it's still too early to tell if the Dow Jones Industrial Average's decline is the start of a serious downturn.
But the combination of the tech titans stumbling as their sales sag and the Fed hiking interest rates could be the perfect storm to cause the next market correction.
Fortunately, there's still time to prepare – and profit – no matter how dire the markets look…
Your Financial Future Is at Stake (Are You Prepared?)