As the price of gold continues to fight to for a breakout above $1,230, we have been getting some clues as to why it dipped below $1,200 recently.
According to the "Commitments of Trader" report compiled by the Commodity Futures Trading Commission two weeks ago, large speculators had increased their bearish position in gold futures by 67%.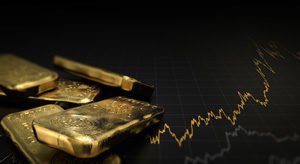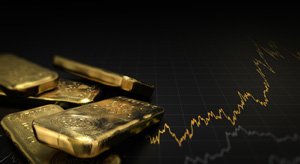 Interestingly, those large short positions were likely the result of the U.S. dollar's new highs in response to Fed Chair Powell's hawkish stance.
But by last week, Fed Vice-Chair Richard Clarida was already sounding more dovish, saying, "As you move in the range of policy that by some estimates is close to neutral, then with the economy doing well it's appropriate to sort of shift the emphasis toward being more data dependent."
That likely piqued investors' interest in gold as they rationalized a possibly more neutral Fed beyond 2018.
Gold's dip attracted safe-haven buying as well as short covering, causing the metal to bounce back.
And as we head into the final stretch of 2018, gold prices could see another round of supportive buying as investors look toward the uncertainly of 2019.
What's Driving the Price of Gold Right Now
In the first part of last week, the price of gold maintained its recent gains as it consolidated around $1,220.
That was still significant since gold prices bounced back from below $1,200 in the previous week and traders were digesting those gains.
Don't Miss Out: The Treasury is sitting on an $11.1 billion cash pile, and a loophole entitles Americans to a sizable portion. Some are collecting $1,795, $3,000, or $5,000 every month thanks to this powerful investment...
Maintaining that $1,220 level was made all the more challenging with the U.S. dollar bouncing back and the U.S. Dollar Index (DXY) rallying strongly on Tuesday (Nov. 20) by 80 basis points to 96.8.
Take a look at the DXY's sudden spike on Tuesday...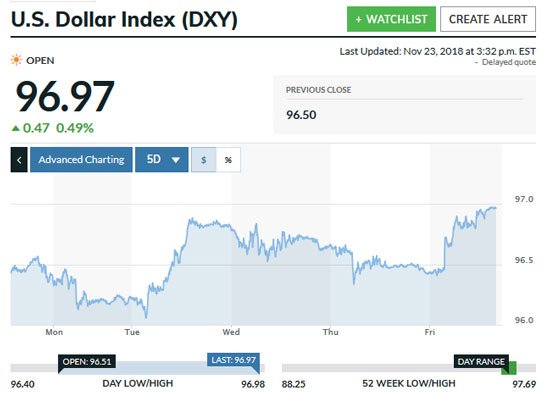 The DXY weakened as the week went on, trending downward until early Black Friday (Nov. 23), when it hit a low of 96.4, then rallied to within a hair of 97 by late afternoon.
That was enough to dent the gold price. Gold fell rapidly in early Friday morning trading from $1,227 to test just below the $1,220 level after 8 a.m.
Despite the DXY's continued climb through the day, gold held up and eventually ended the holiday week at $1,222.
And the technical indicators I'm looking at show gold is much stronger than many think right now.
Here's what I'm watching, including my latest gold price target...
Why Gold Prices Have More Momentum Than Traders Think
Join the conversation. Click here to jump to comments…
About the Author
Peter Krauth is the Resource Specialist for Money Map Press and has contributed some of the most popular and highly regarded investing articles on Money Morning. Peter is headquartered in resource-rich Canada, but he travels around the world to dig up the very best profit opportunity, whether it's in gold, silver, oil, coal, or even potash.