If you want double- or triple-digit gains from investing, you need only pick the right stocks.
Fortunately, our top penny stocks to watch in December 2018 are a list of three companies that have this sort of potential.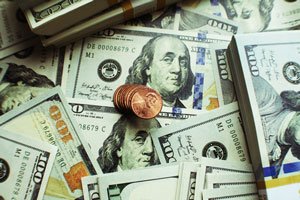 It can be a challenge to identify the top "must have" penny stocks from a massive list of choices. Not only are there thousands of companies trading today, but some aren't reputable and want nothing more than to steal your hard-earned cash.
Money Morning can help if you want to invest in penny stocks and avoid the scams and worthless picks.
Our unique system for choosing stocks is called the Money Morning Stock VQScore™ system.
This is a tool that allows us to isolate the companies that are most likely to deliver strong returns to investors. After we've created this initial list of promising stocks, we then screen them for companies that trade under $5 per share.
This is the threshold that the U.S. Securities and Exchange Commission has set for a penny stock.
Screening thousands of stocks is an involved process. We can effectively eliminate the bad, mediocre, and even decent picks and end up with a list of only stocks that have significant potential for profits and share price gains.
When it comes to candidates for breakouts, we have three of the top penny stocks to watch this month to give you today.
Our No. 1 pick even has the potential for triple-digit gains...
Top Penny Stocks to Watch in November 2018, No. 3: Mechel Mining Co.
Mechel Mining Co. (NYSE: MTL) is a Russian steel and mining company and one of the top penny stocks to watch right now.
Founded in 2003, Mechel is based in Moscow and is an international company that employs close to 60,000 people.
THREE STOCKS: Any one of these cannabis companies could potentially deliver a 1,000% windfall. Click here to learn more...
It divides its operations between its mining, steel, and power segments.
The company's mining segment focuses on cultivating and selling iron ore, coke, steam, and chemical products. Its steel operations produce various finished and semi-finished products.
And its power division provides energy to third-party customers.
Much of Mechel's impressive growth can be attributed to its focus on acquisitions. In just a little over a decade, it has been party to nine major takeovers. This gives the company access to new markets.
Its gross margins have soared by 52%, and its operating income has jumped by 547% just since 2014.
This hasn't gone unnoticed by Wall Street. The stock now has a one-year target price of $4. At today's share price, this gives investors the potential for 52% gains over the next 12 months.
This next penny stock pick could almost double these returns.
Top Penny Stocks to Watch in November 2018, No. 2: Valhi Inc.
Valhi Inc. (NYSE: VHI) is a holding company that has been in business since 1932. It is based in Dallas and focuses on the management of several different types of securities in U.S. industries.
The company focuses on three main areas - chemicals, component products, and real estate development and management.
Kronos Worldwide Inc. operates Valhi's chemicals operation, and it has majority control of this company. Kronos makes and markets additives that are used in plastics, paint, paper, and other fibers.
CompX International Inc. drives its components operations. This is an organization that is an industry leader in the delivery of security products for other businesses such as office complexes, healthcare services, and the postal system.
BMI and LandWell are the two controlled companies that make up Valhi's real estate development and management segment. BMI focuses on delivering utility services, and LandWell is concerned with various development opportunities and activities throughout Nevada.
Valhi has majority control of all of these companies and, at the same time, is a wholly owned company by Contran Corp., a private firm.
What makes VHI attractive is its earnings. Over the past three years alone, its gross profits have skyrocketed 170%. The company's return on equity now sits at 45%.
Analysts have given a price target of $4 for VHI stock. From today's price, this would give you the opportunity for 90.47% gains over the next 12 months.
Our next pick has the potential for even more explosive returns...